Best Electric Bikes for Heavy Riders
As more cities open up cycle lanes and as commuting to work by car has been replaced by working from home, it's a great time to check out an e-Bike. Here are three great picks for you as a heavy rider to consider.
The top three best Electric Bikes for Heavy Riders in 2022
To start off, we'll list our top three best ebikes for heavy rider picks in 2022:
Best cruiser for Heavy Riders: Kemanner 26-inch Electric Mountain Bike
As Stewie from Family Guy would say, this is a handsome chap. It is fine for the big guy too as it is rated at up to 330lbs carry weight. On the other hand note that the Keymanner has a slightly modest 250 Watt Motor / 36V 8A Lithium Battery rating. In theory that's a bit marginal but in the real world the Keymanner is just fine and dandy over the flat or low hills. It's very reasonably priced too and finally it is a very comfortable bike to ride. In the 1950's cruising wass all about taking you Chevy to the Levee (or heading down to the Hop). If you fancy some cruising 2020's style, this Keymanner has the manners and is a civilized e-bike for big guys.
Best Folding E-Bike for Heavy Riders: NAKTO 26″ Electric Bike Fat Tire Mountain E-bike
Nakto are one of the big dogs in the ebike yard. This is a vendor who consistently makes a great e-bike range with plenty of choices for different needs, tastes and budgets. We easily could have reviewed several but we have plumped (picked) for this top of the line Nakto electric mountain bike model. It's a good-looking charmer (important in the fashionista world of some mountain biking) but can deliver the goods too, with plenty of voltage power on tap for the big guy or the big girl of up to 360 lb weight.
Best for E-Bike for Cargo Carrying: NAKTO 26″ Cargo Electric Bicycle
Put your picnic in the Nakto front basket and your grab bag on the pannier and you are off. Very much best for heavy-rider cargo carrying.
---
What is the best e-bike for big guys?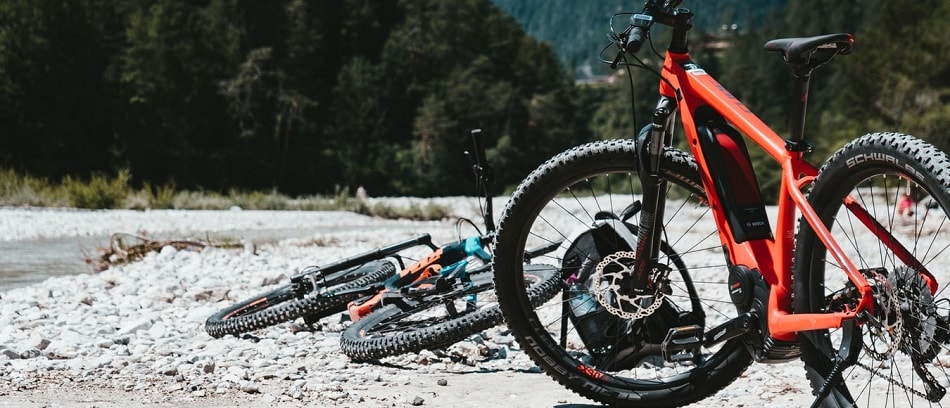 The answer depends on your criteria. Is it for commuting? How long? Is it for mountains or hills? How much will you pay? What about running costs?
Whatever your body mass index is, there is an e-bike for you. Larger riders have as much reason to hit the road, or the trail as anyone else but need to choose the right e-bike. For example, they obviously need enough power in the engine, but also will need an e-bike with a good suspension system. A well-designed suspension system helps reduce the dip that happens when applying your downward force due to weight on the bike. You also want to be able to adjust the suspension to get a setup that is most comfortable. In fact, almost all components need to be up to the job: a frame between 23" – 25", a wider and/or longer saddle (seat), elevated handlebars (if you are tall), and heavy-duty or ideally fat tires.
Buying an e-bike that is the right size for your height and weight makes riding more enjoyable and you can ride comfortably for longer without needing a break.
You need to know roughly how many miles you will get out of a single charge. The more weight you have, the more mass the motor needs to move. Typically aim for a two-way range of around 20 miles or more, from one charge. E-bike weight limits are usually 200-300 pounds. Some models are designed to carry up to 500 pounds. Note that 'heavy' does not necessarily mean fat. Your height and muscles have a bearing too.
There are many models of electric bikes; low-cost models, mid-price choices and some very high-end versions. Plenty of best e-bikes for heavy riders.
We selected only top rated products after 160 hours of research (for 2021 and 2022), each of which is a great best electric bike for overweight use-case.
Here are the best e-bikes for big and tall riders
---
---
Now, let's get into the best e-bike for big man details.
---
Decide your big guy transport needs
Before choosing an electric bike, you need to be very clear about what your needs are.
Electric bikes cost more to buy and run than traditional bikes. That's because additional component costs include the battery, charger, motor controller, motor, etc.
Unlike a traditional bike, e-bikes need bomb-proof waterproofing, plus protection of their electric components from dust, sand, snow, grit, etc.
This is especially important for electric mountain bikes. They are going to have a hard life, so their electric parts must be tough, especially for obese riders.
There are three categories:
Electric Road Bikes. These are designed for road use, either commuting or that day out in the countryside.
Electric Mountain Bikes designed for the greater rigors of off-roading. There are hardcore electric mountain bikes or others that are more hybrid designs, intended for mixed-use on and off-road.
Electric Folding Bikes, which can be for the road or (in a few cases) mountain models. Easy to move around via train, bus or car.
Don't worry too much about brands, lists, reviews and recommendations for your final decision. It doesn't matter what's popular or what is 'top'. They are just guidelines or suggestions, just like the list here.
A rating might not be correct for you. Instead, think about the cost and whether you plan to go up hills and mountains, or just cycle to the office.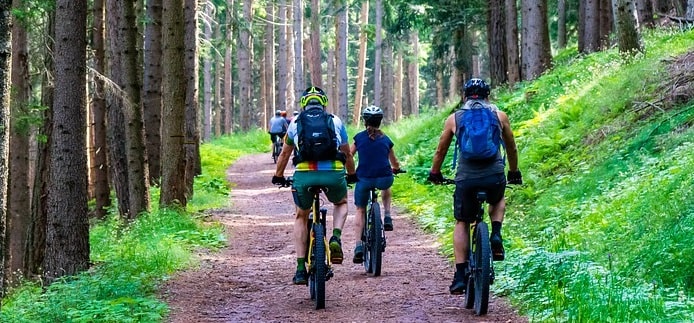 Choosing a big guy battery
So, what is the best e-bike for big guys? You might be a big guy vertically. Or you might be a big guy in some other dimension. So, you need a decent battery.
A conventional bike has unlimited range – until your legs get tired.
So, choosing how powerful you need the electric bike battery to be is important. It must deliver the range you need and also be rechargeable in a reasonable time. Remember, it's big guys we are thinking about here.
If the battery runs out, you need to pedal. You are left with a heavy conventional bike.
There are two primary choices of electric bike batteries – traditional lead-acid and lithium.
Lead-acid batteries are old fashioned because of their weight and limited performance.
We prefer Lithium-Ion batteries (Li-Ion), like the ones used in mobile phones. A variant of these is Lithium Polymer (Li-Po) batteries.
The battery is often the most expensive and the heaviest part of an electric bike.
It needs replacing at some point. Rechargeable batteries deteriorate over time.
A properly cared-for Lithium battery, might be good for about 1000 charges. A lead-acid battery, or poorly maintained Lithium battery will not last as long. That might mean a new battery every couple of years – a couple of hundred dollars or more.
So, be careful about buying a cheap bike with too cheap a battery, or not taking care of a good battery. That will cost you more in the long run.
Choosing a big guy motor
Some electric bikes are based on a 36v battery. As a big guy, you may prefer more powerful motors, which use 48v, 52v, or 72v systems.
If you are in a hurry or have some steep hills to go up, you need a motor that delivers enough power. That will drain the battery much faster. Weight also affects battery range.
Battery packs use battery management systems that stop overcharging or discharging too quickly. Battery management systems also regulate the total amperage output of the motor receives.
The three types are Hub Direct, Hub Geared, and Mid Drive.
Hub direct-drive motors work in the front or rear hub and have almost no moving parts as the motor spins around the axle. These can also generate electricity while braking.
Hub geared motors lower RPM and increase the torque output. They can freewheel and don't have drag when they're not running on battery and are being pedaled normally. A geared hub bike works more like a conventional bike.
Using a bike's gears is more complicated and more expensive but can pay dividends. Just as using gears on a conventional bicycle does, using gears on an e-bike means more power efficiency.
Lower cost gearless hub motor models may be simpler and cheaper but are less efficient. They restrict range and performance, plus increase wear on the battery.
Mid-drive motors are positioned at the center of the bike frame, creating a torque that rotates a shaft connected to a chainring.
Mid-drive motors supplement human pedaling within the chain drive, rather than creating an additional power source. They are more mechanically complex than other motor types. They also need good quality chains, as the chains are under strain and need replacing over time.
Mid-drive motors are well suited to mountain bikes. Mountain e-bikes can climb steep and long hills, using the bike's existing gear system and use gear reduction for low-speed climbs.
Other factors
An electric mountain bike needs to resist water, dust, sand, heat, cold, etc. to a much greater level than a conventional bike.
The electrical power also needs to be managed by the cyclist.
Some e-bikes use sensors to govern how much assistance to deliver based on what the cyclist is doing. Others use handlebar-mounted throttle controllers.
Now let's look in detail at contenders for your hard-earned money.
---
1. nakto 26″ Electric Bike Fat Tire Mountain E-bike 500W /48V12A
Best Folding e-bike for heavy riders
A big beefy bike, with big beefy tyres for a big beefy rider. No offence. If you want all your obese rider boxes ticked, check out this tough and rough Nakto. There are many great models and variations in the excellent Nakto range but we plumped for the 500-watt motor / 48-volt capacity combination. If you are 350 lb or even a bit more, this will be a treat for you and works in most use cases.
Pros:
It folds!
It's built like a Sherman Tank
It actually is not that heavy (despite the Sherman thing we just mentioned)
It's a consummate heavy-rider design
Cons:
The style is a bit in your face for some
Final words: If this style is your thing (it is our thing – we like it) there is a lot going for this Nakto e-bike folder.
2. Kemanner 26-inch Electric Mountain Bike
Best cruiser for Heavy Riders
If you are a heavy guy having power always helps – but it is not just about power. Carrying up to a little under 350 lbs, the Keymanner is no monster truck, as it has a modest 250 Watt brushless gear motor for pedal assist with a 36V 8A Lithium Battery power source.
Don't worry though. Since the Keymanner frame is a very lightweight aluminum (about 20 Kg) alloy design, that's OK for road work and some light hill climbing. Add to that, 21 gears give plenty of flexibility in that power transfer department. Think of it like the difference between a V8 in a heavy chassis car versus a turbo in a light chassis car. What that means is the Keymanner is fine for most big riders on normal roads – just don't try to climb the Rockies. It can happily carry 300 lb or more on a gentle cruise and it will take you up to 6 hours to get that full battery charge (not too bad) if you have run the battery fully down.
Some nice touches on the Keymanner include LED headlights and a horn, which as the blurb states, allow you to travel more safely at night.
Pros:
Simple, elegant and practical
Reasonably priced
Cons:
Some other bikes offer more power
Final words: The Kemanner is a civilized mountain e-bike for big guys who want to cruise, not climb Everest.
3. NAKTO 26″ 250W Cargo Electric Bicycle
Best for cargo carrying
Have stuff to carry? Check out the Nakto
This is Nakto a great bike for men or women, with Shimano 6 Speed Gears, Brushless Gear Motor and – a big plus – with Removable Waterproof Large Capacity 36V10A Lithium Battery and Battery Charger. Removable batteries are a big plus as you can rotate between the two, with one on charge and one on the bike, which means you can keep one on charge at all times. Now you can charge in the home but of course, you could sneakily cop a free charge at work too – all of which means you never have to wait to get powered up.
It has cool retro good looks too. The step-over frame is great if you are wearing a dress – or for that matter, you are Scottish and do a lot of cycling in a Kilt.
We like the cargo carrier capacity on the front and on the back too, plenty of space for luggage and shopping or even an especially adventurous small dog.
Pros:
Long battery life
Removable battery
Gender Neutral
Multi-Functioning
Powerful Bike Motor
Adjustable Height
Cons:
The bike has limited manoeuvrability
Verdict: A practical bike with a style of its own.
---
4. DJ City Bike 750W 48V 13Ah Step-Thru
Best for power
We all need power sometimes – so check out this DJ
Another great step-through e-bike design, this time with three times more power than the previous 250-watt Nakto model to move more weight.
Different types of electric bikes have different weight limits, so it is important to follow what the manufacturer suggests ensuring the rider's safety and bike's performance. However, more power is always worth considering. The DJ aluminium frame helps a bit too, cutting down the bike weight.
DJ Bikes are also a Canadian brand and that might appeal to some.
Pros:
Comes stock with extra-long fenders, a rear cargo rack with pannier blockers, and a spot to attach a mini-pump and integrated front and rear lights
Has motor inhibitors which help ensure the shortest possible stopping distance, this is a good safety feature and especially important on bikes like this that have a cadence sensor, which can have a slow response time to starting and stopping of the motor
Headlight and tail-light are integrated into the main electrical system and draws power from the battery, it also has a pretty decent beam pattern and can be effectively used to illuminate a path while riding at night, also serves well to increase overall visibility especially since this bike also has a taillight and many reflectors
Ride is comfortable thanks to 60 mm (about 2 ½ inches) of travel in the front suspension, a rubber cushion on the extra-wide saddle and an upright riding position
Step-thru frame offers a very low "standover" height making it far easier for riders to place their feet flat on the ground when stationary compared to traditional frames, and because of the positioning of the battery and cargo rack, the seat post can be lowered almost completely to the bottom
Battery has a charging port located at the top so the cord stays clear of the cranks during charging, the battery also has a USB Type-A port for charging accessories and because it is removable, it can be charged on or off the bike and can be easily stored in a cool, dry location to help extend the life of the cells
Cons:
Brake setup is the opposite of traditional bikes in North America with the front brake lever on the right side of the handlebars and the rear brake lever on the left side, this might be confusing for people accustomed to the traditional setup and might even result in an accident
The adjustable angle stem only has one point of contact for securing the position and the stem could slip if the screw isn't tightened and the rider places hard pressure on the handlebars, like when climbing a steep hill or going over a big bump, this is another potential safety hazard so just remember to tighten the screws extra tight and maybe add some Gorilla, Loctite or other similar glue product to help ensure they stay in place over time
Verdict: The bigger power this offers can be a deal-winner.
---
5. Aceshin Electric Mountain Bike
Best Mid-Price Heavy Load Bike
The Aceshin 26" aluminum e-bike is good for loads up to 150kg (330 lb) so ideal for the heavier biker.
Features:
The Aceshin weighs in around 20kg. There's a 36V lithium battery that can be charged on or off the bike, which needs 4-6 hours to charge and can get you up to 25 Km/h. It's slightly meaningless to quote the bike quoted range if you really plan to load up fully.
Gears are 21-speed transmission, and there's a useful integrated headlamp and flip-down stand. Both full E-bike and assisted bike modes are supported.
Pros:
Easy use and ticks all the heavy biker boxes.
Cons:
36V is ok but not that powerful if you really are 330 lb / 150 Kg.
Verdict: A sensible e-bike at a sensible price.
FAQ:
Q: What is the battery type?
A: Lithium-ion
Q: What's the issue with 36V?
A: As Scotty would say on Star Trek 'You canna change the laws of Physics'. If you really are nearing the 150 Kg load, to get up a steep hill, consider a more powerful model than this one.
---
6. The Ancheer 2019
Best Stylish Mountain E-bike for Big Riders
Quite a similar offering to the Aceshin, but with a more 'in your face' design ethic. The Aceshin comes with a removable 36V, 8AH Ion lithium battery
Features:
There's a strong but light 100 percent aluminum alloy frame.
Front fork is made of carbon steel and has shock absorption for those big bumps.
The 36V, 8AH Ion lithium battery is good for up to 15 mph, married to the 21-speed transmission system and might on a good take you up a hill or two, even close to the 330 lb /150 Kilo load limit.
250W high-speed brushless gear motors can be used for full-electric or electric-assist cycling.

Pros:
A more robust-looking choice for a country road or hill.
Cons:
Not really for big mountains.
Verdict: This style of e-bike will be big with riders who want everyone to know this is a mountain bike, not one of those road models.
FAQ:
Q: Is this really a big guys' e-bike?
A: Yes. Ok, it's limited by the battery and 250 W motor
---
7. The GUNAI Electric Folding Mountain Bike
Best for Go-Anywhere Fun
Ok, let's start our list with a confession. We all secretly know this is true. You don't need an electric mountain bike. If you are going out mountain biking, it's for fun and exercise. So, electric power is a bit pointless. Except it isn't. Because Electric Mountain bikes are fun. In fact, they are more fun for some people than conventional mountain bikes.
That's why Gunai hit the top of our list for the sheer fun factor.
Features:
The first thing that hits you is the 'in your face' 26 x 4.0-inch fat tires. That has appeal off the bat for some big guys. These will tackle roads, mud, snow, and sand. This is a go-anywhere bike. Practical mud flaps are a standard feature and also mean you can use it on a rainy commute to work, without having a mud bath.
Another practical feature is the flip-out bike stand. When you stop to take in the scenery or engage in a little playful passive-aggressive banter with outer mountain bikers, you don't need anything to lean against.
The frame and suspension are reasonably light but tough, so you can tackle those bumps with ease and confidence.
You also get three cycling modes – throttle, assisted pedal and non-assisted pedal. That means you can use all, some or none of the battery charge.
There's a comprehensive display and control system. This includes mileage, speed, and battery charge level. It also recommends when you should recharge the 48V 12Ah Removable Lithium Battery
The bike also displays gear adjustment – there are 5 primary gears plus a 21-speed variable system – and headlights.
It folds too, so you can take it in the car to those mountain tracks, without needing a bike rack or trailer for your car. It also means it can be stored more easily at home.
So, this Gunai bike is practical on the road and off. It looks the part and is well made. There are more expensive and more highly specified electric mountain bikes. What this model does, is give you a big fun factor at a reasonable price.

Pros:
Works off-road and on. Easy to transport and store.
Cons:
Heavy compared to some rivals. Some other mountain bikes have more powerful engines and batteries.
Verdict: Fun but practical
FAQ:
Q: Why would I need a more powerful model?
A: Only if you plan to really use the full electric assist on steep hills, or you just want to go a bit faster on shallow hills. Remember you are a big guy.
Q: What is it's mileage on pure electric?
A: About 40 KM
Q: How long does it take to recharge
A: About 5 hours from flat to full
---
8. W Wallke Folding Aluminum Electric Bike
Best Folding Bike for the Big Guy
OK are you up to 300 pounds and really planning to cycle up a mountain?
Well, if you are, this bike will help you do just that.
Features:
This 48V motor 750W battery combination packs real power. Where legal, this will hit 25 mph. This is a step up from some other models. There are hydraulic brakes too, which can give you more stopping power than traditional mechanical bike brakes.
The folding frame makes it easy to store and transport in the back of your car.
A comprehensive display gives you all the info needed and you can select one of three pure electric driving modes to trade speed for distance. Charging time is 5-7 hours though, which is sort of to be expected for this much power,
Pedal-assist and pure pedal are also available.

Pros:
A powerful choice for big guys.
Cons:
A bit short on goodies – no light and no stand.
Verdict: Fits the niche it is designed for.
FAQ:
Q: Why do some bikes have speed limited to 15.5 mph?
A: Because that's the law in many countries.
---
9. HYLH 72V 5000W FC-1
Best Luxury Electric Mountain Bike
If money is no object, this might be the bike for you. This range costs up to 5 times more than a basic electric mountain bike.
Features:
You get an ultra-powerful battery and motor assembly, based on a 72V 35Ah Li-Ion Samsung, with 3500mAh Cells
That's a lot of power, even for a big guy.
The 18" frame is steel with sophisticated air suspension. Front and back wheels are motorcycle style.
Just about every gizmo is standard; integrated lights front and back, regenerative braking, 5 level pedal assist, throttle control, full-color TFT display, built-in alarm and even cruise control.
The claimed top speed is a staggering 90 plus km hour. Gentle PAS riding will get you nearly 100 km before recharging.

Pros:
Bags of power and everything you'd want in a mountain bike.
Cons:
Do you really want to spend this much?
Verdict: If money is no object, why not?
FAQ:
Q: How much money does this cost?
A: It depends on the country you buy it in and the tax you would pay, check out Amazon for some numbers.
---
10. Cyclamatic Power Plus CX1 Electric Mountain Bike
Best Low Budget Mountain E-ike for Big Guys
For fraction of the cost of the previous bike, is this Cyclamatic Power Plus CX1.
In fact, you could almost equip a whole cycling team and have money to spare.
Features:
The CX1 has a 19" steel frame which can support up to 220 pounds of weight. Great for the bigger e-biker. There are 3 pedal assist modes (low, medium, high) that can get – with the pedal-assist – speeds up to 15mph.
The 36V Li-Ion battery and 250W motor allows 25 – 30 miles range. 21 gears should be plenty for most riders.
Battery charge time is 4 – 6 hours but it's a heavy unit, and the CX1 weighs around 47 pounds with the battery. Not ideal on a steep hill climb.
Two good points are the quick-release battery and quick release front wheel. That makes charging, transport and storage easy.

Pros:
Low cost but decently specified.
Cons:
Heavy and not very powerful motor/battery combination.
Verdict: A sensible low budget model.
---
11. BPM Fast F-95 1000W 17AH 48V Fat TIRE Electric Bicycle
Best High-Power Mountain E-bike
OK, we are talking bigger guys, so let's get back to the power. There's plenty on offer from the F-95. A 48V Lithium-Ion Battery, coupled with a massive 1000W motor and 21 gears puts it streets ahead of many basic e-bikes – but at around three times the price. It carries up to 350 pounds, so no issues there.
Features:
Fat 4" tires and a strong aluminum alloy frame with good suspension, means the F-95 will tackle the rough stuff very well indeed.
Throttle, pedal-assist, and normal pedal are all supported. Top speed, where allowed is close to 36 mph although you won't get near the usual range of 40 miles at those speeds, without dropping down to pedal assist.
Other handy features are a status screen, mounted on the front handlebars.

Cons:
Lots of other bikes in this category cost somewhat less.
Verdict: Plenty of off-road power for the bigger e-biker at a reasonable price.
FAQ:
Q: Does an aluminum frame make much difference?
A: Anything that reduces weight will help increase your range and your acceleration if you are in full electric mode.
---
12. Cyrusher Extrbici Xf660
Best for Snow or Sand
Our final selection is a bike that's at home at a ski or beach resort.
Features:
This is a 500/1000W 48V big wheel (26'X4.0) Bicycle.
It weighs in at a reasonable 25 kg and has a 17" frame.
Again, we have three operating modes: Pedal only, PAS mode and full electric.
Where legal, the brushless motor can let you reach 26 mph using 7/21 gears. The battery will get you up to 50 km and full charging takes around 6.5 hours.
Good suspension and fat tires make this a good choice for winter and summer, with an especially good ride experience over snow or desert conditions.
If you are up to 150 kg or 6.5 feet tall, it's a practical bike.
So, our final offering is very much a possibility to answer the question: What is the best e-bike for big guys?

Pros:
Some bikes will struggle in snow or sand.
Cons:
The pumped-up looks might be a bit much for some.
Verdict: Fun at the beach or ski lodge.
---
ALTERNATIVE TOP of the Best Ebike for Heavy Riders in 2021
Nilox E Bike X1
Best Budget Folding Bike
This 20" wheel folding e-bike, with a 25-watt pedal-assist engine, is a totally different proposition to the Gunai. The Nilox is great for the big guy city dweller, maybe living in an apartment, who wants to get to work, or to the park. It can be stored easily in your hallway, at your office, or taken on a bus or train.
Features:
Weighing in at 20 kilos with battery, it has a 25 km range – about 15. 5 miles – and 25 km/h top speed. The detachable battery charge time is around 3 hours from flat to full.
There's a handy built-in bike lock (although as a visible deterrent, an external bike lock might be needed too) and a practical luggage carrier over the rear wheel.
It's also great for exploring on holiday when you are using a Winnebago, or when you are caravanning or camping. Don't try off-roading with it though.

Pros:
Easy use, to transport and store.
Cons:
Not that powerful and not suited to long-distance two-way commutes.
Verdict: Great for the city or a vacation (a sensible e-bike at a sensible price).
FAQ:
Q: What is the battery type?
A: Lithium-ion
Q: Could I carry a spare battery with me?
A: Yes. The battery can be detached. However, spare batteries can cost about 1/3 as much as a completely new bike.
---
E-Rangers Cruiser X1
Best Retro-Style Bike That's Practical too
Now, we're not going to get into stereotypes here. However, some people look askance at the testosterone inspired designs of pumped-up mountain bikes, or stratospherically priced racing road bikes, with their equally expensive special clothes and wonder 'what are these guys doing?'.
There a different style of cycling too. One that is serene and non-competitive. It's the opposite of macho behavior or status symbols.
Features:
That's the market for the E-Rangers Cruiser X1. For people who don't want to spend hundreds of dollars on a NASA designed fabric pair of racing shorts. It offers a traditional step-through frame, ideal if you plan to cycle in a kilt!. There's a choice of 26″/28″ wheel 18″/21″ frames with front and rear mudflaps, rear luggage pannier, and bike stand.
Weight is 24 kilos and there's a pedal-assist system (PAS) based on a Lithium battery with a 30 plus mile range. 9 levels of assist are available.

Pros:
A relaxing sensible choice for the city or a country road.
Verdict: Practical and makes a style statement
FAQ:
Q: Is this really a big guys' e-bike?
A: Yes. Ok, it's limited to a little under 6 feet height, but will carry a passenger up to 125 Kg.
---
Volt hybrid long-distance e-bike
Best for Long-Range Road Cruising
The Volt range, which includes different wheel and frame sizes, is a very different animal from any of the bikes we have covered so far. Design-wise the bikes sit between a road bike and a mountain bike, with slim tires.
Features:
The battery options are based on 36v Lithium Polymer (Li-Po). You get a 60-mile range on the standard battery (400Wh) and 80 miles with an extra- 60-mile optional battery (630Wh). Speed is limited to 15.5 mph.
For long-distance cruising, this is a more practical range than many other models. There are 5 different pedal assist levels, powered by a 250-watt motor.
Volt offers a 2-year warranty on some parts, which is more than some competitors.

Pros:
A practical choice for long-distance road journeys.
Cons:
They claim 'light off-road' but that's a bit optimistic.
Verdict: Fits the niche it is designed for.
FAQ:
Q: Why do some bikes have speed limited to 15.5 mph?
A: Because that's the law in many countries.
---
Shengmilo MX 02 Electric Bicycle 26′ Electric Mountain Bike
Best Mid-price Mountain E-bike
OK, we are talking bigger guys, so let's get back to the power. There's plenty on offer from the MX 02. A 48V Lithium-Ion Battery, coupled with a 500W motor and 21 gears puts it streets ahead of the CX1 – but at around three times the price.
Features:
26 x 4.0-inch fat tires and a strong aluminum alloy frame with good suspension, means the MX 02 will tackle the rough stuff very well indeed.
Throttle, pedal-assist, and normal pedal are all supported. The battery is removable – a big plus – and will recharge from empty to full in about 5.5 hours. Top speed, where allowed is close to 40 mph although you won't get near the usual range of 40 miles at those speeds, without dropping down to pedal assist.
Other handy features are a headlamp and status screen, mounted on the front handlebars.

Pros:
Good power, handy detachable battery.
Cons:
Lots of other bikes in this category cost somewhat less.
Verdict: Plenty of off-road power for the bigger e-biker at a reasonable price.
FAQ:
Q: Does an aluminum frame make much difference?
A: Anything that reduces weight will help increase your range and your acceleration if you are in full electric mode.
---
AERO BIKE X-Ride Mens Hybrid eBike
Best Budget Hybrid Bike
If you are an occasional mountain biker, it makes sense to go with a hybrid design that is well mannered on the road too. This aero bike model is a reminder that there's plenty of fun on roads.
Features:
The X-Ride has some basic intelligence built in to analyze pedal power via torque sensors. Pedal harder and the bike supplies you more assistance.
There's an automatic gear changer, that decided which gear is going to help you best or conserve the 36v Li-ion Battery.
Charge time is around 3 hours and range is around 30 miles.
AI has entered so much of our lives, it shouldn't be surprising if e-bikes start to make use of it.

Verdict: A smart hybrid bike with interesting features.
FAQ:
Q: Does a hybrid e-bike really make sense if you want to off-road seriously?
A: No. A hybrid e-bike is fine for country lanes but can't compete with a purpose-built electric mountain bike for serious off-roading.
---
Westhill Phantom Electric Mountain Bike
Best Stealth E Bike
Today we have stealth bombers, fighters, and even ships – so why not e-bikes?
Features:
The Phantom looks like a conventional bike but includes a Lithium-ion 36 V battery, coupled with a 250 W engine. It weighs 23 kg with battery and gets up to 15.5 mph. The charging time is 4-6 hours.
Power is put down via 27-inch tires and 30 gears.
Its main drawback for the bigger e biker is a recommended max weight of 120 kg. However, if by 'big' you mean 'tall' that's not a problem.
There's a simple LCD status display on one handle but other than that, no one needs to know this is electric-assisted.

Pros:
Fool everyone you are doing the work.
Cons:
OK if you are tall, but not if you are above 120 kg.
Verdict: Something a little different to think about.
FAQ:
Q: I don't get the point of this bike?
A: Electric bikes about twice the price of a similar conventional bike – a juicy target for criminals. This looks like a conventional bike.
---
LANKELEISI 1000W Motor All-terrain Folding Electric Bike
Best for Mid-Price Power
If it's power you crave but your budget is modest, try this model.
Features:
It packs real punch, with 27 speed/ 5 gears, a 1Kw motor, and 48V removable battery driving 26 Inch 4.0 fat tires.
It's the usual, throttle, PAS or pedal choice, with an onboard display. At 33 kg it's not the lightest e-bike but it will support up to 150 kg of a passenger. In pedal-assist mode, expect 60 – 80 km range. On pure electric, you will get around half that.
It folds too, ideal for transport and storage.

Pros:
Plenty of power and well built. It will carry up to 150 kg and is good for guys up to 195cm.
Verdict: A strong capable e-bike for big guys
FAQ:
Q: Are there any disadvantages with bikes that fold?
A: Not really, other than they cost a bit more to make. So long as the folding mechanism is well designed, there's little impact on structural integrity.
---
Best Electric Bikes for Big Guys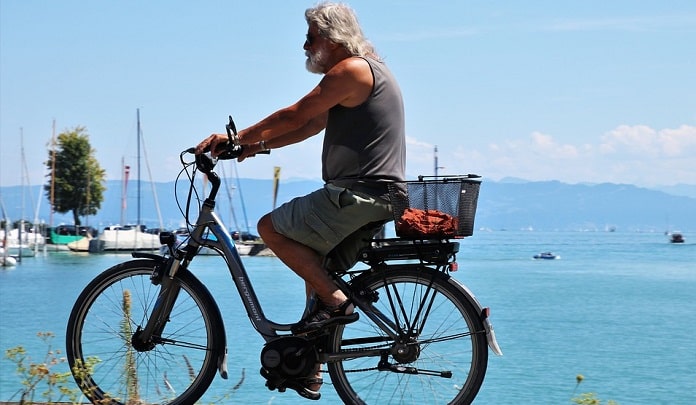 So, that concludes our review of the best ebike for heavy riders.
We took a broad look at the subject and could have focused just on higher performance mountain bikes. But big guys come in different shapes and sizes and might want different bikes.
We hope you found this useful and given you food for thought.