Digital projectors are great because they can create a big image – way bigger than a TV – that lots of people can see.
In this article, we're going to answer the question 'what is the projector for daylight viewing'. This question goes beyond issues like brand, what's cheap, who has recommended it, or what is popular.
We spent over 120 hours of rating popular and less well-known models.
Using a projector in daylight is very tricky and you are going to have to pay a reasonable price for a model that looks good.
Because you are already working with the inverse square law (the further away from a light source a screen is, the less light it gets) and also with daylight battling with the projector output, then you need a model with a high light output (measured in lumens or lux) and a good contrast ratio.

Just by pulling the curtains, rolling down the blinds, etc. you are always going to get a better-looking picture.
However, that isn't always possible and you are going to need a high output projector of more than 3,000 lumens and ideally with a good contrast ratio of around 6,000: 1 or higher.
It might be an HD projector or 4K, or even some other resolution, but it needs primarily to be able to handle the unique output challenges of daylight viewing, indoors or out.
We'll explain exactly why that is in a minute and then look in detail at 7 candidates. In the meantime, let's just jump right in with three models we recommend.
Best Projectors for Daylight Viewing in 2022

For those looking for a projector that can handle bright conditions, we've got just the thing. Our top three picks are all perfect in this regard and will provide you with great image quality no matter what kind of light there is!
Best Overall Model: BenQ TK850i
The BenQ TK850i projector is a high-end device that offers stunning 4K image quality. With its HDR capabilities, the projector provides realistic and detailed images, regardless of ambient lighting conditions. This projector is ideal for viewing in bright environments. Additionally, the projector is easy to use, with features like airplay and Chromecast casting. And for added peace of mind, the BenQ TK850i comes backed by an industry-leading warranty.
Great Alternative Model: Epson Pro EX7260
If you're looking for a pro-quality projector with accurate, vivid color, even in well-lit rooms, then you'll want to check out the Epson Pro EX7260. With 3,600 lumens of equal color and white brightness, it's perfect for HD presentations and video projection. Plus, it supports MHL-enabled devices for mirroring and charging, making it ideal for use with your smartphone or tablet.
Best Affordable Model: ViewSonic PA503W
The ViewSonic PA503W Projector is the perfect tool for presentations, videos, and pictures. With a simple setup and control, just plug & play your presentations, videos, and pictures. The projector is HDTV compatible and has a long lamp life of up to 15,000 hours in Super Eco Mode. Additionally, the projector is incredibly versatile and can be used in education and small business environments. With input options including HDMI and VGA, the ViewSonic PA503W Projector is flexible and easy to use.
Ok, that's done. So, let's take a quick look at the science of projectors for daylight viewing now.
---
Daylight Projection and How the Human Visual System (HVS) Works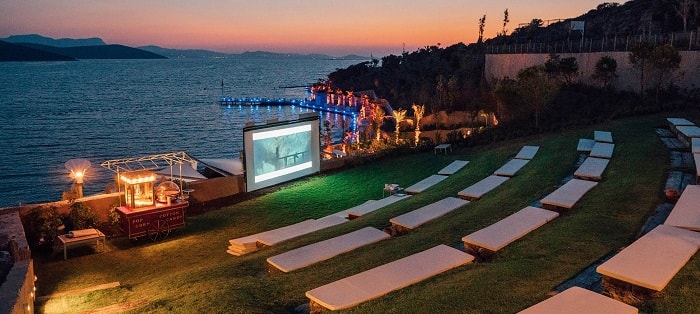 When you are looking for the best projectors for daylight viewing, here's some important information. When you are using a projector in daylight, you have to fool the human visual system (HVS) in a number of ways.
Now as we'll see in a minute, the HVS does not work in any way like a camera. Also, bear in mind when using a projector for daylight use, in any sequence of video scenes, you might have deep blacks, bright whites and many different colors. At the same time, you are watching in daylight.
The simple answer is to draw the curtains / pull down the blinds / close the shutters – but we're going to assume in this article that there are reasons that you can't do that (or you don't want to do that). So "what is the projector for daylight viewing" needs a bit of science to understand the topic.
Daylight viewing poses two problems for any projector
1. It needs to fool you (and your HVS) into thinking that the white projection screen is actually black when showing black. Of course, in a daylight room, the projector screen for daylight viewing will be white, because it illuminated by the daylight. Don't incidentally try just paint a wall white and projecting onto that. The result will be really poor. So, this takes us into the strange realms of HVS relative contrast perception.
2. It needs to fool you into thinking the colors on the screen are 'correct' even though for example the blue of the sky in a projected scene is different from the blue of the sky when you look away from the projector and out of the window. So, this is an issue of HVS.
Color constancy
Let's look at contrast first. We're going to use a great optical illusion that illustrates this by Edward H. Adelson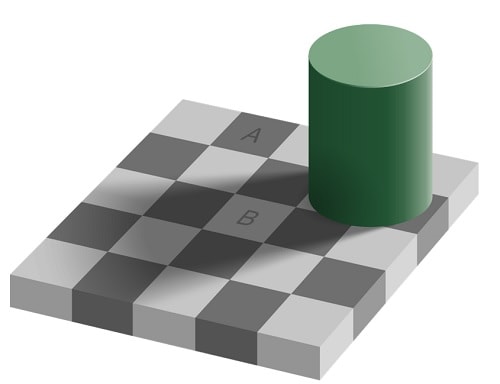 Take a look at the checkerboard and green cylinder above. Look at the 'a' and 'b' squares. They are completely different shades of grey – right? No doubt about it.
OK now, look at the checkerboard and green cylinder below. It's exactly the same image with exactly the same original shade of grey as the image above in 'a' and in 'b'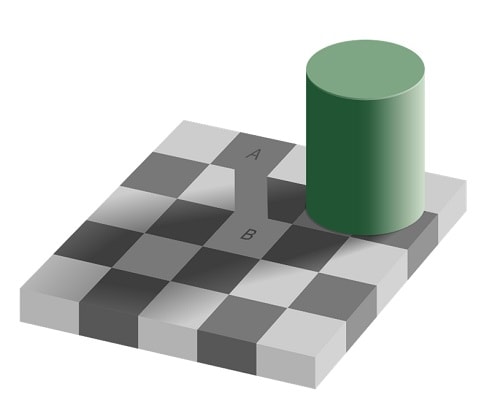 What you are seeing here is the phenomena of "relative contrast perception". In fact, in the original image 'a' and 'b' are exactly the same. What is happening is that your brain believes they are different because it calculates contrasts and how black or white an image is based on context.
Since square 'b' appears to be in shadow from the cylinder, it appears to be darker. What this means for a digital projector is that when it is projecting 'black' it really needs to not be projecting any light at all, otherwise the audience's HVS will be getting some wrong cues.
Equally, when it is projecting peak white, it needs to be very bright (remember we are talking about daylight viewing) otherwise again the HVS of the audience will get confused.
Now let's move on to color and color constancy. Color, of course, doesn't actually exist. The world is, in fact, monochrome and lots of animals have no color sense or a very different color system to us.
The HVS 'makes' colors based on evolutionary principles – because it helped our distant ancestors to survive by not being eaten by predators, eating the right berries and not the poisonous ones, etc.
We always see color in relation to the ones nearby and in relation to what we have previously seen and what we expect to see.
Take a look at the Rubik's cube below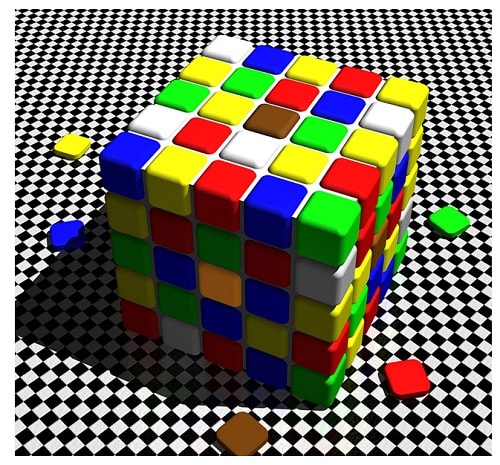 The square at the center of the cube facing is yellow, right? The square at the center of the cube at the top is brown, right?
Are you sure? Now look again below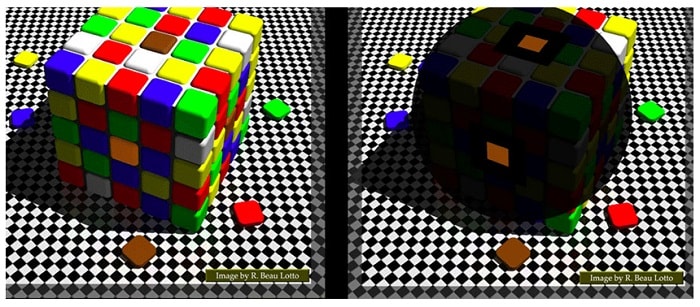 In fact, they are exactly the same muddy orange, as the image on the right shows.. This is related to the fact that color perception is always based on the comparison.
In this case, the colored squares are being compared to those next to them and the apparent lighting conditions. It also relates to color constancy, which we'll discuss in a minute.
What this also means is your projector needs to handle indoor color perceptions, which is different from outdoor. It also makes a difference if it's a projector for bright rooms or for darkened room use. Your projector needs to be adjustable for color temperature. This is not an issue for Cinema projectors as cinemas are always basically the same. However, it does make a difference for home use.
Finally, we also need to mention color constancy when looking for the best projector for daylight viewing.
Simply put, when we move between the indoors or outdoors, or in and out of bright sunlight, or turn on a lightbulb in a dim room, we 'reset' our colors.
Now you might remember this famous dress that was a meme on the internet a few years ago. People disagreed about what the colors were.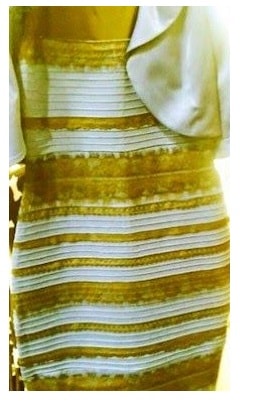 In fact, everyone was right. The color you see is partly dependent on the colors you were looking at before and also on the lighting conditions around you when you are looking at the dress.
So, bright sunlight would give one set of colors, fluorescent light another, candlelight a third and so on.
So, any of these three might be what you think you 'saw'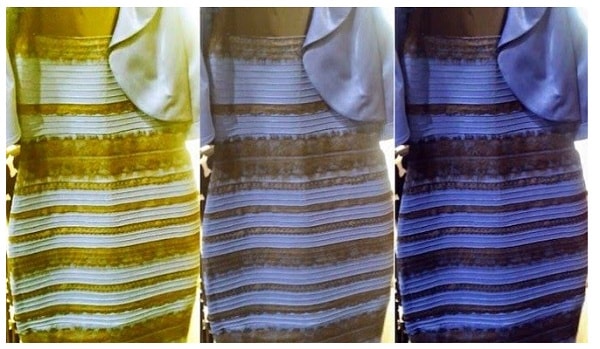 That's the science done, now let's take a detailed look at our seven candidates for answering the question "what is the projector for daylight viewing?"
What is the best projector for daylight viewing?
---
1. BenQ TK850i True 4K HDR-PRO Smart Home Entertainment Projector
Overall Best Model for Daylight
Introducing the
BenQ TK850i
projector! This incredible device offers stunning 4K resolution image quality, making it perfect for home entertainment or business use. With HDR10 and HLG support, the TK850i delivers brilliant colors and enhanced contrast that will make your favorite movies and TV shows look more realistic than ever.
And with a high visual brightness of over 3000 lumens, you can enjoy your content in any ambient lighting conditions.
Plus, the user-friendly design makes setup a breeze – simply cast content from your smartphone or tablet with airplay or Chromecast without needing any special apps.
And thanks to the industry-leading warranty, you can rest assured that your new projector is built to last. So don't wait –make the order 😉
---
2. Epson Pro EX7260 3,600 lumens brightness wireless HDMI Projector
Great Alternative Model for Daylight
The
Epson Pro EX7260
Projector is perfect for business presentations and video projections. With 3,600 lumens of equal color and white brightness, it produces accurate, vivid colors, even in well-lit rooms.
The WXGA resolution (1280 x 800) offers 2x more resolution than SVGA for projecting HD presentations and video.
And the wireless connectivity lets you project from your laptop, tablet or smartphone without having to plug into the projector, so you can move freely about the room.
The projector also supports MHL-enabled devices for mirroring and charging, making it perfect for daylight viewing.
---
3. ViewSonic PA503W WXGA High Brightness Projector for Home and Office
Best Affordable Model for Daylight
Whether you're giving a presentation for work or school, the
ViewSonic PA503W
Projector is a great choice for projecting large, clear images. It's easy to set up and use – just plug it in and you're ready to go.
The PA503W has a long lamp life, so you can use it for hours on end without having to worry about replacing the bulb. And with flexible connectivity options, it's easy to connect to most media players, PCs, and mobile devices.
HDTV compatibility and 3800 lumens of brightness ensure that your images will look sharp and clear, even in well-lit rooms. So whether you're watching a movie or giving a presentation, the ViewSonic PA503W us a perfect option for all of those uses.
---
4. YABER Y31 Projector
Best Model for Daylight Viewing
>
We all want something that will meet our needs and budget, but when you're picking out an electronic device it's important to consider quality as well. The
Yaber Y31 model
was designed specifically for those who need a good deal on their purchase, without sacrificing power or performance! Let's take this chance see what they've got going at home in terms of design features…
The YABER Y31 is a great little device that offers plenty of brightness for its frugally priced package. While it may not be the highest-end model out there, you'll still find this serviceable enough to make an okay option if your after some basic illumination and don't have too many dollars going into projects or hobbies alike!
The durable, solid little machine that is the YABER Y31. With the YABER Y31, you can enjoy outdoor movie days and nights in a casual and friendly environment.
The brightness of this projector is perfect to combat extra visual noise when watching movies outside on an evening with plenty of ambient light (not too dark but also not brightly lit either) – It's just right! We think that someone who wants their portable viewing area be able use them anywhere would find this product very attractive due its ability transport easily between different locations whether indoors or outdoors – really making those long trips worth every second spent packing up all your gear before heading off into nature.
Pros:
Full HD resolution;
Double the output of similar rivals at this price point;
Easy to set up zoom (for distance) focus and keystoning from the remote control;
Quiet good picture quality in this price range;
Good quality speakers;
The lamplight is estimated at 90,000 hours.
Cons:
Possible fan noise at high brightness settings
At its max settings, the ±50° keystone adjustment might make the edges a bit blurry
Verdict: Yaber Y31 has a great projector for the price. It misses out on some features that would make it more useful, but if you don't need those things this product will serve its purpose well and may even last through several years of use!.
---
5. PONER SAUND 6800 Lumens LCD Projector
Best for outdoor use
At 6,800 lumens and an 8000:1 Contrast Ratio at a very affordable price, it's Dr. Feelgood for
this projector
. There's a built-in speaker, which is handy if you are using it outside for a garden party, for movie viewing etc and don't want to drag your soundbar or main HiFi sound system outside -but most people would hook this up indoors to an external speaker system for a full range of audio.
It comes with a 100-inch projection screen included in the price too, so a great value bundle.
Pros:
Plenty of output at 6,800 lumens
A very good contrast ratio at 8000: 1
Internal speaker is handy for use outside away from your main sound system
Comes with screen included in the price – a big plus
Cons:
The fan is a bit loud
Ceiling mounting is difficult
Verdict: Considering you get a decent output projector, screen and audio setup all in one package, well worth considering especially for outdoors.
---
6. Gzunelic 7000 Lumens Smart Bluetooth Projector
Best 7,000 Lumens projector
If you want to go brighter than the
6,000 Lumens models
we already talked about, this is the next logical step up.
We have no idea how to pronounce "Gzunelic" but we can say that if you are prepared to pay a bit more, then this quoted 7,000 lumens output (in practice this will be slightly less) and 10000:1 Contrast ratio are a bit better than our first two models.
What you get for those extra dollars is another really good remote control system – which includes zoom and keystone correction, and a slightly better sound system than the Dr. J.
Pros:
Rated output at 7,000 lumens
Contrasts ratio at 10000: 1
The internal speaker is not just handy for use outside but also surprisingly decent – it's not just a simple speaker
Cons:
It has Bluetooth but does not have Bluetooth capability except for an external speaker
Verdict: Pay a bit more for the Gzunelic, and you will get a bit more.
---
7. YABER Native 1080P 6500 Lumens Projector
Best 6,000 Lumen HD model
We really like this relatively low-cost 1080P
HD model from Yaber
. This model has a 6500 lumens output, which is roughly double what many projectors at the price point typically have. There's a clever keystone, zoom and focus control too which – unlike some competitors – is almost all done on the remote control.
That's really useful and a lot more convenient than balancing on a chair, trying to adjust a ceiling-mounted projector that has those controls on the projector body. There is a 6800 lumens option but in our view, the extra 300 lumens isn't really worth paying the extra for – better to go up to 7,000 lumens or higher.
It's an HD projector that we think is fine in this application and at this price point – 4K resolution is overkill for daylight use as you are unlikely to see the extra resolution because of the lower contrast that is inherent with outdoor or bright indoor projection environments.
The Yaber also ticks the right connectivity boxes, including Chromecast, PC, laptops, tablets, external speakers, Playstation, Xbox, DVD players, card readers, USB sticks, media players, iPad, iPhone, Android smartphone, set-top TV boxes and Amazon Fire Stick TV.
Pros:
Double the output of similar rivals at this price point
Easy to set up zoom (for distance) focus and keystoning from the remote control
Great connectivity to just about everything
Cons:
No Dolby audio format support
Verdict: A really good spec for a lower-cost model
---
If, for some reason, the previous models did not suit you, below is a list of alternative projectors for displaying in bright conditions.
NEC Corporation NP-PA803U
Best 8,000 Lumens 4K projector
By now you will see we are going up in steps. If 7,000 lumens and HD is still not enough and you don't mind the set up in costs, then this luxury 4K projector from NEC is the next step up at 8,000 lumens, 10,000:1 dynamic range – plus of course that higher spatial resolution of 4k. It's way heavier than anything we have looked at so far at 22 pounds but also way more powerful.
It really is in a different league, supporting High Dynamic Range (HDR10) and Wide Color Gamut BT.2020 signals from "Ultra HD Blu-ray" and 4K TV broadcasting. Now, the 4K resolution really is 4K. 4K TV only goes up to 3840×2160 pixels – that's the UHDTV standard, but this NEC model goes up to 4096 x 2160 which is the superior 4K Cinema standard.
It even has some neat tricks with color (which you'll remember from our introduction on optical illusions) which NEC calls Built-in Wall Color Correction, which provides adaptive color tone correction to display correctly on walls which have non-white surfaces.
You have to select a lens for it, so you will be overall paying big money, but if you have the cash, this projector will blow away lesser models with ease.
Pros:
Massive output
Great dynamic range
Very high spatial resolution
Clever colorimetry
Verdict: There used to be a thing in Hi-Fi that you were basically trying to impress other hi-fi users through buying a really superior kit. If you want to look down on your neighbor's projectors, buy this NEC. It looks fantastic – assuming you are prepared to pay.
---
NEC Corporation NP-PA853W-41ZL
The most powerful projector for daylight viewing on our list
Just to complete this section, our final step up is to another monster from NEC, the snappily named NP-PA853W-41ZL. This one hits even higher outputs than the NP-PA803U at an astonishing 8500 Lumen.
Beyond this, you are in the realms of digital cinema projectors. However, if you liked the look of the NP-PA803U, this gives you All that plus more.
Pros:
All the benefits of the NP-PA803U
Even more powerful output at a massive 8500 lumens
The most powerful daylight viewing projector on our list
Cons:
Like the NP-PA803U, you have to source lenses so this is going to be an expensive purchase
Verdict: Think of this as buying a Porsche. You save up and buy a Porsche Boxster (that's like the NP-PA803U). It's a great car and you are feeling pretty good. Then someone pulls up at the traffic lights next to you in a Porsche 911 (that's like the NP-PA853W-41ZL). That's way better and from the same company. Then suddenly, you don't feel so great anymore.
---
VANKYO Leisure 420 Mini Projector, 3800 Lux
Best portable outdoor projector
Ok, we're going to take things down now. So we are stepping down to some very affordable models. The Vankyo has a modest (but good) 4500 Lux output and 2000:1 contrast range but is really affordable, really lightweight and specifically designed for portable outdoor daylight or night time use.
It's so portable that you even get a carry bag. Its resolution is 1080P which is at least better than the 1280x720p HD format. It's so affordable, you can't really criticize the specs anyway. There's even a pair of 3-watt built-in speakers too.
Pros:
Very lightweight
Designed to be portable
Extremely affordable
Onboard speakers
Cons:
4500 lux and 2000:1 contrast won't work well in really bright daylight – normal daylight will be acceptable
Verdict: If you want something low cost and portable, this is worth a look.
---
GooDee YG620
Best compromise model
The GooDee (that's a pun) is our last projector on our list but not in any way the least. In fact, it is a great balance between affordability and features.
It's a Native 1080p Projector that outputs a very respectable 6800 Lux – similar to more expensive models – and a good contrast ratio of 7000:1. It's also quite reasonably portable and lightweight and even comes in a carrying bag.
So if you look at the total GooDee package, (which includes some basic speakers) it's cheap, has good performance and is well suited to daylight use – inside or out.
Pros:
Very good 6800 lumens output
Good 7000:1 contrast ratio
Handy built-in speakers
Portable and has a carry case
Full 1080p HD support
Supports Dolby audio (not always the case in this price range)
Cons:
Ergonomics aren't always that well thought out
Verdict: If you don't want to pay big bucks, the GooDee is a sensible compromise choice which makes it a valid candidate for the title of 'best projector for daylight viewing.
---
How Many Lumens for Daytime Projector
We are frequently asked how many lumens for daytime projector. We hope this article will answer your question and provide information about lumens needed to project in daylight.
Lumens are a measure of light output, meaning the total amount of visible light emitted by an object per unit time. The higher the number, the brighter the object appears to be when viewed from a given distance. In general, you want to get as close as possible to 10,000 lumens if you plan on projecting during daylight hours because it can be hard for people's eyesight to adjust quickly enough at that time of day and there is more glare coming off screens which makes them harder to see too.
The number of lumens needed to project in daylight depends on what you plan to use it for, but a good starting point is about 10000 lumens.
Why do people want more than the average projection screen brightness? Daylight can make it hard for eyesight adjust quickly enough and glare makes screens harder to see too.
How to Watch Projector in Daylight
When you want to project in daylight, it is important that the projector has a high enough lumen output. If your projector does not have enough lumens for outside use, you will find yourself having to watch shadows and glare onscreen from the sun while watching your movie or presentation.
The general rule of thumb is about twice as many lumens as ambient light (i.e., if there's 50 lux then 100 would be recommended). So if you're using the projection outdoors during daytime hours when there are more than 500 lux of ambient lighting, pick something with at least 1000 lumens or 2000+ lumens if available.
You'll need around two times as much luminosity for an outdoor environment (100% brightness) than for an indoor environment (50% brightness).
The general rule of thumb is about twice as many lumens as ambient light.
Keep in mind that it's not just the amount of lux but also the type and angle of the light source: sunlight has a different color temperature, intensity level, and directional pattern than incandescent light.
Sunlight has a different color temperature, intensity level and directional pattern than incandescent light sources.
The projector will need to have the necessary lumens and the correct color temperature for daylight viewing.
How to make projector brighter in daylight
When you want to use a projector during the day, how can you make it brighter? This is an important question as many people think projectors should only be used at night. In this article, we will answer how to make a projector brighter in daylight and how to use a projector during the day.
There are a few things you can do to make your projector brighter in daylight. One is to adjust the projector's contrast and brightness settings. Another is to change the projection angle so that it faces more towards the sky. Finally, you can try using a higher-brightness projector lamp.
Can you use a projector during the day?
If the room is bright, using a projector during the day can be challenging. You will have to adjust your contrast and brightness settings to their lowest levels possible in order for you to see what's on the screen. Furthermore, there are no high-brightness projectors lamps or lenses that can solve this problem completely.
However it should be noted that if you do use a higher-brightness projector lamp but still find your image too dim at its optimal setting then perhaps you need reflect more light onto your projection surface (e.g., by way of an external mirror). If everything else fails, consider moving toward magnetic ballast electronic HID lamps because they require less energy than traditional halogen bulbs which means lower electricity costs. Also, their cooling fans and ventilation systems tend to be smaller.
Daylight Projector for Home
So we have looked at some very widely different candidates for the title of a great projector for daylight use. We have looked at models that cost a few hundred dollars and ones that cost a few thousand. We have looked at ones that will be fine on a cloudy day and ones that will be fine on a sunny day.
In the end, it's all down to what is important to you. Franky, you really should not be using any projector in daylight. No projector likes that and anything you can do to reduce the ambient light is going to be a big help. However, on our list, we can recommend some really good candidates that match what cost you are prepared to accept.
We hope you have found this useful but would love to hear your ideas, suggestions, and comments. Please leave them in the comments section below. Thanks for reading.
Best Projectors for Bright Room
So, you want to buy a projector but it's a bright environment, so what is the best projector for light rooms? The luminosity ratio – the measure of how bright a projector is – is about comparing the brightest and darkest shades over time.

What is the best projector for bright rooms?
Choosing the right projector is more tricky than you might think. Before looking in detail at that question, here are our three headlines top-rated projector in bright room choices, with our top reviews of seven in detail, when you read on.

EDITOR's PICK in 2020
«EDITOR's PICK»
Overall best projector for bright room use dynamic range
Our rating: ⭐⭐⭐⭐⭐
If you have the cash, then this Sony VPL-VW1100ES is simply the best for dynamic range with an incredible image contrast ratio of 1000000:1. The quotes 2,000 lumens output doesn't tell the real story here. Throw in true 4096x2160 Cinema-grade 4K and you have a great high-end solution that will visually blow you away. You'll need to keep changing those lamps though.
Pros:
— Amazing dynamic range;
— True 4K support;
— Sony legendary build quality;
— Breath-taking High Dynamic Range capability.

Cons:
— It is not exactly affordable.

«EDITOR's PICK»
Best ultra-bright projector for lighted room
Our rating: ⭐⭐⭐⭐⭐
We are wheeling out another big gun here with this ultra-powerful 7500 lumen NEC model. It's a real-life DLP – just like in your local multiplex – and really blows your socks off.
Pros:
— Massive 7500 output performance means bright rooms can be handled with ease;
— Superb picture quality via DLP technology.


Cons:
— You need to buy a suitable lens, such as the NP-PX750U2-18ZL.
«EDITOR's PICK»
Best laser movie projector for bright rooms
Our rating: ⭐⭐⭐⭐⭐
We complete our power trio with this LG ProBeam, which steps up to the plate with a competitor-frying 5,000 Lumens and – a great plus point – HDR10 support for that new high dynamic range content that is growing in popularity.
Pros:
— Great looking laser-powered pictures;
— Handy Wi-Fi connectivity;
— Powerful keystone adjustment tools to get perfect screen geometry;
— 3840x2160 4K resolution support for the latest UHD content;
— HDR support for amazing new UHD content with stunning colors and contrast ratio.


Cons:
— Do you want or need those built-in speakers?

---
With our top three on parade for your delectation, let's now dig deeper into the topic of the best projector for bright rooms.
The science behind projectors for bright rooms
It's annoying and unhelpful when you read reviews that focus on brand, cheap cost, etc. and you are presented with a recommended list just made up of popular or topical/buzzword-based models.
That's no more valuable than your uncle Bob's opinion or sticking a pin on a wall while blindfolded. We live in a post-fact world where utterly irrational theories, memes and tropes plague the internet.
Well, none of that nonsense here. Let's do some real fact-based reviewing.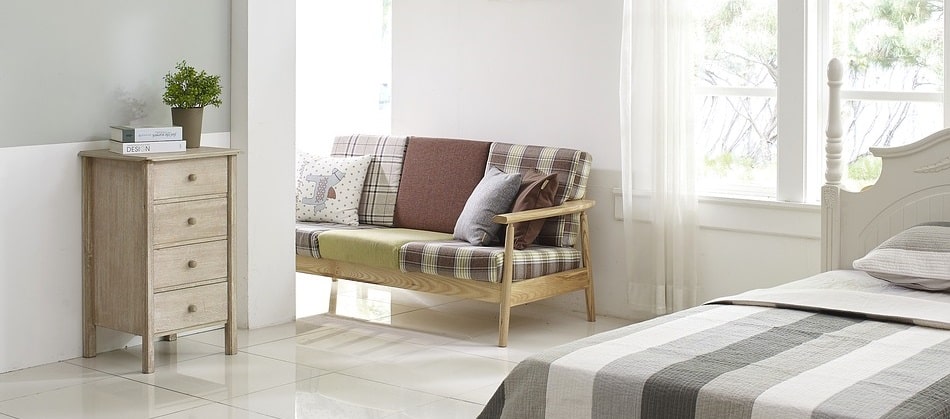 Our first step is to understand what we mean by a 'bright room'. What humans 'see' is a construct put together by the immensely complex human visual system (HVS). so your perception of brightness is very complex too. Here are some of the key factors in projectors and how we see them.
1. Your visual system adjusts to the brightest light in the room
We all know the experience of moving from a very dark room that our eyes have adjusted to a bright room. It takes a short while for us to adjust again (as we move from using our eye rods to both rods and cones) and we use the brightest and the darkest information to readjust.
So, the first point is that your projector should be the brightest thing in the room. Get a bright projector with a high contrast ratio and also do whatever you can to reduce any ambient light.
2. Our sense of color changes depending on the brightness
Many projectors have a 'color temperature' function, with controls expressed in Kelvin. This relates to point one and in a nutshell, it means the projector can be adjusted to make colors 'correct' at different levels of illumination.
Anyone who knows digital photography may have come across a camera 'white balance' feature, which is all part of this same topic.
For instance, if you live in Maine in February, your noonday 'white' is different from the same time of day and time of year in Key West. It is not just Lobsters versus Gators that makes the Conch Republic different from Bangor.
3. Long-throw projecting needs more powerful projectors
The bigger the distance between the projector and the screen the lower the amount of light hitting the screen will be (irrespective of how far you are sitting from the screen).
So, generally, look for a projector that is at least 3200 Lumens (but ideally more) if it's a very big screen in a very long room. Confusingly, some vendors talk about 'Lux' but one Lux is simply one Lumen per square meter.
4. Get a decent projector screen
Buying a good projector screen for bright room use is well worth the small added investment. Look out for the quoted properties of gain, which shows how much light is reflected.
Put another way, if you buy the best projector for a bright room but don't get a decent screen, you are wasting your money.
Best Projector Screen for Bright Room
---
---
Now, let's dig away at our 7 candidates for the best projector for bright rooms.
---
1. Sony VPL-VW1100ES Native 4K 3D SXRD Home Theater Projector
Overall best projector for bright room use dynamic range
We thought we'd start at the top and assume that having the cash is not an objection. You don't need to be Jeff Bezos of course but this Sony
VPL-VW1100ES
is a top-quality product and frankly simply the best in terms of dynamic range. You get a frankly incredible image contrast ratio of 1000000:1.
All the more surprising since the rating is 2,000 lumens output – but that doesn't tell the real story. The secret of the Sony is that black is pretty close to black, rather than various shades of grey (which is far too often the case with some rivals). So, your visual system adjusts accordingly, as we explained in point one of our little science primer, and you get a punchy looking picture.
Note that high contrast also gives a good perception of sharpness, as there is a clear border on object edges. This subjective sharpness is called contrast sensitivity and it really helps make the image come alive.
For yet more sharpness the Sony boasts true 4096×2160 Cinema-grade 4K (that's more than the TV-grade 4K found in UHD TVs which offer 3840×2160). It's a small difference but it means what you see is often closer to what was originally shot, with less need to reframe or interpolate the picture.
All in all this Sony is not cheap but it is a great high-end and high-quality solution that you will appreciate.
Pros:
Amazing dynamic range
True 4K support
Sony legendary build quality
Breath-taking High Dynamic Range capability
Cons:
It is not exactly affordable 🙂
Verdict: If you have the money and you appreciate great pictures, this Sony is worth considering. You'll need to keep changing those lamps though.
---
2. NEC NP-PX750U2 7500 Lumen WUXGA Professional Installation DLP Projector
Best ultra-bright projector for lighted room
Think of the Sony we just looked at as a turbocharged car based on a small engine block. You get great performance but by some very clever engineering. So, what's the alternative? Raw power.
So, we are wheeling out the V8 muscle car alternative with this ultra-powerful NEC which, flat put, pumps out 7500 lumens, way more than the Sony and almost anything else in this category for that matter. The NEC is also not that cheap but again you generally get what you pay for.
This NEC uses professional-grade DLP technology – just as (typically) at least 85% plus of the projectors your local multiplex uses – and the great colors and dynamic capabilities of DLP blows away lesser LED/LCD rivals. Display resolution is a modest WXGA (1920 x 1200) but again numbers can be deceptive. In some real-world use cases, it can outperform 4K LED/LCD projectors in terms of subjective sharpness.
Pros:
Massive 7500 output performance means bright rooms can be handled with ease
Superb picture quality via DLP technology
Cons:
You need to buy a suitable lens, such as the NP-PX750U2-18ZL
Verdict: You want the brightest – this NEC is up there with the best of them.
---
3. LG ProBeam 4K Laser Projector with 5,000 ANSI Lumens
Best laser movie projector for bright rooms
The third option on our list uses not LED/LCD or DLP but the third kind of projector core technology – Laser. The
LG ProBeam
hits 5,000 lumens – not enough for a James Bond bad guy to use as a weapon but plenty enough for a bright room in the average house or condo. With a huge lamp life of 20,000 hours, you aren't going to find the running costs that high.
The ProBeam also delivers HDR – which we love – and has some cool extras like 12 Point Warping (an advanced approach to keystone geometry connection) making it easy to set up.
We like the wireless connection too. You get a built-in web browser for navigation and content searching, using the included remote control. You then hook up using integrated Wi-Fi and HDBaseT connectivity which both provides internet access and allows you to mirror content from compatible Android or Apple smartphones, tablets or other smart devices.
Pros:
Great looking laser-powered pictures
Handy Wi-Fi connectivity
Powerful keystone adjustment tools to get perfect screen geometry
3840×2160 4K resolution support for the latest UHD content
HDR support for amazing new UHD content with stunning colors and contrast ratio
Cons:
Do you want or need those built-in speakers?
Verdict: This ProBeam is a very modern design, focusing (no pun intended) on modern content types and modern ways of consuming content via phones and tablets.
---
4. ViewSonic PRO8530HDL 5200 Lumens 1080p
Best affordable model
Of course, not everyone wants to spend the kind of dough for our first three choices, so the good news is there are plenty of great choices at lower price points.
One such great candidate is the ViewSonic PRO8530HDL 5200 Lumens 1080p projector. You get a good amount of 'throw' and it can project Full HD 1080p at up to 300 inches, and 5200 lumens output.
Setup is easy too, with a 1.6 times optical zoom, a centered lens, vertical lens shift, and both horizontal and vertical geometry adjustment (keystone control).
We like the "PortAll" feature, which is ViewSonic's hidden compartment with an integrated and secure MHL/HDMI port. That allows you to discreetly stream multimedia content, for example from a wireless dongle.
Pay a little extra and an optional HDBT adapter lets you stream from set-top boxes, Blu-ray, AV receivers, etc. via an HDBT (HD Base T) based receiver. For more conventional connection, you get a generous 4 HDMI ports too, so you can pretty much hook up anything from a PC, DTT Set Top Box, Cable Bot, Satellite box, DVD player etc. too. It's one of the few projectors that has all the traditional linear broadcast media types (DTH, DTT, Telco and Cable) covered.
Pros:
Good output at 5200 Lumens
Affordable price without major quality compromises
Good direct and indirect connectivity
Cons:
The built-in speakers aren't especially useful if you care about audio quality
Verdict: If you need a good picture even in a brighter room, this ViewSonic is – at the price – an excellent possible option for you.
---
5. Artlii Energon 7,000 Lumens 1080P WiFi Bluetooth Projector with HiFi Stereo
Best 7,000 lumens budget model
Let's start with the fact that
this Artlii
is a massive 7000 Lumens brightness, and it has a great contrast ratio of 7000:1. That should be enough to grab your attention. What's more, it is a very modern 'connected home' kind of projector as a built-in Bluetooth connection connects you to various Bluetooth devices like speakers, earbuds and headphones.
What's more, you also get full wireless connectivity, which allows you to mirror Apple and Android tablets and phones. So, a ton of output power with a very modern take on connectivity.
Pros:
Huge 7,000 Lumens output
Simple wireless streaming for iPad & iPhone, Android, Windows 10
Bluetooth audio connectivity
Works well with Fire Stick via the USB slot
Cons:
Don't bother with the built-in speakers (and there is no Dolby support)
Can't currently deal with HDCP- enabled content (High-Bandwidth Digital Content Protection)
Verdict: A truckload of brightness and great connectivity makes the Artlii Energon 2 well worth considering.
---
6. PONER SAUND 1080P Native 6800 Lumens HDMI Movie Projector
Best bargain projector
Have you ever heard of
Poner Saund
? Nope, we previously haven't either. This is a pity, as they have been working away in Xiangcheng District since 1992 and have a great range of affordable projectors.
We like their very capable LCD based 1080p 6800 lumens model at a great price. You get a respectable 8,000:1 contrast ratio and some decent adjustment tools for keystone control too. Physical connectivity is good with 2 HDMI ports, 2 USB ports, a VGA port, a Video port, and an Audio-in/out port.
The lamp technology is good for the price, running very quietly indeed and with a rated lamp life of 70,000 hours. That's 2,916 days or about 8 years of non-stop daylight viewing, surely more than enough to watch all those episodes of your favorite soap, like General Hospital (a mere 14,000 episodes).
The point here though is that this is a very affordable projector indeed, that will do well in a bright room despite the low price.
Pros:
At the price, you get all the brightness you need with this no-frills model
Good contrast ratio
Very quiet operation
Massively long lamp life
Cons:
The built-in audio speaker is almost mono despite SRS and not recommended for serious use. Better off trying the RCA connections to an external amp
Verdict: Sit in that bright room and watch all those Netflix box sets or all those old Simpsons episodes for the next 5 years and this Poner Saund will still be going.
---
7. TOPTRO TR81 7,200 Bluetooth Projector, Native 1080P
Best Bluetooth implementation
Our final entry on this list is another big output and well-connected model, the
TopTro TR81
, a 7,200 lumen 1080P LED model that is just a bit higher priced than our #6 Poner Saund entry but you pay more to get more. As you will see, the TR81 is a really capable performer and could easily have made the top of our list, rather than the #7 final spot.
Let's just get the lamp performance and life figures out there, which is an eye-watering 7,200 lumens with 8,000:1 contrast ratio over 100,000 hours – nearly eleven and a half years of non-stop bright room viewing. Think 'neutron star'. Any longer and brighter and we'd be discussing it collapsing and forming a black hole in your home – tricky to explain that if it happens to your neighbors.
This stellar performance is not the TR 81's only thing going for it. The Toptro engineering team has built-in some seriously clever stuff. HeHe'some examples.
First, you get the latest Bluetooth version 5.0 chip inside, allowing the projector to connect its audio to various Bluetooth AirPods, earbuds, speakers and headphones. That's a way better solution than crummy internal speakers and a more modern approach to connectivity.
Secondly, the pictures are very sharp at this price point courtesy of a 6-layer lens design with some clever capability that gives up to 9 meters of 'throw' – yes we could say 'the whole nine yards' – at which point some competitors simply will not be able to focus.
There's pretty good geometry control too, which TopTro calls 4D Keystone Correction & X/Y Zoom Function. What that means in English is ±50°4D (vertical & horizontal) keystone correction.
The extra cool thing is if you choose to ceiling mount the projector. This function is via remote control, rather than having to stand on a wobbly chair – yes we've all been there haven't we?
It's an all-round clever bit of tech that is worth checking out.
Pros:
The powerful output that will easily handle a bright room
Sharp pictures
Long "throw" distance
Bluetooth audio connectivity
Remote-controlled setup
Cons:
As usual, mostly useless (or at least pointless) internal speakers
Verdict: It's bright, it's affordable, it has great external audio choices via Bluetooth and you can set it all up without getting out of your chair. What's not to like with the TR 81 if you are on a budget?
---
Conclusion
So, there were seven of the best projectors for bright rooms. Each has pros and cons in different use cases but our verdict is that each is well suited to different kinds of bright room projection.
We have straddled prices from less than a couple of hundred dollars all the way up to thousands, so there really is something for everyone here, whatever the budget.
Please let us know your ideas in the comments section and thanks for reading.