This page may contain affiliate links. USDIGITECH.com is a participant in the Amazon Services LLC Associates Program, an affiliate advertising program designed to provide a means for sites to earn advertising fees by advertising and linking to Amazon.com
---
VR (Virtual Reality) is a topical area and likely to become increasingly popular. there's a lot of debate about the best VR hand Interfaces and best VR gloves.
Right now, this is a very new area and there's a lot of differing opinions about the best haptic gloves and any gloves for virtual reality.

It took about 140 hours to find the best VR handheld interface
including the best VR gloves. It's important to note that gloves and controllers are only as good as the processing power of the CPUs and especially the graphics card (GPU) on your computer.
You will typically need something like an Nvidia GTX 1060 GPU, like the one used inside this Gigabyte GeForce GTX 1660, or alternatively an AMD Radeon 480, like the one used inside this GPU package from MSI GAMING.VR is very different from other forms of gaming, as you are dealing in real-time with all the spatial dimensions – not just left and right plus up and down but also in and out. So, x-axis, y-axis and z-axis.
Also, it's not just about gaming, you might want for example to be flying around in Google Earth VR.People think about three types of hand interfaces; Touch Gloves, VR hand interfaces, and VR Gloves
Non-VR Touch Gloves
If you want to touch a screen, tablet, etc. but wear gloves at the same time, you need special gloves like the Agloves Polar Sport Touchscreen Gloves. These are suitable for working on a tablet, smartphone etc. but of course don't capture your hand movements in three-dimensional VR space, like the special weighted gloves for VR.
So these kinds of gloves do not make our list – however, we mention them here because their capabilities form part of true VR gloves.
VR Hand Interfaces
To get 3D spatial awareness in all three dimensions with hand control you need one of the products below.

---
Best VR Gloves in 2022
Now, let's dig away at our 5 candidates for the best vr hand controllers.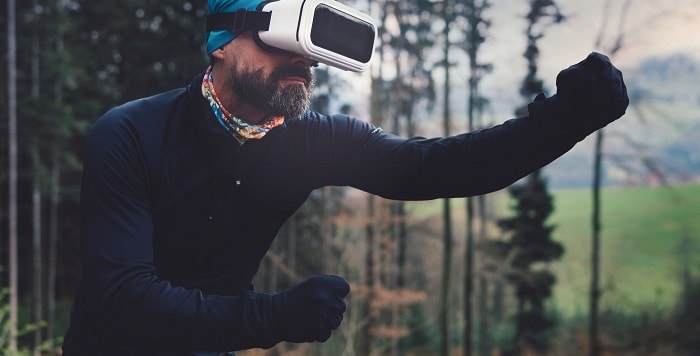 1. Oculus Quest bundle
Best Overall VR Hand Controllers
We really like the Oculus VR range which includes Rift, Quest and Go. This is a package for interfacing with Oculus VR software in 3D space.
It includes a pair of hand touch controllers, which are not exactly gloves but are designed to capture hand motions in 3D space as well as offering multiple squeezable sensors, to try to capture hand movements and gestures.
2. KIWI design Knuckle Strap for Oculus Quest/Oculus Rift
Best Oculus VR Hand Controller Accessories
VR controllers can have semi-gloves like the KIWI design Knuckle Strap for Oculus Quest/Oculus Rift. Oculus is a top VR Brand and make leading VR products for gaming and other VR applications.
So, several manufacturers lime KIWI now are making these kinds of accessories to improve then hand interfaces to 3D VR space. However, these are not full VR hand gloves and they do not capture individual finger movement.
3. Samsung HMD Odyssey Plus
Best Windows VR/MR hand controllers
There's also the Samsung HMD Odyssey Plus bundle with great semi-glove hand units, for Windows operating systems. Microsoft calls this Mixed Reality rather than Virtual Reality. Cost is a little less than the various Oculus products. The Samsung headset tracks the spatial position of the hand controllers, which are a kind of half-way house to virtual reality gloves.
The issue with camera tracking rather than having spatial sensors on the controllers (or full VR with gloves) is that the cameras can 'lose' the sensors if they move out of view or are obstructed.
The two hand controllers each have capacitance-based thumbpads, thumbsticks, and a range of buttons and triggers on both sides of the controller, allowing both the thumbs and two or more fingers to be used. There is a dedicated left hand and dedicated right-hand controller. You can also buy this item from this store.
When rating these kinds of VR devices, some reviews will have recommended lists but in reality, there are many differences between approaches to VR interfaces and a lot of it comes down to your own personal choices and preferences.
You can see the Samsung HMD Odyssey Plus bundle including hand interfaces in action here.
4. HTC VIVE Pro Starter Edition
Best Premium VR Hand Controllers
HTC makes this high quality but high-cost bundle with some great hand controllers which they have recently updated. There's a range of HTC VR products and this particular HTC bundle is at the upper end of the market.
You can see the HTC Vive Pro controllers being used here including an update on upcoming hand controller developments here.
Full VR Gloves
---
5. CaptoGlove 1.0 Pair Gaming Hand Machine Interface – PC
Best VR Gloves
Now with Captoglove, we come to our best virtual reality gloves. You might read some reviews about other VR gloves, written in suspiciously strange English, like those for Hands Omni, Haptx, Dexmo, Essential Reality, GloveOne, Manus VR, BreqLabs ExoGlove, VR Free, Hi5, Senso, Sinteluo Hi5 etc.
What they don't tell you in the reviews is that – in reality – these VR gloves are highly specialized, very difficult to get hold of, occasionally discontinued and very expensive if you can.
The reasons these gloves are difficult to get hold of is VR is also a fast-changing area and some gloves are really pretty much prototypes that never go into mass production while other VR gloves fail commercially and so go out of production pretty quickly. Either way, we could review them for you, but you probably wouldn't be able to get hold of a pair. So, back to the Captogloves, which are real generally available products.
The Captoglove VR gloves currently support HTC Vive, Oculus Rift, and Windows Mixed Reality, and works with Windows PCs, iOS and Android devices. You connect to devices via Bluetooth with roughly 10 hours of continuous use. There are also capacitive touch-enabled fingers (like the touch gloves we reviewed at the very start of the article) so you can still use tablets, phones etc. You can also order it on the manufacturer's website.
Cool though these VR gloves are, they are not "plug and play". If you don't know what an API is (Application Programming Interface) these may not be for you. As we have mentioned before, it's still early days in VR and these gloves need a lot of preparatory work and probably more than one call to Captoglove support to get the most from them. The good news is that Captoglove recognizes that and they provide very good backup to their users.
So, providing you are prepared to put some work in yourself, we recommend these as our best VR gaming gloves.
Conclusion
VR Gloves are a very new area – they are an exciting prospect for the near future but in reality, generally available mass-produced models are a bit thin on the ground today.
Meanwhile, hand controllers are developing in parallel and the two kinds of products are converging rapidly.
We have tried to be accurate and honest in this article and if you have any questions or comments on this please use the field below and we'll be happy to answer.