The Nvidia Shield TV product line is a top-rating and positively reviewed Android TV UHDTV capable media player range of products.
Although it's a popular and – in our view – great bit of Nvidia technology (part of the Nvidia Shield brand of Android-based tech), many would agree it's just a little bit stingy on internal storage.
So, if you like piling up all those box sets and movies on the internal storage, here's some news: If you think you are going to get away with what comes as standard, read on because you might be surprised what you will find.
This is especially true on the topical growth of 4K (3840×2160) based streamed TV and Film content.
So, what exactly is the best Nvidia Shield TV external storage?
We are going to look at 7 of the best Nvidia shield external storage products. But before that let's go straight to our top 3 external SDD and HDD.
Best External Hard Drives for Nvidia Shield TV
Best luxury model: Corsair 1TB Flash Voyager GTX 1TB
Best for massive storage: WD 20TB My Book Duo Desktop RAID External Hard Drive, USB 3.1
Best Basic HDD model: WORUIJIA External Hard Drive: 2TB USB 3.1
Ok, that's a quick recommended USB drive survey done. But you might be wondering why we've picked these top three.
We have some interesting reasons for deciding the best expandable storage and have another 4 types of flash drives / USB storage, on our recommended list.
So, let's decode some of the jargon and buzzwords on this topic – plex, USB 3.1, VoD, HEVC, HDR, etc. on the topic of external hard drives for the Nvidia Shield TV family.
---
---
Buyers Guide for external hard drives for Nvidia Shield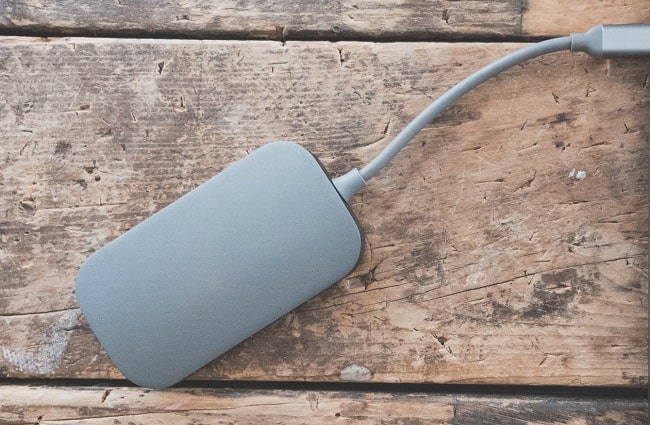 Now we're working through how to answer the question "what is the best external hard drive for Nvidia Shield?" Some people think that storage is just all the same, and just picking the biggest capacity or the lowest price is all you need to do. This is not true at all.
Neither is following the advice of some so-called 'review sites' whose reviews focus on just repeating topical buzzwords or stating what is "affordable" don't explain the real cost of a Video on Demand (VoD) purchase.
The first thing to say is that the Nvidia Shield comes in two versions, the cheap Standard Shield one has only 8GB internal storage and only uses Micro SD card expansion.
Some feel that's a bit of a 'just to get you interested' model. Whatever your opinion, since that's just not going to cut it with modern HDTV we aren't going to focus on that here, however many of these devices could still connect up.
Instead, we're looking mainly at the Shield Pro model, with a bigger 16 TB storage and USB 3.1 or USB 3.0.
The time you are 100% going to need a high-capacity high-speed USB external drive is if you start using your Nvidia Shield with the growing number of streaming UHDTV (Ultra High-Definition TV) services.
Most new TV sales are of UHDTV capable models (more than 60%), so it's likely (if you aren't already doing so) that you'll be running UHDTV content through your Nvidia Shield.
Amazon Video and Netflix's recommended connection speeds for 4K content are respectively 15Mbps and 25Mbps, regardless of whether that content is in HDR or not. Here's how UHDTV changes the kind of storage you need.
Capacity
UHDTV is streamed in VoD applications at 3840×2160 rather than the 1920×1080 of full HD. If you do your maths, that means your video on demand – in reality – demands 4X more storage will be required than HD.
Of course, it's a bit more complex than that, as UHDTV is typically encoded with HEVC (High-Efficiency Video Coding, also known as H.265) which is more efficient than the encoding used for full HD which is the older MPEG-4 AVC (Moving Picture Expert Group 4 Advanced Video Codec, also known as H.264).
However, UHDTV 3840×2160 resolution is still going to fill up your storage way more than full HD. What's more, UHDTV is not just about more resolution, it can also include content delivered in HDR (High Dynamic Range) and WCG (Wide Color Gamut) – right now these include shows like The Grand Tour, Star Trek Discovery, Altered Carbon, Marco Polo, Black Mirror, Stranger Things, Ozark.
And Most major streaming services like Amazon, Google Play, iTunes, Netflix, Vudu, and YouTube now supports HDR for some of their 4K content. HDR and WCG don't add as much data overhead as 4K does but there is still an additional amount of data.
Your choices here are solid-state devices (SSD) or disc-based (HDD) devices. Each type has pluses and minuses (solid-state costs more per bit but does not need disc management and can be more robust for example) but for sheer volume then it's HDD spinning discs every day.
Transfer speed
Because UHDTV has a bigger data footprint, as well as needing more storage, a lot more of it arrives per microsecond than full HD. So, there is no point in buying a high-capacity drive that isn't fast enough to read or write UHDTV.
Solid-State drives are potentially a bit quicker than rotating HDD discs as discs can need careful management to avoid disc fragmentation or overall memory thrashing, which in turn means you need to run defragging and disc consolidation programs to reduce specific head thrashing, disc latency, and other seek time problems.
But it is more than just the storage type – it's the USB connection type too. So, here we need to dig into the intricacies of USB.
USB type
USB (Universal Serial Bus) is the normal physical connectivity that will be used between your Nvidia Shield TV and your external storage. There are different generations of USB and the ones that are pertinent here are USB 2.0, USB 3.0, and the most recent USB 3.1.
You should normally not be using any USB 2.0 but just for the record, any bus-powered USB devices that need higher power than USB 2.0 can deliver will not be compatible with USB 2.0. So, don't go buy something on eBay or at a garage sale just because it is cheap.
Until recently, USB 3.0 would have been your choice. However, right now you'll just as likely be dealing with a USB 3.1 product.
USB 3.1 speeds, it is backward compatible with the Shield TV Pro (2019) and its USB 3.0 ports. You'll get higher transfer speeds with USB 3.1, so there are some ins and outs to consider.
USB 3.1 is the current up-to-date version of the Universal Serial Bus standard and is increasingly common for connecting consoles, computers, and various other electronic device types. It is capable of delivering data transfer speeds of up to a whopping 10Gbps, (Gigabits Per Second). The earlier USB 3.0 specification is only capable of data transfer speeds of up to 5Gbps, so half as much.
Confusingly USB 3.0 is also sometimes known as USB 3.1 Gen 1 (5Gbps) and you need to be careful when naughty tech marketing people put out intentionally misleading product information that makes you think you are really buying a USB 3.1 device. Are you still with us? Well, just one more wrinkle – the USB 3.1 standard is also known as USB 3.1 Gen 2 (10Gbps). Phew!
USB 3.1 is luckily back-compatible with a USB 3.0 or USB 2.0, though there are some snags, which we'd be happy to explain in the comments section at the end of this article.
So far we have discussed Size (capacity) and Speed of reading/write, but there is a third category of buyer guide advice we need to share with you – the special stuff.
Special Features
All that lovely content is great, but you want to protect it. So, reliability and robustness do differ between storage products from different vendors. For example, some products are more shockproof than others – which is well worth considering with kids or dogs around your home.
Also, if you have small kids or lively pets, we will strongly recommend storage devices that are water or coffee-proof. This might be built into the device itself or you might be able to get an advanced warranty. That will get you a replacement unit but not of course your content. So, one of our favorite special capabilities is shock and waterproofing.
If your choice is disc drives, then look out for RAID (Redundant Array of Inexpensive Discs), which are techniques of protecting your storage to prevent data loss in the event of a disc failure. There are many types of RAID from zero (which is pretty much no protection) 1 up to 19 (or more) and we could write a whole article just on that one topic.
However, let's cut to the chase and just say do not buy external disc products unless they are RAID optimized or even better there is RAID 1 or higher as part of the package. Otherwise, you literally risk losing everything.
Cost
We haven't mentioned cost yet for a good reason. If you take into account all the criteria we just looked at, simply buying on price is a poor way of making a choice.
As your Momma might have told you 'pay too cheap and you might end up paying twice".
What is the Best External Hard Drive for NVIDIA SHIELD?
Now let's look in detail at our 7 top picks for the best external drive for Nvidia Shield TV.
1. Corsair 1TB Flash Voyager GTX 1TB
Best luxury model
If it's a high performance you want, then the Corsair Flash Voyager delivers. You get a terrifyingly quick throughput via high-speed 3D
NAND
flash memory. Speeds go up to 440MB/second and write speeds also are up to 440MB/second.
That is fast.
You can choose how much storage; we'd go for the full 1 Terabyte. Connectivity-wise you are good to go with USB 3.1 and USB 3.0 and USB 2.0
Pros:
Fast transfer speeds
Great connectivity – will also hook up to the cheaper Shield unit via an adapter
Zero disc-management issues to worry about
Robust design
Cons:
Verdict: If you have the cash and you want performance without hassles, well worth taking look at.
2. WD 20TB My Book Dual-Drive Desktop RAID Hard Drive
Best for massive storage
This western Digital HDD range gives you massive storage options, starting from 2 Terabytes going up to a massive 28 Terabytes. It's all RAID ready too, though not supplied with the management software.
We have picked the mid-ranged dual drive 20TB model which will give you plenty of reliable storage to be going on with.
Pros:
Monumental amounts of storage
RAID optimized discs
Reasonably priced per terabyte
Good transfer speed performance
Cons:
Might scare off some people due to the large size
Verdict: If you want to store a lot of content, size matters. This Western Digital comes highly recommended.
3. WORUIJIA External Hard Drive: 2TB USB 3.1
Best Basic HDD model
At the other end of size and cost from Western Digital, check out this HDD 2 Terabyte from WORUIJIA. You get good value for money, USB 3.1 and a slim and good-looking package.
We previously mentioned there is a 1 TB WORUIJIA as well, but since your Nvidia is already struggling at 18TB then why not go for the bigger storage choice?
Pros:
Great if you need just a bit more storage and don't want to pay top dollar
If you are into elegant home design, it has a great look
Portable, so if you want to use it for any reason later as a PC backup, it fits easily into your laptop case
Cons:
Is 2TB going to be enough for you?
Verdict: It's a low cost, well made and multi-purpose.
4. Seagate STDR4000900 External Hard Drive
Best for no-hassle warranty
Seagate is a highly respected and trusted external drive brand. They have been making great products like the Barracuda since back in the day and are noted for their high disc performance and robustness. What's even better about this snappily-need Seagate STDR4000900 is that you get a Two-year no-nonsense warranty.
So, unless you (or your dog or your kid) do something outrageous, ask them nicely and if it's a legitimate request, they will replace it promptly with a new unit that by then will likely be a newer model.
Pros:
Seagate is noted for its quality and performance
Though they are a premium brand, this model is an affordable price
Exceptionally good warranty and backup
Cons:
Though affordable, some similar files to Seagate are a bit lower cost
USB 3.0, not 3.1
Verdict: Seagate is a brand you should trust, so if peace of mind is important, check out the STDR4000900. Make sure you write that model down as you are not going to remember it otherwise.
5. SanDisk 2TB Extreme Portable External SSD
Best high-performance solid-state drive for the money
Time for another SSD now, no discs here in the very powerful solid-state SanDisk SDSSDE61-2T00-G25. What is it with these guys and naming? Anyway, it's another premium product from a respected brand. Pretty much all your boxes get ticked, including USB-C connectivity, and even the new USB 3.2 Gen 2 spec which we haven't much discussed yet as it's not especially relevant.
However, more to the point you get two-yard drop protection and IP55 water and dust resistance which makes it partially dog- and kid-proof.
Pros:
Comes with the SanDisk reputation
USB-C, a technology we like
Water splash proof
Cons:
IP55 is good but IP7 immersion protection would have been even better
Verdict: Well made, affordable, and offers some possibly important water protection.
6. LaCie Rugged Raid Shuttle 8TB External Hard Drive
Best higher capacity drive for real protection
LaCie is another great brand that has been around for years. We like this 8TB ruggedized external hard drive built with edge protection, a degree of water protection (so long as it's a splash not immersion) but most importantly a RAID setup wizard. It's reasonably priced and well able to help your Nvidia out.
Pros:
Well-made and well protected
Reasonable price for what you get
Multi-use is you ever upgrade your Nvidia so some other storage
Cons:
Make sure you get the model with the USB 3.0 port, and not the other one which has a Thunderbolt port
Verdict: Simple, well made, and well-priced. 8TB of quality storage.
7. WD 2TB My Book Single-Drive Desktop RAID External Drive
Best for 2TB HDD storage
We already looked at the 20 TB dual-drive version of the Western Digital HDD range which goes up to massive 28 Terabytes.
This more affordable and more compact single-drive 2TB version is a tenth of the capacity but also about half the width, draws less power, needs less cooling, and is a fraction of the price of its bigger cousin, so deserves a mention too, as in reality a mostly different product.
Pros:
All the main benefits of its 20 TB dual-drive big Brother including RAID ready (RAID 0)
More affordable than the 20 TB
More compact than the 20 TB (it's a different form factor)
Draws less power and needs less cooling
Slightly less of that faint by possibly annoying fan noise
Cons:
It's physically bigger than some 1TB and 2TB competitors
Verdict: If you want HDD lower cost but don't want a really big device, this Western Digital 2TB single drive is the Best compromise model.
How to Format SSD for Nvidia Shield
When you format your SSD, it's important to understand that the Shield is fairly picky about what it will and won't work with. To get started, make sure to use a GPT partition scheme as opposed to MBR.
The default file system for Windows uses an MBR partitioning scheme whereas Linux typically defaults to using a GPT formatting style. If you are formatting the drive on Windows then we recommend using EaseUS Todo Backup Home/Professional or FonePaw Android Data Recovery which both have free trials versions available at their respective websites in order to do so without any issues!
Final words
So, we have looked at both solid state and disc-based storage at different price points and with different capabilities.
In the end, we think you will agree that all storage is not the same. It's all down to what is important to you, in this case with your Nvidia Shield.
We hope you have found this useful but would love to hear your ideas, suggestions, and comments. Please leave them in the comments section below. Thanks for reading.