Best Bike Seat for Overweight
All bike seats for big guys and overweight women must be very carefully chosen. This isn't like each nachos on your couch while watching a Netflix box set and eating tacos.
When you really think about it – the most comfortable bike seat for overweight riders is complicated to figure out. First and foremost, you will be sitting on your tush, for extended periods, on a tiny object. What's more, that tiny object will be moving in three dimensions as you cycle along, sometimes violently. On top of all that, you will be pedalling, sometimes strenuously.

The most comfortable bike seat for overweight riders
Before we look at a full recommended list of our five top rating bicycle seats for big and tall guys (and in fact any heavy person) here are out top three bicycle seats for big guys.
Overall Best Bike Seat for Big Guys: Fito GSC Black Synthetic Caviar Leather Saddle Seat
Our first pick is just plain comfortable. If cycling for you is about easy riding a la Peter Fonda and Dennis Hopper, this is the one for you.
Best Affordable Mountain Bike Seat for Heavy Riders: TONBUX Dual Shock Absorbing Ball Wide Bike Seat
Real conventional mountain bike (or racing bike) seats are very uncomfortable for the big rider. You need a compromise, and this is possibly it.
Our top-rated Road Bike Seat for Big Guys: Accot Wide Bike Saddle
Looking a bit like a Klingon spaceship, this winged design is just peachy for that long road ride. Even the very biggest riders will find this a great choice. We like the lights too – a practical and stylish touch.
---
The science of buying bicycle seats for big and tall guys and gals
Here's where our buying guide gets to that all important science. Supporting a big man's booty on a bike needs some clever physics. People should ignore reviews that are just focused on the topical, or about brand, cost, what's popular or price. A heavy man (and by that we mean 400 lb or at least 300 lb) doesn't want his buns buffeted, his hiney hammered, or his keister crushed. A heavy person (and there are a lot of us out there) has just as much right to a comfortable bike ride than a lycra-clad weekend warrior yuppie.
So, let's cut out the fat guys stereotyping and get to the bottom of the matter, so to speak.
Traditional bicycle saddles used a narrow, sprung metal frame with a covering of leather or a synthetic fabric. That basic design idea is more than 150 years old and it is still around. However, that design doesn't really work for big guys or big gals. A bike seat is like a pair of pants or a pair of sneakers or shoes. To avoid chafing (and even serious issues like boils, numbness rashes etc.) you should only buy a bike saddle that really is suited to both your body and how you go riding.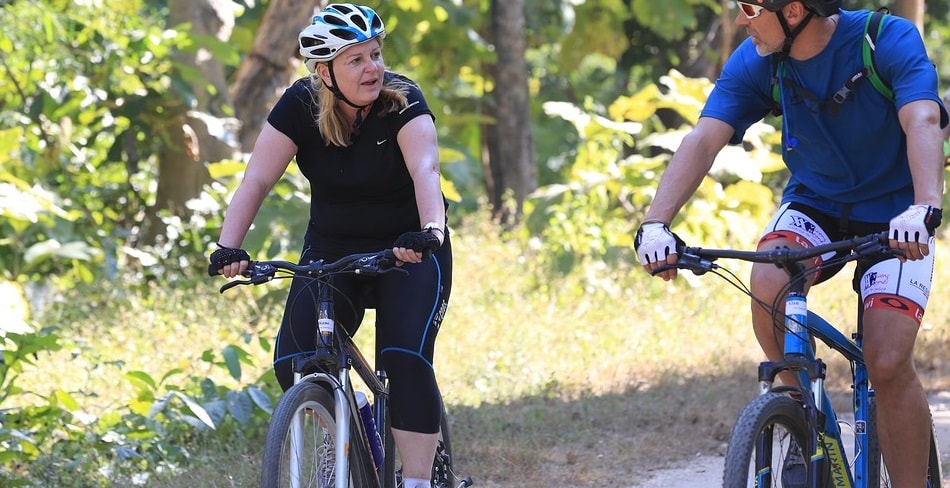 What's more, and this is key for problem-free cycling, the seat must be adjustable to really fit your cycling actions and any habits. When relaxing or cruising, you will sit back. At that point you are using the back of the seat most and that needs to be comfortable. However, when you pick up speed (or are doing hill work) you will tend to lean forward. That puts more weight (or in some cases when standing up almost no weight) on the front saddle plus – and this is crucial – the saddle must not chafe the insides of your upper thighs. So, some saddles work best (and are most comfortable) when the rider is sitting fully upright at 90 degrees, just cruising along. Others are better at 60 degrees (somewhat more strenuous cycling) or even 45 degrees (high speed cycling).
The smart reader will at this point see the contradiction – comfort (which suggests a bigger surface area with softer springing) versus speed or power (where you need a smaller area or no area at all). Think about a sharp knife versus a blunt one, the cutting power increases as the surface area decreases. That's the same with saddles – the larger the surface area you are in contact with, the more comfortable it will be. Also – just like a knife – if you put enough pressure (or weight) on a blunt knife it will still cut. So, again, the heavier you are the bigger the surface area you need, if comfort is the priority.
You pay your money, and you take your choice. With that in mind, here are our full five candidates in detail for best big guy bike seat.
Best Bike Seats for Overweight
Overall best bike seat for big guy
We love the Fito. It's big, it's comfy, it's durable and it's affordable. This 10.5″ X 10.5″ X 5.5″ synthetic leather saddle has it all, if comfort is what you are after. You can get a reasonable amount of power down at the 6o degree or 45 degree angle your ride at when you need to but then just sit back to 90 degrees and all is comfortable. The design works well over rougher road surfaces too, giving plenty of buffering from shocks.
It's a breeze to back fit to an existing bike and well worth the money if it is comfort you are after.
Pros:
Really comfortable
Soft spring ride
Easy to retrofit to an existing bike
Cons:
Some people will prefer real leather (however this is great for vegans)
Final words: If comfort, rather than speed or power, is your priority, this FITO is possibly the seat for you.
Best affordable mountain bike seats for big guys
Ok this is not a mountain bike seat for 100 lb riders but for the bigger rider who wants to hit the hills, this is just the right trade-off. At 10.1 x 8 x 4.8 and with a long 'nose' and central vent, this is just the model where more power and effort are involved, and you don't want to end up with soreness or skin abrasions. The Tonbux looks good too and comes with a range of color and – which we really like – a built in rear reflector.
Pros:
Gets the power down without compromising comfort when in cruise mode
Great shock absorption
Plush deep covering
Choice of color piping, including blue, red and (or recommendation) reflective green
Cons:
Some users find the fitting process a bit like building an Ikea wardrobe
Final words: You will be comfortable, but you will go fast too. A great balancing act from Tonbux
Our top-rated road bike seat for big guy
OK so you want something really big and really comfy for those long road cruises. Then Check out this huge and comfy saddle from Accot. Roughly the size of an aircraft carrier and as comfy as a cup of cocoa on a couch, the Accot is about as far away from a racing bike saddle as you can get. Who cares though when things are this plush?. It's made from leather with some clever discreet ventilation and the double sprung design, paired with high density memory foam makes this like a limo ride – with bonus fresh air.
Pros:
Really and truly comfortable
Vast size will support the biggest big rider
Useful built-in lighting for safety (and the battery is even included)
Cons:
Vegans note that this is really leather
Final words: For the really big rider, who isn't planning a weekend pounding the trails in the Rockies, but wants to cruise around town, this double sprung Accot model is ideal. We also imagine this is Greta Thunberg approved as a road-going travel mode, but she and other vegans might not like the covering. We think it is up to folks to decide that issue, one way or another.
Best range for the big rider
Our 4th entry is the Daway C20, which is our pick of their range of saddles for bigger riders. Daway makes several good saddle models for slightly different use cases and this 10.2-inch wide model is their most comfortable (and widest) model for 90-degree operation. We like the clever 'hills and valleys' ergonomic which really helps with airflow too.
Pros:
Choose the model you want to get the right balance – we'd pick the C20
Plenty of shock absorption
Easy to fit and easy to adjust
Cons:
Make sure you pick the model that corresponds to how you ride – not how you imagine you ride
Final words: With a bit of homework, this is a great option for the heavy rider – you might even want to go for the two ends of the range and then just swap over the seats as needed.
Best 'No Nose' bike seat for heavy riders
Our fifth and final pick is this great nose less design from the folks at Foujoy. What's the deal here? Well, a no nose design is intended to reduce the amount of friction and therefore possible discomfort, rash etc. on the inside of the rider's thigh during more strenuous riding. This is only an issue with really big guys and gals (and your thighs may rub if you really have big legs) however some riders swear by this kind of design. Again, it's about a personal choice. In any case this is a well-made and good-looking product that scores well on comfort and durability. Well worth considering for riders as a left-field alternative.
Pros:
Almost eliminates some kinds of discomfort, rash, skin abrasions etc.
A well-made product
Looks as good as it rides
Cons:
A specialist design that wont suit everyone (or fit every bike)
Final words: Foujoy reminds us that cycling is supposed to be enjoyable, whatever your body mass.
Conclusion
As our final model shows, there is no single 'best' saddle – it is purely dictated by who you are, what you are and where you want to go. Some parts of cycling culture are frankly a bit masochistic – remember this is a sport that has endurance modes where some practitioners like nothing better than compare (or boast about) how wet, tired, dirty and uncomfortable they are. It doesn't have to be that way and most certainly everyone, whatever the body mass index – should be able to enjoy cycling.
We hope we have given you some ideas on that final point. Please let us know your thoughts on this and related topics. Thanks for reading.