Best Headphones for Snowboarding
Snowboarding is fun but cold and wet too, and you are going to fall over.
You might be wearing a cap, beanie to snowboard with or most likely a helmet. In fact, we strongly recommend you do wear a helmet, if you are doing some serious snowboarding, like on a double black.

The Best Headphones for Snowboarding
So, what are the best bluetooth headphones to snowboard with?
Snowboarding is an adrenaline rush. Snowboarding with headphones is an Adrenaline rush enhancer. So we shouldn't get too serious about which headphones to choose. this is snowboarding where people say things like a 'biff' and 'eating wood' when they have accidents.
That said, we spent 64 plus hours researching this.
To start out, here's our top three we recommend:
---
Below are some important facts when deciding are best wireless headphones for snowboarding
We spent over 64 hours looking for the best snowboard helmet headphones. We checked out over the ear headphones and also best in ear headphones for snowboarding
In theory, we could have also done rating and reviews the best or most popular wired/cabled phones, but these days it's probably going to be wireless that are top.
Here's our key criteria:
Must be waterproof. Snow and ice are frozen water. See where we are going here?
Must not drop off easily. This is snowboarding, not doing sit-ups in a gym. Lose them on a slope and you may never find them again. Wired / cabled headphones don't have this problem to the same extent.
It must be comfortable. Are you more comfortable with over the ear headphones or is the best for you neck brace or in-ear? Or maybe some other design?
Don't go to just popular brands. Yes, there are good models form the famous vendors but plenty of other good choices too.
Sound. They must sound good, especially they must provide decent bass.
People's ear openings vary in size. Make sure an in-ear model will be comfortable. Some have a choice of sizes.
Cost. The best bluetooth headphones for snowboarding aren't going to cost hundreds of dollars, because they are likely to have a short life. They may get lost or broken.
Above all, the key point with headphones when you are in the powder is they must be practical. The best headphones for snowboard helmet aren't the best for without helmet.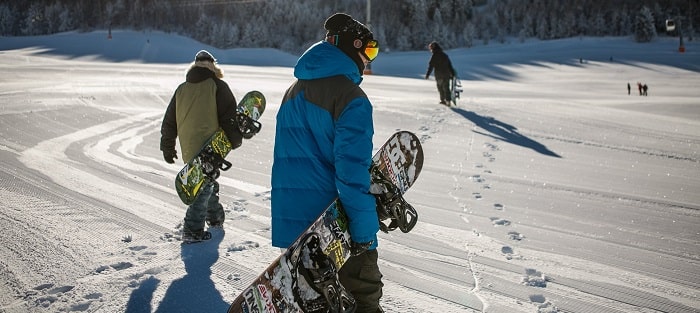 This sounds obvious but relates to both points 1 and 2. Do you, honestly, just want to go for the pose factor or a popular model, or a brand, or incur a high cost? A brand might impress your friends back at the ski lodge but if they fall off, break or otherwise don't really work out, you just wasted your money.
So, get a pair which is suitable for you and your style of snowboarding.
In theory, you could go for conducting headphones – skull or cheekbone are popular today. However, that's all going to get a bit complicated in a crash without a helmet (or trying to wear them with a helmet) so generally, we would not recommend them.
That said, there is no "best Bluetooth headphones for snowboarding". Just you and your money, to spend wisely.
Best Snowboarding Headphones Under Helmet
Now let's look at the full list, starting with our top 3 in detail.
EDITOR's PICK
1. MuGo Waterproof, Wireless Sport Earbuds
«EDITOR's PICK»
Best in-ear headphones for snowboarding helmet
Our rating: ⭐⭐⭐⭐⭐
The Mugo tops our list of best in-ear headphone buds for under snowboard helmet.

Now, snow is soft but trees and rocks are not. So, we recommend wearing a helmet, ideally, one that also really protects the side of your head, including your ears like the ones made by Gonex, Akaso, Monata, and others. This style of helmet pretty much rules out some other Bluetooth headphone models.

Ski and snowboard safety is topical right now. There have been some high profile accidents in the media in the last few years. Stay safe while having fun.

Note that companies like Demon make combined helmet/audio products. These could be an option for some during their Indy Grab but we are ruling these out the list here today, because they are only designed for one kind of use. They are not suitable for day to day use.

You'd look a little strange walking down the street or through the Mall with one of these.

There are also Bluetooth audio beanie hats and caps. So they are hats with headphones. - a nice idea but what will you do in the summer? And what protection do they offer a serious rider to snowboard with? We left these out of the reviews.
Pros:
— Will fit nicely under most helmets. Great levels of water resistance.
2. NewRang IPX5 Waterproof, Noise CANCELING Wireless Sport Earphones
«EDITOR's PICK»
Best over-ear for great performance at a reasonable price
Our rating: ⭐⭐⭐⭐⭐
The IPX 5 top our list of best in-ear headphones for snowboarding because they tick most of the boxes (waterproofing, noise-canceling, good audio) without a big cost. However their design means they are not necessarily the best snowboard helmet headphones
Pros:
— All the features you need.
3. Nanami Sports Wireless Headsets
«EDITOR's PICK»
Best braced headphones for snowboarding helmet
Our rating: ⭐⭐⭐⭐⭐
The Nanami model has a brace arrangement that means the chances of it coming off (or being lost once it is off) are much less. That makes them good bluetooth headphones for snowboard helmet, if the helmet has open sides.
Pros:
— Reasonable bass. Really good water resistance.
---
1. MuGoWaterproof, Wireless Sport Earbuds
Best in-ear headphones for snowboarding helmet
The Mugo tops our list of best in-ear headphone buds for snowboarding with a helmet.
If you are doing stunts, high-speed black runs or going off-piste through forests or rocks, helmets are a must-have. OK, we've said that enough times now. Back to the music.
Features:
These MuGo phones are a non-joined in-ear design. They have an impressive IPX7 Waterproof level, so dropping them in a puddle of melted snow or ice should be OK.
They use Bluetooth 5.0 and come with a microphone and noise cancellation.
You get about 120 hours of use and a fast pairing function with smart devices.
Three sizes of earpieces are available.

Pros:
Will fit nicely under most helmets. Great levels of water resistance.
Cons:
Drop one earbud on a run and you'll probably never find it again.
Verdict: One of our favorites for helmets.
2. NewRang IPX5 Waterproof, Noise Canceling Wireless Sport Earphones
Best over-ear for great performance at a reasonable price
The NewRang is a braced design with over-ear hooks. That makes them a bit less likely to drop off and get lost on a high-speed straightline or doing a wormturn.
Features:
IPX5 level water-resistant, they should be fine in snow and slush and none too bothered by sweat.
The Newrang uses Bluetooth 5.0, rather so you get good quality and robust signal.
The battery needs around a 1.5-hour charge after about 9 hours of snowboarding use.
The earbuds come in a choice of sizes to match your ear dimensions. That's really important for comfort and also to help keep them from falling out.
Noise cancellation is a mixed blessing. It helps you hear your music more clearly but of course, there's a safety trade-off as you won't hear what is going on around you so well.
We're in two minds about noise cancellation for a sport like Snowboarding.
Have a think about whether noise cancellation is right for where you will be doing your runs. A combination of loud music and noise cancellation can be risky. You may not hear another snowboarder about to cross your path, or (in extreme cases) that avalanche, at least maybe not early enough.

Pros:
All the features you need
Cons:
Tricky to wear with fully closed helmets. Are you sure about that noise cancellation?. Not 100% waterproof
Verdict: Our top pick based on features vs. cost. We prefer lower cost phones due to the hard life snowboarding phones will lead.
FAQ:
Q: What does the IPX level mean?
A: IPX coding is about ingress protection – i.e. in this case how robust the technology is to dust, sand, sweat or especially water. An IPX5 level pair of headphones are OK against water from a tap for example but will not survive full immersion. For that, you need IPX level 7, which means the device should still work after immersion in up to 1 meter of water.
3. Nanami Sports Wireless Headsets
Best braced headphones for snowboarding helmet
We like this design for its neck bracing arrangement, which will work with some helmet types, or with no helmet. However, if you are planning some serious flip stunts with no helmet, all bets are off. Get a headband to hold them on.
Features:
The Nanami uses Bluetooth 5.0 and is fully IPX7 Waterproof, including The earbuds.
There's a built-in microphone and noise cancellation.
You'll never get really deep bass from any earbud-style headphones but these do a reasonable job.
Expect about 8-10 hours use when fully charged.
Three different size earplugs are available. Good news for comfort and the chances of one dropping out.

Pros:
Reasonable bass. Really good water resistance.
Cons:
Not everyone will like the neck brace. Works with some helmets but not others
Verdict: Another valid choice for some helmets or no helmet snowboarding.
4. TBI Pro
Best headphones for good audio
You can almost forget sometimes that headphones are there to let you listen to music. The TBI focuses on sound quality at a reasonable cost, which is why it makes our list.
Features:
The TBI also uses Bluetooth 5.0 and is also fully IPX7 waterproofed.
We really like the neck brace design which has a control pad built-in and we certainly like the three-speaker arrangement per ear. TBI really does try to deliver good sound.
There's a built-in microphone and also noise cancellation. Fully charged, they are good for more than 24 hours of music.

Pros:
Good bass. Nicely designed control pad.
Cons:
Again, not everyone will like the neck brace. Although there's a choice of earbud sizes, some users find them a bit difficult to wear without falling out.
Verdict: Great if you want quality music on a budget
5. BOSE Sound Sport
Best snowboarding headphones for hi-fi geeks
If the TBI models are good, these BOSE models are great.
BOSE has a fantastic reputation in the hi-fi world built up over decades and quite rightly so.
Features:
The BOSE are very much luxury models and are more than twice the price of most models on this list. However, their sound is in a different league to anything else here. So, if you have the money – why not?
BOSE does not use noise-canceling in this model which has some advantages (you can hear noises around you, which is safer). They use active equalization on the music itself and the results are great.
Battery life is a bit low at 6 hours and waterproofing not as good as some other models.
In a sense, the BOSE headphones are a bit too good for snowboarding itself. Wearing them to the lodge, or bar, or on the ski lift, or maybe on a blue run is fine.
And anyone who knows Hi-Fi will be suitably impressed. Plus you can quietly scoff at your fellow snowboarders lack of audio taste.
But given their very high price and really not especially good waterproofing, you might not want to take them out for a tricky run. More headphones to listen to and be seen wearing than a practical choice for a day in the powder.

Pros:
These are lovely technology designed by people who love and understand audio.
Cons:
Maybe a bit expensive and not robust enough for seriously strenuous snowboarding
Verdict: We love them. Who cares if they aren't that practical?
6. Edelin
Best budget headphones
Coming down a little from the heights of BOSE, we have this over-ear Edelin Wireless Headphones. Like all over-ear designs, some kinds of helmets will work but some may be a bit trickier. Generally, open-ear helmets will be fine.
Features:
These are Bluetooth earbuds with a microphone and Stereo Noise Cancelling. As far as the microphone goes, we expect your time making calls on a run will be limited. But hey, whatever dude.
They have a great Waterproof IPX7 rating and are compatible with iPhone and Android models.
Pricewise, these are great value for money.
Bluetooth 4.1 rather than Bluetooth Version 5 is supported. This is a bit of a downside, however many users will not notice the difference.
Battery life is reasonable but not class-leading 8 hours with a 1.5-hour recharge cycle.
Noise cancellation is included.

Cons:
Edlin uses an older version of Bluetooth (V4.1 rather than the V5 of most models on our list) and battery life is not up to some other models in terms of useable time.
Verdict: A bargain price but up to a point you get what you pay for.
7. TREBLAB XR700
Best for multi-purpose use
Another over the ear design, we like the Trelab XR700 because of their chunky design and clever over the ear adjustable feature.
Features:
These wireless running earbuds have the clever feature of custom adjustable earhooks. That means, different shapes and sizes of ears can be individually adjusted for.
Bluetooth 5.0 is supported along with the important IPX7 Waterproofing level.
Noise Cancelling is included plus a microphone in-ear headset

Pros:
Will fit most users easily
Cons:
Will work with open ear helmets but closed-ear helmets could be a problem.
Verdict: Think about your preference for helmet type carefully.
8. TREBLAB XFit
Best for most helmet types
Another Trelab model, this, however, is an in-ear design, that should work with any helmet or hat.
Features:
These use Bluetooth 5.0 are Waterproof to IPX6 and offer noise cancellation.
There are around 5 hours of useable time, but the supplied case offers far more than that – up to 30 hours when combined.

Pros:
Pretty small and should fit almost any helmet type. Long battery life.
Verdict: Another reasonable choice if you are prepared to risk individual earbuds.
The Best Headphones for Snowboarding
We have looked at in-ear and over-ear designs, to try to answer the question "what are best Bluetooth headphones for snowboarding?"
As ever, it comes down to your needs, preferences and of course what cost you will accept. There are plenty of other good products out there, so we don't pretend this is a definitive list.
We hope you have found this useful and will have fun on a gentle blue run or on a full superpipe.