Best Laptop for Solidworks
In this article, I will give you some useful, practical, and unbiased advice on what is the best laptop for solid works? There are some warnings, too, so read on to find out more.

What are Solid Works, and What Kind of Laptop do I need?
You may have thought Dassault Systèmes were something to do with the French Airforce (like the awesome Dassault Mirage fighter family or luxurious Dassault executive jets. But non, mon petit choux-fleur, these French folks have been masters of CAD and CAE software since 1981. They are more interested in Caramel Frappe than the Force de Frappe. Millions of users worldwide find Solid works from Dassault Systèmes to be ideal for solid modeling (like preparing for later 3D printing) computer-aided design (CAD) and computer-aided engineering (CAE). So, what laptop is best for Dassault's solid works?
With CAD and with solid works, you need some serious graphics firepower to do that rendering and visualization. Fast CPUs (central processing units) always help, but that also means a powerful GPU (graphics processing unit) to run SolidWorks. Throw in plenty of fast access RAM, and you are good to go.
When it comes to rendering models, CPU's alone – or even high-spec CPUs but a cheap GPU are not the right tools.
So only the right laptop will do. Do not buy an underpowered model, and you will regret that later. Also, beware of review sites who haven't done their research on solid works needs (and doesn't need).
I personally chose 7 of the best laptops for Solidworks, but before looking at our full recommended list, here are our top 3 Solidworks laptop choices.
Our Top 3 Laptops for Solid Works
Best 2 in 1 laptop for ultimate performance: Dell Inspiron 17 7000 Series 2019 2-in-1
Dell has many models i could have included in this list, but this pick from the 7,000 series does the job just nicely.
Best for general price/performance: MSI GT76 Titan DT 10SGS-055
If the HID evolution you will read about later in the list at number 6, is the Bugatti laptop for Solidworks, then meet the Ford GT laptop for solid works – the MSI GT76. This is a muscle car when it comes to CAD horsepower. This is a new laptop model to the market, and we can't wait.
Best Basic HDD model: Razer Blade 15 Intel Core i7-10875H
If you have ever hired a performance car from an airport car rental company, you'll recognize the Razer Blade 15. It feels great, and it's fun (and the price is OK), but it doesn't quite have the 'bite' of the same model you would buy from a car dealership. If you know anything about the Ford Mustang range over the years, you'll know just what i mean. The Razer Blade 15 is an excellent laptop for running solid works – it's just a bit de-tuned. For the CPU, you get i7-10750H 6-Core, rather than i9. For the GPU, you get NVIDIA GeForce RTX 2060, rather than RTX 2080.
So, it's a perfect laptop for Solidworks but slightly budget rated. The reason it hits our top-rating threesome is you could buy a couple (or more) of these for the same price as some of our entries.
---
Ok before looking in detail at our full recommended and rated seven best computers for Solidworks of the laptop variety, let's do a bit of demystification about what all that alphabet soup of specs means – and the stuff that matters.
Buying criteria recommendation for solid work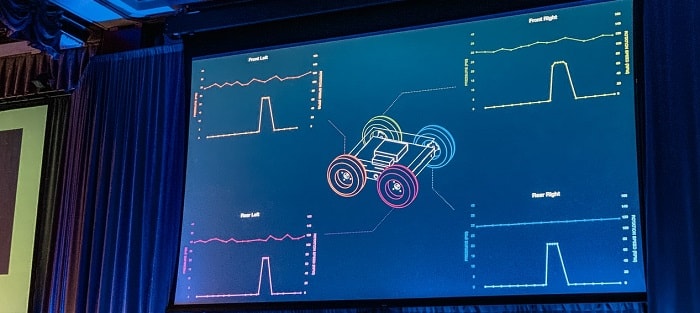 Everything im about to say also applies to a PC for solid works, any workstation, or any 2-in-1 laptop. You need the best CPUS and GPUS and the most RAM you can afford. Simple.
However, the nature of a laptop is that it is supposed to be lightweight and compact. That small form factor is a challenge to popular brands who don't like to cost, heat and weight their laptops to be too high.
So, you are looking for a specialized kind of laptop, with a lot of power and a lot of cooling, to keep all that power running smoothly. Let's break all that down.
CPU (Central Processing Unit)
CPUs for solid works have many demanding tasks to perform. Multi-core CPUs and high-frequency CPUs can – broadly speaking – do a better job. The Intel i7 comes in scores of speed and core variants, but the ones i like is the Intel Core i7 6-Core at the budget end and the Intel Core i9 3.7 GHz 10 at the high end.
GPU (Graphics Processing Unit)
Way back in the day when now-defunct Silicon Graphics ruled the world of CAD and film and TV special effects with it's revolutionary 'Reality Engine' graphics engines, it's been clear that dedicated hardware is a better way to process graphics than general-purpose computing.
The big brands today in the world of GPUs are Nvidia and AMD. Other competitors include Intel, ARM, and Qualcomm. Gaming consoles like Xbox and PlayStation rely on GPUs for fast graphics rendering, and solid works have somewhat similar demands.
If it's important to you to only choose solid works officially supported GPUs, they can be found here. However, that's a very conservative list from the Dassault support folks (even some Mac users run solid works).
RAM and Storage
You need a lot of RAM, and you need to get at it fast to read/write tasks.
So, i think RAM should be at least 8 GB (more is better) and only go for a high-quality SSD Solid State Drives). When running, SolidWorks will be quickly eating up 4GB just to do its own thing.
Best Laptop for Solidworks
Now i have got that out of the way, let's make our full detailed list of the best laptops for solid works.
---
---
1. Dell Inspiron 17 7000 Series 2019 2-in-1 17.3″
Best 2 in 1 laptop for ultimate performance
Way back when laptops started, it was all about portability, battery-power, multiple uses, and being lightweight. No one wanted to take a PC tower to work every day or do one on a plane or a hotel room. The downside of laptops compared to PCs, though, is that there just isn't space (or the cooing). So, laptops are a compromise.
Although laptops with potent GPUs are popular for gaming requirements, the world of CAD and CAE use cases is a little different, as sound and motion are less critical. In CAD, it is more about rendering sufficient detail and being able to preview textures, lighting, and shadow. That said, a great GPU for Gaming is an excellent GPU for CAD.
That is where the Dell Inspiron shines (pun intended). It is not cheap, so you will pay a fair number of dollars but get the best 2 in 1 laptop for Solidworks.
Pros:
Grand 2 in 1 design
Very capable Intel i7 1.8 GHz CPU
GPU and storage are just what you need
Price is OK for what you get
Cons:
The touchscreen doesn't add much
Verdict: There are laptops with more CPU speed, or GPU grunt, or more storage. However, in our opinion, none is just the right combination of 2 in 1 design and price and performance for solid works that you get with the Dell Inspiron 17 7000 Series.
2. MSI GT76 Titan DT 10SGS-055
Best for general price/performance
Remember, i mentioned warnings? Well, beware review websites written in terrible English which have not done their research correctly. A case in point is the MSI GT76. It is not a product – it is a range. If you are doing solid works, then the right pick from the range is the 3×2 Terabyte model with the i9-10900K. That will give you the best balance between performance and cost.
The MSI is pitched for Gaming but is very capable of smart works too. You get the penultimate Nvidia GPU – the NVIDIA GeForce RTX 2060 (one down from the RTX 2080) and a ton of everything else you need.
It's quite close to our number 1 pick as a product, and the choice is down to you.
Pros:
Lots of GPU grunt
Excellent Intel Comet Lake Core i9-10900K 10 Core CPU
A boatload of fast-access storage (if you buy the right model)
All the bling you expect from a gaming PC
Cons:
This is an expensive laptop, and some of the gaming features aren't needed for solid works
Verdict: If you plan to do a lot of solid works and a lot of gaming, it is well worth checking out.
3. Razer Blade 15 Intel Core i7-10875H 8-Core
Best higher budget laptop for solid works
This is an outstanding laptop that i would happily own. However, this is about what you need for solid works, not what i like. First off, let's forget the Razer Blade 4K OLED Touchscreen – you don't need it, and you should get a monitor instead. OK, now we got that off our chest, here are all the things i like about this radical-looking and radical-performing laptop.
You get the skillful top of the range NVIDIA GeForce RTX 2080 SUPER Max-Q, In this price range, that's as good as it gets, in our view.
CPU – wise, may I present the Intel Core i7-10875H 8-Core. That's a perfect CPU spec for what you are trying to do.
I then look at storage with DDR4 SDRAM and then on to one outstanding feature, the cooling. Power without sufficient cooling is not a lot of use. The Razer Blade 15 uses a vacuum-sealed, liquid-filled copper vapor chamber. That means it can run full-throttle without getting hot and bothered. That is a cool laptop.
Pros:
Best – in class GPU means stunning CAD capabilities
High-speed CPU means it all hangs together
The excellent cooling system delivers all the performance all of the time
Cons:
You don't need to fit a 4K touchscreen to a laptop for anything other than bling really, and you are paying for that
Verdict: A snarling beast of a laptop that looks great but – more to the point – will do your solid works tasks without breaking a sweat.
4. Lenovo Legion Y520 2019 Intel Quad-Core i7-7700HQ
Best for quick loading
If it is fast load and unload time you want, then the Lenovo Legion Y520 serves that up via some cool storage: 16GB 2400MHz DDR4 and 256GB PCIe NMVe SSD: Ideal with solid works when you want to change, preview, and render.
With CAD and CAE, you always have two options – a lot of rough (or not-so-rough) previews then render (very fast at first but then you have to wait for the final result) or work carefully and precisely then render straight away.
Whichever way you work depends on your temperament, the complexity of the task, and the deadline you are using to. However, getting the information moving around is always a high priority, and the Lenovo Legion does a great job of that.
You get a 15.6″ Full HD (1920 x 1080) display, that looks great. 4K displays on laptops are pointless as the extra detail is not going to be easily visible – you will need to buy a 4K monitor to see it.
Pros:
Really good storage for the price, with high performance, read/write
The CPU at 2.80GHz Base Frequency, and up to 3.80GHz is no slouch
Backlit Keyboard looks good, and it's great for those late-night solid works coding sessions under your duvet too (OK, i'm kidding about that last bit)
Cons:
The fitted NVIDIA GeForce GTX 1060 Dedicated GPU is good – but there are better ones
Verdict: You get plenty for your solid works money with the Lenovo Legion Y520.
5. ASUS ROG Zephyrus
Best for compact size and also that crazy name
There should be a heavy metal guitarist called Rog Zephyrus and a band called Rog Zephyrus and the GeForce. If there isn't, im just putting that idea out to the Asus product management team. I like Rog. The whole point – i'll repeat this – of a laptop is that it is supposed to work on your lap. The clue, ladies and gentlemen, is in the name. So, Rog is the bantamweight of his class but still packs a considerable punch. At the weigh-in with rivals, note good old Rog comes in with a slim 15'' metal chassis that is just 18.9 millimeters thin and only 4.4 pounds.
Compare that to some of the hot and heavy laptops out there, and Rog has a lot going for him (or for it if you prefer). You also get a Terabyte of SSD (yes, a whole Terabyte), fast CPS, and a great GPU. Then throw in an efficient dual-fan air-cooling system and an illuminated RGB keyboard, and there's much to like about Mr. Zephyrus.
I like it, that's for sure.
Pros:
Plenty of graphics grunt from the NVIDIA GeForce RTX 2070 GPU
Plenty of calculation crunching from the 9th Gen Intel Core i7-9750H six-core CPU
Some smooth storage from 16GB DDR4 and 2666MHz RAM and also a 1Terabyte PCIe Solid State Drive
Cons:
Not the lowest cost laptop for solid works
Verdict: Like an MMA trained version of Taylor Swift, the Asus Rog Zephyrus looks great and delivers a punch but all in a slim package.
6. HIDevolution MSI GT76 Titan DT 10SGS 17.3″
Best laptop for solid works if money is no object
Time for confessions. Sometimes people can get other people to pay for their laptop – like your company, for example, or a rich relative. Or maybe it is your birthday. If so, do your solid works on the outrageously powerful (and expensive) HIDevolution MSI GT76.
The specs on the MSI GT76 (or to give it it's full name, MSI GT76 Titan DT 10SGS-055) are quite astonishing.
You get the very best GPU in this class – the NVIDIA GeForce RTX 2080 Super with a whopping 8GB of GDDR6. Great.
You get the best CPU in this class, too – the top-notch Intel Core i9 3.7 GHz 10 Core – 20 Thread Processor. This i9 can Turbo to 5.3 GHz. Wow.
Your storage is just an out-of-this-world, PCIe based 24 TB of fast-access SSD. Yes, 24 Terabytes on a laptop. Really.
I could also go on about the 64 GB (4 x 16 GB) of fast DDR4 2666MHz memory, or the vast display color space (Adobe RGB) or the tastefully (OK maybe not that tastefully) illuminated keyboard.
But, by now, if you have been paying attention, this is what i said in my introduction. This MSI GT76 is the Bugatti Veyron (or even Chiron) of laptop computers for Solidworks. It goes crazily fast, it looks fantastic, and it costs a lot.
So, if you have the money (or better still get someone else to pay for it), just get it. You will be utterly astonished that all that power is present in a laptop form factor.
Pros:
The best CPU's in class
The best GPUs in class
The best Storage in class
Cons:
You could buy – in the real world – an older used muscle car for the same money
It's a real heavyweight at a hefty 9.26 pounds
Verdict: Of course, solid works will run on some humdrum laptop with a lot less spec than this; however, some people are missing the point. Either you get the appeal of the MSI GT76 (i do) or you don't, and you are wondering why it is on our list. For those wondering, take a look at our final #7 entry.
7. Lenovo ThinkPad P50 20EN0013
Best basic laptop for Solid works
Our final entry is an affordable but still capable laptop from Lenovo. I repeat the warning to not buy a too-cheap laptop for solid works. It will be a very unpleasant experience, and you might end up having to buy a replacement later. As your mum used to say 'if you buy too cheap, you buy twice.' So, here i have a modestly priced sensible laptop model. It will do your solid works for you discreetly, without frills, and without fuss. The speech is all there – good but not great. I7 quad core CPU. 8GB of RAM (which is fine for many jobs). Nvidia M1000M GPU (also fine).
You can buy about 9 of these for the same price as 1 MSI GT-76. At some point, someone is going to like that fact.
So, if you are buying for a group of people, or an office, or a team, or you simply want to keep costs down, then this Lenovo is an ideal laptop for solid works.
Pros:
Good enough GPU solid works
Good Enough CPU for solid works
Sufficient storage for solid works
Cons:
It still uses a disc drive
Verdict: There are many things in this world you can spend your money on. If solid works are not the main priority for you – and you will be an occasional user – then this little Lenovo is asking for you to consider it.
Best Computer for Solidworks
I have spanned many use cases and may price points in our review of best laptops for concrete works. The choices are there, now it's down to you to see what fits your needs and your budget.
Best 2 in 1 laptop for ultimate performance: Dell Inspiron 17 7000 Series 2019 2-in-1
Best for general price/performance: MSI GT76 Titan DT 10SGS-055
Best Basic HDD model: Razer Blade 15 Intel Core i7-10875H
---
Thanks for reading, and do leave a comment.