Get a grip on those low-light camcorder jargon, acronyms and buzzwords. When you find yourself in tough lighting conditions like dawn or dusk -or even at night under the moon-, it can be difficult to know what kind of camera is going have enough resolution for your needs without having too many options that might not work out well before evaluation time has passed! It's best if we just avoid these circumstances altogether by bringing lights with us whenever possible but sometimes this isn't practical so here's how…

So, what's the best camera for low light conditions? I spent many hours – in fact over 85-looking through all of my favorite models to find a winner. That is why you are reading this article! 🙂
Cameras can be difficult to select because there's such an extensive range available on the market today (DSLR cameras and camcorders). Now that we've looked at our reviews criteria (and touched upon some science) let me show how each model performed under different lighting situations.
Low light vs. Night Vision
Different brands of Camcorder and DSLR at different cost points on our recommended list take different approaches to low light operation.
One popular approach is using techniques like using a larger sensor to simply collect more light. In this case, as well as collecting more light, they need to deal with a number of major issues. Most cameras have to create the correct colors in any case as they over sample green using a Bayer pattern sensor model.
Then you add the fact that Color at low light is by definition going to be different than in bright sunlight. You can read in detail about this in a section on color constancy on our review of daylight projection. What's more, getting colors to look correct in low light is very much harder to achieve via auto white balance (AWB), which is a popular feature on cameras and has been so for decades. In auto white balance, the brightest point of an image is judged to be a reference white by the camera, and the other colors in the scene are adjusted on that basis. However, if there is not a peak white image (which is what you would expect in low light conditions) this confuses the AWB process and the result is images that are shifted towards yellow, towards blue etc.
So, various techniques exist at different price points about how sophisticated this color calculation is and we have rated our low light cameras partly based on that. This takes us onto the topical subject of AI as some cameras including AI-powered learning-based algorithms to adjust color correctly.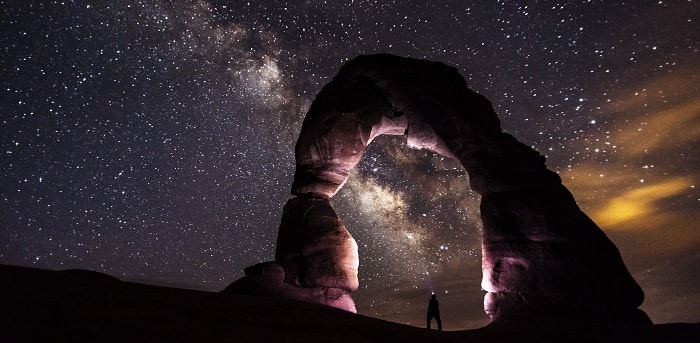 Another approach is allowing a longer exposure time, therefore keeping the shutter open for a longer duration. This also collects more light but introduces the problem of (which can also be seen in large sensors) of low light sensor noise. Additionally, any motion of the camera body during long shutter opening times can cause motion artifacts or smear. So, if tripod mounting is not possible, some professional
Recording methods include motion stabilization while shooting. Again higher price points can have some correlation with how well this is done and we have rated based on that too.
Full night vision in a video camcorder is something different as it is intended only to give a monochromatic image, via image amplification. The low amounts of light hitting the sensor as photons are converted into electrons and then these electrons are taken and boosted via a photomultiplier process. In a DSLR or Video Camera with true night vision, this is a secondary mode that can be switched on.
Buying criteria for Low Light Camcorders
As usual on our list, we have included a mixture of higher costs and more affordable brands. We have recommended popular and not so well known models. We also looked at compact cameras and a mixture of 4K and HD resolution.
Generally speaking, our cameras are well under $3,000, most we have rated are under $2,000 and the majority we reviewed are under $1,500.
Once you go under $1,000 you have to be realistic about what you are going to get and in this range, it will probably be a mirrorless action camera or a budget low light DSLR, rather than a video camcorder.
So, bearing all that in mind let's now look in detail at our seven candidates for answering the question 'what is the best low light video camera'.
Best Low Light Camcorder in 2023
---
1. Sony HXR-MC2500 Shoulder Mount AVCHD Camcorder
Best HD low light camcorder
Coming in a fraction under $1,500, this Sony AVC format model uses a 1/4″ back-illuminated Exmor R CMOS sensor and some fancy Sony electronics. What that means in practice is that – at the price point – it offers exceptional low-light operation. What's more, the AF (Autofocus) system is also geared up to focus even in very low light conditions. You also get a handy built-in LED light so you can provide some scene illumination of your won.
For this affordable amount of bucks, you get a wide-angle 26.8mm Sony G Lens with 12x zoom. Storage is via a built-in 32GB solid-state flash drive, which maxes out around three hours of HD video though pay a bit more and you can get a 128GB high-speed card,
We like the built-in mic and also the option of using an external shotgun mic too.
All in all, it's a great package for the money. You can also order it on the manufacturer's website.
Pros:
For the price, it's hard to beat the Sony low light performance
Great over the shoulder physical ergonomics makes the camera much easier to handle for video than a handheld DSLR
Sony take audio seriously with a decent microphone and other options too
The viewfinder is comfortable to use
Great autofocus
Built-in LED light improves scene lighting
Cons:
HD only, not 4K (but this usually is not an issue)
No full night vision option
Verdict:
If you don't want to shell out big bucks and are looking for low light HD (as opposed to 4K), this Sony is a great candidate for the title of the best low light camcorder.
2. Panasonic 4K HC-WXF991K
Best pro camcorder for low light with 4K
Our next candidate for the best low light camcorder is the snappily named HC-WXF991K from Panasonic (yes we are being sarcastic – Panasonic makes great products but their marketing folks really need to come up with better names). It uses an excellent 18.91 Megapixel MOS sensor mated to a 20x Zoom LEICA Dicomar Lens which goes from 4.08 to 81.6mm. One cool feature is 5-axis Optical Image Stabilizer which cuts down on possible shake or smear.
The Panasonic uses a backside illumination sensor which gives an improved signal to noise ratio and is good at suppressing noise when shooting in low light. You can also buy this item from this store.
Two advantages over the Sony model are 4K recording and in-camera editing (although the editing is at HD, not 4K). Mated to a high-dynamic-range feature this should, in theory, give it the edge on paper over the Sony, however in the real world at this price point you aren't going to get much benefit using either 4K or HDR for low light shooting and it's possible you will in fact just start to see the limitations of the lens at the edges of shot and the sensor block and backup electronics as they struggle to keep the noise in the blacks down. Remember our criteria is low light operation.
It does have one neat party trick: You can wirelessly connect your smartphone's video camera as a sub-camera for a picture-in-picture video. You might never use it (and it doesn't really have much to do with low light) but we thought it was fun.
Pros:
Great sensor with good signal to noise in low lights
Good Leica lens
In-camera HD editing
4K resolution
HDR support
Cons:
4K and HDR not necessarily a benefit or relevant if you want low light performance above all else
Verdict:
If you don't want over the shoulder operation, you want compact and lightweight, plus 4K is really your thing, then the Panasonic is a good alternative low light camcorder to the Sony.
3. Canon PowerShot G7 X Mark II
Best budget mirrorless camera for low light
Our third choice is something completely different from Sony and Panasonic. This mirrorless fixed lens camera which does full HD video (up to 1080p at 60 fps) as well as stills from Canon is typically sold below $1,000 but has exceptional low light performance at this price point. It uses a back-illuminated 20.1 Megapixel CMOS sensor with Canon's DIGIC 7 backend processing.
It's a big sensor and low aperture values mean the camera performs well above what the price tag suggests in low light situations. Therres pretty good image stabilization too, which can sometimes help in low light as we discussed earlier in the article. You can also order it right here.
Pros:
Great for low light operation
Very simple to use
Very affordable
Compact and lightweight
Cons:
Fixed lens
Basic audio (you would do well to buy an external microphone)
Verdict:
It's hard to argue about any niggles with the camera against the very low price. If you want low light on a very low budget, this might be the right camera for you.
4. Fujifilm X-T2 Mirrorless 4K Digital Camera
Best mirrorless 4K low light camera
Moving back into 4K – if that's your thing – pay a bit more (under $2,000) and you can have this beauty from Fujifilm. You get a 24.3MP X Trans CMOS III APS-C sensor and the Fujifilm X Processor Pro engine. Translated from Fuji marketing speak that means lower noise and better low light performance, especially around color constancy which we explored earlier. The Camera manufacturers are in a war with the smartphone manufacturers on AI-based low light image processing and Fuji and quite happy to fight it out with Google and Apple in this area. The war is ongoing and of course not going to stop anytime soon.
The camera comes with an 18-55mm F2.8-4.0 R LM (linear motor) OIS (optical image stabilizer) lens as standard. The linear motor does what it says giving smooth, silent and rapid movement when needed. Other lenses can be mounted.
You get full 4K 3840×2160 30P/25P/24P shooting or below, provided you are using a UHS Speed Class 3 card, or something higher. That's fine but remember 4K TV goes up to 60P.
Being a mirrorless design you get a nicely executed set of viewing options including a handy flip-out screen
All in all a good mirrorless design.
Pros:
Great all-round performance in the price bracket
Mirrorless camera software is getting better all the time and we like the Fujifilm X Processor Pro engine
4K support
Flip out screen
Cons:
If you pay more (a lot more) you can get better low light DSLRs
Verdict:
A great example of how to do low light well in a mirrorless camera.
5. Nikon D7500 DSLR
Best mid-price low light DSLR
Sop we just mentioned low light DSLR's and we'd like to share our thoughts on the D7500 from the highly respected Nikon brand. Nikon makes may cameras with low light capabilities which cost a lot of money but we picked the D7500 as a good trade-off between price, performance and features. This award-winning DSLR uses a 20.9 MP DX-format sensor, coupled with the Nikon EXPEED processing engine. Put together, these do a great job of low light noise reduction and there is a mode called the "Hi 5 setting" which lets you shoot at almost ISO 1640000.
For video shoots, 4K at up to 30 fps with audio is supported or you can dial down to 1920×1080 full HD.
So, add the lens you want and you are ready to go.
Pros:
A great combination of sensor and back end image processing
DSLR operation will appeal to many
Great for video, outstanding for stills at this cost point
Cons:
As always, it's the audio and ergonomics you are going to have to compromise on when shooting video
Verdict:
Everyone (almost) wants a Nikon at some point in their lives – if you can afford this, then go for it.
6. Ordro 4K Ultra-HD Digital Video Camera with IR night vision
Best camcorder with night vision
As we near the end of our list we want to get a little lefty field and think out of the box here. No, suppose you want to work in really low light – maybe almost no light at all. Then one option is to go for a camcorder that also has an infrared (IR) mode. The Odro works fine as an ordinary 4K or HD daylight camcorder has decent ergonomics and quite reasonable audio – there is an external shotgun plus the option of connecting fully external microphones.
Although it is not in the same league as the Sony or Panasonic at the top of our list, the Ordro still makes sense as a viable option for some people. However you set your criteria, it is really affordable and – more to the point – you can switch from capturing light to capturing heat. So, the Odro will in theory even work in a pitch-black room, providing objects in there are giving off enough heat. Any camera without IR becomes useless at that point.
So, it's a quite different proposition to almost anything else on our list and in its niche, it makes great sense
Pros:
Very affordable
Switch to IR in very low light or even no light
4K support
Good audio at the price
Reasonable performance in normal to lower light
Cons:
Not great if you want pure low light performance and IR is not your thing
Verdict:
For the money, you get a lot – just don't expect Canon or Nikon quality.
7. Cleveland Paranormal Supply ADV1080p
Best for IR
Our final selection is a bit of fun. Apparently, there is a market for ghost hunting cameras and that's exactly what the Cleveland Paranormal Supply ADV1080p camcorder is. So, if you are suffering from spirits, bothered by bogeymen or anxious about apparitions, then who are you gonna call? Well, not Ghostbusters but apparently Cleveland Paranormal – presumably Cleveland is a paranormal hot spot but the cameras ship anywhere. There is, in fact, a whole US market in 'paranormal investigation cameras' and several vendors have competitive products out there.
What you get with the ADV1080p is a normal 4K or HD Sony based camcorder that also supports one-button changeover to IR and which has been through 5 development generations already. This version uses a modified camera using the Sony Exmor CMOS Sensor and has a Unique Selling Proposition of custom Firmware which allows for IR mode without using an on-board IR LED. This double battery life while using an external Infrared light, which is handy if the poltergeist you are searching for decides to not show up, or to take a lunch break.
The ADV1080p is about as niche as you get in the low light camera but fun too. we like the logo on the side which is very much 'Blair Witch Project'
Pros:
If stalking spooks is your hobby this makes sense
Works OK as a normal camcorder too
Low cost
Cons:
If stalking spooks is not your hobby this makes no sense 🙂
Verdict:
A low cost but actually quite usable bit of fun that is great for the very lowest light video camcorder applications. If ghostbusting makes you feel good – give it a try.
Best Lowlight Video Camera
So, we have looked at seven quite different answers to the much-googled question 'what is the best low light camcorder'. The answer – as you almost always find – is that there is no 'best' and it simply is dependent on what is important to you. In this list, we can see that affordability, ergonomics, image processing, resolution and infrared capabilities are all considerations that will appeal to some but not to others.
So, what do you think? Please leave any thoughts or suggestions in our comments section. Thanks for reading.
---
This page may contain affiliate links. USDIGITECH.com is a participant in the Amazon Services LLC Associates Program, an affiliate advertising program designed to provide a means for sites to earn advertising fees by advertising and linking to Amazon.com