Best Mountain Bike for Big Guys
It's a well known fact that there are many heavy men and many overweight women in the USA today. In fact the CDC reckons a whopping 71% of Americans are overweight. The truth is, being 200lb, 300 lb or even 400 lb is not so unusual. However it's not ideal to be those kinds of weights either. If you want to control your weight, studies show that diet alone rarely brings long term significant weight reduction. At best it is temporary but then the pounds start slowly piling on again. First and foremost, what you need to do is change your lifestyle and especially your exercise level – and cycling is a great way to do that, especially the high calorie-burning sport of mountain biking.

The best mountain bikes for big guys in 2022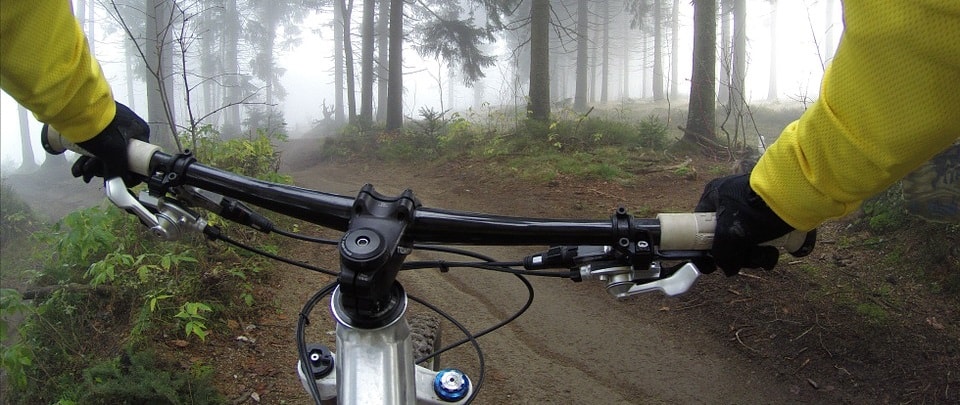 So, which are the best mountain bikes for heavy riders? To answer that we need (as is our habit) to use a bit of reason and science, but first let's jump straight to our top 3 mountain bikes for big guys.
Best all-round affordable big guy mountain bike: Kent Hawkeye Mountain Bike, 29″
Kent international makes some great bikes and we picked this from their line-up. It suits both the big ride and the tall rider (and the big & tall rider). This makes the top of our list for sheer affordability without cutting quality corners. Make sure you have time (and patience) to do the assembly and you will be rewarded.
Best for the rough stuff: Huffy Hardtail Mountain Bike
A little smaller than the Kent, this cool bike from Huffy is very popular with the big mountain bike rider community. Great gears and a great ride mean we like it too. When the going gets tough, the big guys get Huffy. See what we did there?
Best compact mountain bike for obese riders: TITAN Glacier Dual-Suspension All-Terrain Mountain Bicycle
If you are looking for a compact package that does the job, look no further than the Titan. You get a lot of mountain bikes for the money. Full marks for that dual suspension too, which many prefer to the hard tail design.
---
Ok, later we will look in detail at these 3 again, along with 4 other contenders for our 7 top rating mountain bikes for big guys. But first, over to our reason and rationality desk, who are back in business looking at science, following some recent events (where we kind of voted with our feet on whether using reason was a good thing or not, or if the popular opinion was all that mattered). Just making a quick topical reference there, which has nothing to do with our list.
The Science of the mountain bike for heavy rider
Now, Isaac Newton didn't invent the mountain bike for a heavy person, but he did do all the preliminary basic research. It's really simple and we don't need to use any equations, but it goes like this:
Bike frame: Weight = mass x gravity
We expect you'll be cycling on earth, so don't worry about this one – however, remember that as a fat mountain bike rider you are going to need a frame that is rated for your weight. Some frames are ok to 400 lb, some to 300 lb, some less. You need the right strength mountain bike. Make sure you pick the right one. If we are also talking about a mountain bike for a tall man, as well as a heavy man, you need to check frame size too. The best mountain bike for a tall man needs to be tall. As we're sure you figured out.
Bike suspension and brakes: Change in momentum = force x time
On your mountain bike for big guys, you will be differentially moving in all axes (including up and down, slowing down etc.).
That means don't skimp and go for low-cost suspension or brakes. They both need to be rated higher than for a normal bike rider. Get a full suspension mountain bike for big guys or by saving money, you may pay a bigger price. That's because wear and tear will be a potential problem if you go too 'affordable'.
You are, after all a large person, and you will be going fast downhills. Fat guys who buy popular but unsuitable models will pay dearly in one way or the other.
Bike Tires and Gears: Momentum = mass x velocity
As a big guy, don't forget great tires. The best mountain bike for heavy riders is not just about the bike, you need good gears. Then, you need strong and maybe oversized tires to get that grip, carry that weight and generate that motion. Make sure you have a bike with tires with good reviews as a big man's brand. Do you really want a blowout on a high-speed descent? Nope, me neither.
Bike Saddle: Force = mass x acceleration
There is no polite way of saying this – for a big man riding, your buns and inner thighs are going to take a lot of punishment. That's just the way it is and the heavier you are the more severe that punishment will be. So, get a decent comfortable and broad saddle – not one of those toothpick sized ones. Otherwise the day after a big ride – oh man, do we have to spell it out? You are a big guy on a bicycle. Ouch.
Mountain Bikes for Heavy Riders
Now that's all done, here are our top 7 best mountain bikes for big guys. With Covid-19 hitting bike production, like so much else, it's important to order bikes that have good availability – these all do.
Best all-around affordable big guy mountain bike
Say 'Hi' to Kent model number 6061. What you get for a very, and I do mean very, reasonable price is a light but strong 18.5-inch aluminum frame and an aluminum crown front suspension that will easily handle those big guy scary hill climbs over gravel stones and those pesky tree roots.
For tires you get all the right boxes ticked. Big 29-inch double-wall alloy rims with chunky and well-made 29 x 2.30 tires. All that links up with
Shimano 7 speed freewheel, front and rear derailleurs and what Kent call "rapid-fire" 21-speed shifters. That's all great to get you going, but how about stopping. Well, that is handled nicely by front & rear mechanical disc brakes.
Yes, you have to do some assembly (and it helps if you have done that before) but the price is so keen, you could get a local shop to do it for you and still be saving a bunch of cash. You might invest in a wider saddle too and upgraded fork and still be way better off and cheaper than buying some of the rivals.
For the very affordable price, which is about half of many comparable competitors, it's a steal.
Pros:
Well presented, well thought out, and well manufactured
Everything you need, nothing you don't
Amazing price, given what you get for it
Cons:
Assembly can take some patience
Final words: Competes with other popular brand mountain bikes that cost twice as much (or more) but which are not – in our opinion – necessarily always twice as good. It's not a $1,000 bike but nor is it meant to be. We like it a lot.
Best for the rough stuff
Huffy is a well-known and popular brand and if you like Huffy hardtail bikes then you are in good company. You get a well-made but affordable 28 lbs bike with a 17" frame, and the 26"-wheel Summit model is 18 speeds. Rider weight officially goes up to 250 lbs but there are 300 lb riders out there.
Out on the road or on the dirt, you'll appreciate the very capable front suspension, efficient brakes, and chunky tires which are all very good in this price bracket. You will probably do well to invest in a specialized big saddle though – but that's true for almost all the bikes on our list.
Some readers may think that very few people need a $1,000 bike – except to show off. We see things a bit more nuanced. In our humble opinion there is nothing wrong with a bit of showing off. In any case that's not what the Huffy (or this review) is about. It's about getting on the road or up a hill on a decent bicycle when you are obese. If that is your thing, then this Huffy might be just what you need.
Pros:
A good-looking bike that suits women, men, and adolescents
Easy to assemble
Reasonable price
Cons:
Not for the very tall rider, nor the 300 lb plus rider
Final words: If you are buying with your head, not your heart, give the Huffy hardtail model a try. You might just like it as much as we do.
Best compact mountain bike for obese riders
The whole bike community thing can sometimes get a bit irrational or plain silly. Ultra light bikes made from stealth fighter grade unobtanium form the planet Pandora and handcrafted by monks in a secret cave in Tibet etc. The truth is a few grams here or there really don't make that much difference and neither do you need to spend massive amounts of money on bikes or clothes either. It can all get a bit narcissistic, move away from the science, and all end up over competitive. No, we aren't talking about any election. This is just about bikes.
Since we are reason and science fans here, this is going to be really simple. You want a strong bike as you are a heavy rider. You are not trying to win the Tour de France ok? then you need something like this Titan. Yes, pick up the Titan Glacier and it's a bit heavy because it is stell framed. You are not a pro rider. If you want a weight reduction it will be easier, cheaper and healthier to work some pounds off of yourself, than pay crazy money for an ultralight aluminum or fancy alloy mountain bike. What's more, we are talking mountain bikes here, not road racing bikes. Like Gordon Gecko said (sort of) 'heavy is good, it gets things done'. Steel is good.
Pros:
Compact and strong – pretty much ideal for high-BMI riders
The great suspension soaks up the trials and tribulations of the trail
26-Inch ATB tires at 1.95-Inch wide, are just what we like, providing plenty of obese rider traction in almost all road or hill conditions
Cons:
Won't impress cycling purists (but do you really care?)
Final words: If you are genuinely looking for a great bike as a heavy rider, and fashion is not your thing, then why not buy something that will actually do the job? The Titan Glacier is for riding, not posing, and is an honest bike that we really like.
Best fatter tire luxury bike for big riders
Now, don't misunderstand us on the price and cost topic. If you have the money and it makes you happy, spend whatever you want on a bike. Like Sheryl Crowe sang, if it makes you happy then it can't be that bad. We love Mongoose bikes, and the Salvo is somewhere towards the upper end of the price range – there are more pricey Mongoose models and of course cheaper ones too, but we think the Salvo is especially interesting.
So, for more than three times the price of some of the models on our list, what do you get? The answer is superb quality. The Mongoose Salvo looks, feels, and rides just as you'd expect a bike costing this much more to. It's great to own and definitely one to impress other riders with.
Now, for the detail. You get an aluminum frame that is light and strong. The suspension uses what Mongoose calls "Free Floating Technology". This kind of suspension is designed to handle trail riding smoothly. There are three frame sizes, all of which work for obese riders, – you just pick the one that is right for your height. We would go for the 29" wheels on that topic. The SRAM SX Eagle 1×12 drivetrain is impressive and we like the touch of running cables inside the bike. Pity, it doesn't ship with assembly tools though – that only cost a few dollars.
Pros:
Comfort and luxury with performance too
Great suspension coupled with an outstanding drivetrain means this is a serious off-road proposition
Although a little pricey, the quality is way ahead of lower-cost alternatives and it really shows
Cons:
If you don't have the money to spend, this is Mongoose not for you
Final words: If you do have the money, why not check out this gem from the huge Mongoose range. In this case, you pay more, and you get more.
Best for an obese rider over the bumpy stuff
Our 5th choice is a little bit different. We have picked the Cycle Force on our list because of the great dual suspension. Heavy riders have more mass and if you combine that with acceleration and deceleration you get more force. More force means more discomfort.
The Cycle force suspension really works well and is hard to beat, at the very affordable price this model sells at. The big win with any dual suspension system is the ride quality but this is not always as good as it can be. What Cycle force has pulled off is a good ride but at a very low price.
The rest of the bike is competent too. Frame and fork are both very sturdy steel. Wheels are alloy rims, paired with 26 x 1.95-inch mountain bike tires. The drivetrain is 18 speed, with twist shifters and conventional linear-pull brakes.
Pros:
Obese riders will feel those bumps harder – but not with this Cycle Force
All round a competent bike at a good price
Assembly is not demanding
Cons:
It is not exactly the most fashionable
Not great for tall riders
Final words: Early bikes used to be called 'boneshakers' for a reason. If hills are your thing, then check the Cycle Force out.
Best hybrid mountain and road bike for obese riders
Our number six pick is something else a little different – a hybrid bike that is great on the road as well as in the forest. The Schwinn GTX is both practical for a run down to Starbucks or down the Rockies. There is an Aluminium dual sport frame, and the 700c wheel size with dual surface road/trail tires will fit riders from 5'4" up to 6'2" in height.
Finally, to go and stop, the 21-speed shifters with rear derailleur provides clean and accurate gear changes and alloy V-brakes deliver plenty of stopping power.
Pros:
Versatility for road or off-road
Comfortable and practical
Quick enough when you need it
Cons:
Not OK for very tall riders
Final words: The Schwinn GTX is a "best of both worlds" approach that solves commuting and off-road tasks equally well.
Best folding mountain bike
Our final number 7 pick is one more twist in the tail of possible choices for a big guys mountain bike – and that is this folder from Lodd. There are many plusses to a folding bike. You can store it easily in a car. You can take it on public transport. It doesn't take much space if you live in a small apartment. So, the main downsides are that some people worry they are a little more complex (read fragile locking mechanisms) and a little less robust. The reality today is that a folding bike is as good a bike and as robust as a non-folding version.
There are 26-inch 6-spoke rims with the Loddd magnesium wheels, plus carbon steel double suspension, with a 26″ sturdy "High Tensile Steel Folding Frame". It will not buckle or fold until you want it too. Trust us.
Add 21-speed gears and you have a fun but portable solution for big riders.
Pros:
Easy to store – car, pick-up, Winnebago or at home
Easy to carry – on a train, tram, or coach
Comfortable and easy to ride
Final words: Do not discount the possibility of a folding bike – they can make a lot of sense.
TOP3 Mountain Bikes for Tall Man
Best all-round affordable big guy mountain bike: Kent Hawkeye Mountain Bike, 29″
Best for the rough stuff: Huffy Hardtail Mountain Bike
Best compact mountain bike for obese riders: TITAN Glacier Dual-Suspension All-Terrain Mountain Bicycle

---

So, there you have a range of 7 different models, each of which is a possible answer to the question 'what is the best mountain bike for big guys?'. We have seen low and high-cost types. We have looked at dual suspension, hybrid and folding models. Now, it's all down to you. We hope you have had a reasoned and objective look at this area and thanks for reading.