This page may contain affiliate links. USDIGITECH.com is a participant in the Amazon Services LLC Associates Program, an affiliate advertising program designed to provide a means for sites to earn advertising fees by advertising and linking to Amazon.com
---
The Internet of Things (IoT) is a topical subject and we are now starting to live in connected houses. We can control all kinds of things in a room – door entry, automatic window blind drawing, floor heating, power sockets, lighting, etc. In our kitchens, we can now control just about any device via an app.
Keeping our home at exactly the right temperature – especially at the temperature that we want, night or day, summer or winter using HVAC is now possible using Samsung SmartThings technology.

So, what is the best thermostat for SmartThings? I think that you really do not want to spend as long as i did on this topic.
I spent about 170 hours of my time looking at a range of smart thermostat products especially for a Smart Things thermostat.
I looked at everything from the most affordable and also at brands that cost more and have recommended six models on our list. I (as i always do) looked not just for a popular, low price, and commonly well-rated products that come top in reviews.
I dug deeper and looked for good motion activation, reliable wireless, good remote operation, and easy control, sophisticated temperature functions, wi-fi capabilities, and did some compare and contrast with systems, apps, and products, including google assistant, google nest, ecobee, etc. I also looked into whether needing common wire (the white wire in the US) is an issue.
It turns out that there is much more to the question of the 'best' smart thermostats than meets the eye.
3 Best Thermostats for Smartthing
Before we get into the fine detail, let us start out with my top 3 recommended smart thermostats.

EDITOR's PICK
«EDITOR's PICK»
Best overall smart thermostat for SmartThings
Our rating: ⭐⭐⭐⭐⭐
Pros:
— Absolutely featured-packed;
— Easy on the eye;
— Easy to use interface;
— Works with Alexa;
— Reasonably priced;
— Customizable.

Cons:
— No multi-room sensor mode;
— Not the cheapest.
«EDITOR's PICK»
Best mid-priced thermometer for SmartThings
Our rating: ⭐⭐⭐⭐⭐
Pros:
— Good overall functionality;
— Looks good too – we especially like the lighting.

Cons:
— A common wire (C wire) is required to power the thermostat.
«EDITOR's PICK»
Best thermometer for SmartThings with Alexa built-in
Our rating: ⭐⭐⭐⭐⭐
Pros:
— A quality product;
— Comes with a remote sensor;
— Alexa is included;
— Quirky good looks.

Cons:
— Others are cheaper.
---
Now let's look a bit deeper into the crazy world of SmartThings IoT
IoT and SmartThings 101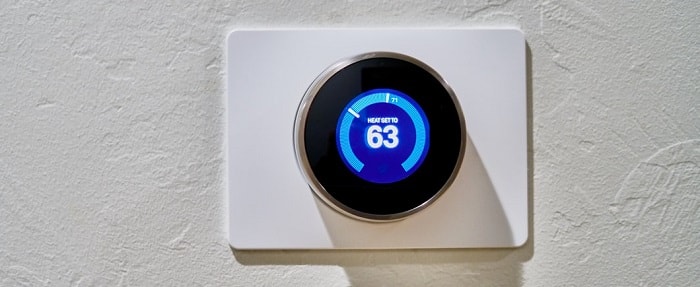 It is worth taking a quick reminder to ourselves of exactly what the SmartThings hub is in the world of IoT and what it does. The Smart Things hub connects wirelessly with other smart devices – about 1,000 right now – and makes them work together – lights, audio, door locks, doorbells, and door cameras, TVs, motion sensors, water leak sensors, fire sensors, fridges, CCTV and of course thermostats. More devices will be added in time and the IoT is a fast-growing area.
Once you have bought the hub you then use the SmartThings app on your Android phone or iPhone, or Amazon's Alexa to control your smart home devices.
As you cycle through an average day, obvious uses are getting the house ready for you to get up in the morning, closing things down securely as you leave for work or to go out, getting your house ready for you just before you return and setting things up how you want it when you're about to fall asleep.
These are just a few uses, there are of course many more and this is a topical area where you would expect AI to be making some of those decisions too in the future.
The SmartThings hub uses an internet-connected Wi-Fi router with an ethernet port, plus a SmartThings app for later model Android or iPhones. Control protocols are ZigBee, Z-Wave and of course IP.
The main supported brands and products right now are devices from Honeywell, Philips Hue, Emerson, Kwikset, and many others.
You need to be reasonably savvy to get everything working and if you find it difficult, it is best to get a teenager to set it up.
Us adults are getting behind the curve. You can check out a Samsung SmartThings video here with a typical trade show product management pitch.
---
Best Smart Thermostats in 2022
---
Now, let us get back to our full list with details of the 6 best thermostats for SmartThings.
1. Honeywell Home RTH9585WF1004
The best overall smart thermostat for SmartThings
Honeywell makes a wide range of thermostats that work with Smart Things. I chose this mid-priced model because it has all the main areas covered and frankly it looks cool too. Let us be honest – you are going to try to impress visitors to the house by showing off your smart home. So, why not make sure it looks as good as it works.
The Honeywell is packed with goodies like a full-color customizable touchscreen. You can get an on-screen view of your local weather conditions, including indoor and outdoor relative humidity levels.
You can set programs to link into peak rate / low rate utility pricing through demand response programs. You get intelligent alerts including filter change reminders, humidifier pad replacement reminders, etc.
OK, it doesn't come with Netflix and a built-in can-opener but all in all, as a smart thermometer, there's not much it can't do.
Pros:
Absolutely featured-packed
Easy on the eye
Easy to use interface
Works with Alexa
Reasonably priced
Customizable
Cons:
No multi-room sensor mode
Not the cheapest
Verdict: This Honeywell looks great and it gets the job done. If you are happy with the cost, what's not to like?
2. Emerson Sensi Wi-Fi Smart Thermostat ST55
Best mid-priced thermometer for SmartThings
Another very capable mid-priced smart thermostat, this time from Emerson, for Smart Things, which people find very easy to install, set up and operate.
I like the Sensi usage reports this generates and the Sensi tie -ins to utility discounts, as that will help run your home cheaper as well as smarter.
There's a nice white backlight feature that works as a night light but also frankly just makes it look good as a piece of décor. It's not a full touchscreen like the second Emerson i review in the #5 slot but then it's a lot more affordable than that Emerson model.
Pros:
Good overall functionality
Looks good too – i especially like the lighting
Cons:
A common wire (C wire) is required to power the thermostat
Verdict: The Sensi looks a bit bland compared to the Honeywell but things change in the evening with the light feature. If you want to save money too (who doesn't) you'll like the money-saving features as well.
3. Ecobee4 Smart Thermostat with Built-In Alexa
Best thermometer for SmartThings with Alexa built-in
This Ecobee thermometer works great with SmartThings, as you'd expect. Ecobee is a dependable and reputable brand and this model is typical of their quality. It is not cheap though but then it is the real deal, and includes a separate room sensor included in the price with the option to buy more.
The sensors let the Ecobee take decisions for you, including while you are out. For example, if you live up in Canada or North USA around the Great Lakes in February or even – poor things – Fargo in January, you'll appreciate the Ecobee automatically (via its sensors) taking action on your behalf if it looks like a room or area is getting too cold.
What's even better, it even includes Alexa, so you can lie in bed in the morning and tell the ecobee to sort out the house temperature the way you want it before getting out of bed.
Pros:
A quality product
Comes with a remote sensor
Alexa is included
Quirky good looks
Verdict: I like the total package with the sensor and Alexa thrown in. A serious contender.
4. Honeywell Home RTH6580WF
Best budget thermometer for SmartThings
Another Honeywell thermometer – this time at the budget end. Now think about this: Why exactly are you buying an expensive Smart Thermometer. Is it for the looks or is it for practicality?
If looks are not important to you – since you will be doing most operations from your smartphone anyway and/or you are maybe on a budget, then a Honeywell RTH6580WF, rather than one of Honeywell's more expensive smart thermometer models, might just be for you.
The low cost means you don't get the battery back up but other than that, it's a perfectly competent product.
Pros:
Very affordable compared to some others on this list – often less than half price
Simple and straightforward
Works with Alexa
Cons:
Requires C Wire
No battery backup (it will hold memory for short outages, however)
Verdict: A good possible candidate – if you can live with no battery backup.
5. Emerson Sensi Touch Wi-Fi Smart Thermostat with Color Display ST75
Best touch screen smart thermostat for SmartThings
The time now for another Emerson, this time at a higher price point and with an attractive touch screen on an equally attractive box, which when put on a wall looks a bit like having a small tablet computer mounted in the room.
Fans of the movie Ex Machina will like this model. If you haven't seen the movie yet – it's well worth checking out since you are already interested in smart homes. We'll say no more at this point.
On the practical side, the Sensi touch works well with SmartThings and with Alexa and for that matter via phones. However, what i like about it is the touchscreen interface that is easy and pleasant to use, better frankly than fiddling around with a small smartphone screen.
There is a nice unit backlight feature too, which also looks great and has a practical use too – it means you can find and use the unit and screen easily in a very dimly lit room.
I also like the usage reports, which monitor HVAC use times and by implications costs in the app. You can then find utility suitable rebates through the Sensi Touch rebate finder.
Pros:
Nicely designed unit
Good looking and well-designed touchscreen
Alexa support
Verdict: It's a good-looking beast and i like the way you can get utility rebates – which will help offset the cost of the unit.
6. GoControl Z-Wave Battery-Powered Smart Thermostat
The best thermostat for SmartThings if you like minimalism
Our final entry is this simple, elegant, and straightforward model from GoControl. Some SmartThings users rate it very highly.
The common view is why someone would want a more expensive and more complex programmable thermostat than this if they already have or are planning to buy a home automation controller
It scores well on looks too with its low-key functional design.
Pros:
It's a simple no-fuss no-frills product
It's very affordable
Cons:
It won't impress the neighbors 🙂
Verdict: Since you are going to be doing most control via a smartphone, if you just want something practical and cheap, this is it.
Conclusion
Smart homes are without a doubt the future. They are the future because they are easier to live in and (if set up correctly) cheaper and greener too.
We still waste so much energy (and burn so much fuel, creating pollution) because we don't manage our heating, ventilation, and air conditioning efficiently. Putting in a smart IoT based HVAC solution is a step in the right direction.
You'll be helping yourself save money, cutting pollution and hey – it's fun and cool as well. I mentioned Ex Machina before – do see it if you are into IoT.
SmartThings are in a battle with Google and others to get you to upgrade your homes and i just gave you 6 ways you might just go down the SmartThings route and get a great result.
Thanks for reading 😉