In another review on our site, we looked at the best laptop for realtors. We reviewed, rated and gave some recommended models.
OK but supposing you are in the real estate business and you prefer a tablet. What is the best tablet for realtors then?
If you ignore mobile phones for a moment, realtors have a choice between the pure keyboard and mouse devices, versus hybrids with touchscreens like the Surface, tablets that support keyboards like Notebooks and pure tablets.
Plus of course, there are Chromebooks, which are non-tablet computers – really just a very competent web interface.
To cut through this confusion our other review looked in detail at all different kinds of non-tablet computers and concluded that there is no single 'best' or 'top' – it really comes down to your buying criteria.
What's more, just quoting specifications isn't that helpful – why are those specs important when asking "what is the best tablet for a realtor?"
Our recommended list includes both popular and less well-known models.
We thought about price and real-world user ratings, but ignored other 'top' reviews and avoided buying into topical buzzword marketing.
Best Overall Model: Galaxy Tab S7 FE
Great Alternative Model: Apple 10.2-inch iPad (2021)
Best Hybrid Model: Microsoft Surface Pro 7
---
Buying Criteria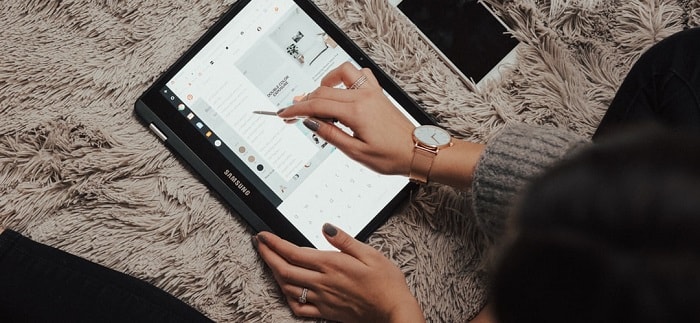 In this review and ratings of the best tablets for realtors, we'll focus again on the use cases and buying criteria a realtor might have. They are similar to but not the same as non-tablet computers:
Overall size. All tablets are portable but some are more portable than others. A really big tablet means a really big screen size and sometimes at least, size does matter. An Apple iPad Pro is nearly 13" – that's big for a tablet. The Samsung Galaxy view (not easy to get hold of now) comes in at an impressive 18 inches – really it is questionable whether that is a tablet anymore. Whatever you classify them as that big screen can be a very good thing if you are presenting to clients. You often don't have the connectors on a tablet to hook up with a TV or projector. A small screen can be better if you are mainly concerned about portability. Down the other size end, some 7" Tablet screens are pretty much crossing over with jumbo-sized mobile phones. Boundaries are blurring and that's no bad thing.
Operating system. Either you think Steve Jobs was sent on a divine mission to change the world or you think Apple products are nice but overpriced. To be blunt, Android versus Apple, well let's just say It's not an especially rational discussion to have, any more than football, politics or religion. Either you believe in Apple or you don't.
Performance / Speed. Tablets are supposed to be responsive, have enough memory to hold what you need, etc. It's really a kiss of death to your credibility as a realtor if your tablet isn't keeping up with that sales pitch, isn't it? How much money might you save with a cheaper less capable tablet? OK, how much commission will you risk losing if the tablet fails to back you up as you are trying to close the sale? Do the math and it's usually worth the money to a Realtor to get a decent spec tablet. This is your business after all.
Connectivity. Does your tablet connect to everything you need it to connect to and if so, how well?
Choice of applications. Can you get the applications you want and if so, how well do they run?
Battery life. Will it keep going all day or will you be hunting around for mains power sockets?
Can you run a 'real' keyboard? Tablets started out as all about the touchscreen – but everyone hopefully now knows when a touchscreen is fine and when it sucks. If you are trying to do things on a tablet that suck, then think about a model that supports a keyboard.
Cost – running costs on a tablet is low to zero other than a few coppers for charging. So, this is mostly about upfront costs
Now we have made our main criteria hopefully clear let's list our top 6 headliners in more detail.
The best tablet for Real Estate Agents: Our Top Picks
---
Best Tablet for Realtors in 2023
Now let's look in detail at six candidates for the title best tablet for realtors.
1. Galaxy Tab S7 FE
Do big things with the Samsung Galaxy Tab S7 FE. This powerful tablet has a large 12.4 inch display that brings your content to life in brilliant color, whether you're indoors or outdoors.
This tablet is great for real estate agents or anyone who needs to do some quick entertainment browsing. Plus, it comes with a built-in S Pen for taking notes in class, sketching out ideas, or doodling during downtime.
And because there's more workspace to work with, you can multitask like a pro.
2. Apple 10.2-inch iPad (2021)
Take your work to the next level with the new Apple 10.2-inch iPad. This powerful and versatile device is perfect for busy professionals who need a reliable computer that can keep up with their demanding lifestyle.
With a faster processor than the Surface Pro 6 and all-day battery life, this iPad is sure to become your new go-to device for work and play.
And its sleek and lightweight design won't weigh you down, making it perfect for traveling in realtors jobs. So ditch your bulky laptop and upgrade to the new Apple 10.2-inch iPad today!
3. Microsoft Surface Pro 7
Experience the best of both worlds with the Microsoft Surface Pro 7. With its versatility as a studio and tablet, you can type, touch, draw, write, work, and play more naturally. With its 10th gen intel core processor, this computer is redefining what's possible in a thin and light computer.
The Surface Pro 7 starts at just 1.70 pounds and is Bluetooth 5.0 enabled. It also comes with USB-c and USB-a ports for connecting to displays, docking stations and more, as well as accessory charging. Plus, it has all day battery life up to 10.5 hours.
4. Apple iPad Pro (12.9-inch, Wi-Fi, 512GB)
We love this old but good
tablet from Apple
. The screen is breathtaking, the performance is great, the audio is a cut above most other tablets, there's plenty of memory (up to a Terabyte – no we are serious) and battery life is great too. It has USB-C which is very useful for a Realtor and we talk about why that is in some depth in our other Realtor non-tablet computer review that is the twin of this one. Now, you are waiting for the downsides.
Well, there is the small issue of the price and the other small issue that you can only run pretty much Apple-approved apps, which you must pretty much buy from or via Apple. So, what that means is that Apple will decide for you what you can have and up to a point decide for you how much you are going to pay for it. You can email Tim Cook about that but don't expect a quick response.
Yes, we agree it's overpriced for some Real Estate work. Yes, we also agree you can't shop around different vendors for affordable apps for it. Yes, we know you risk being a stereotype. None of that matter though does it? You don't buy Apple rationally – you only use rationality to justify your purchase. So, if you work for a Realtor (and it's not your money) if you can convince the Real Estate company to buy one for you, so you are not paying, then go for it.
Pros:
Just a great example of what a tablet can do.
Cons:
Is any tablet really worth paying this much for?
Verdict: If you can justify the huge cost, it will blow your clients away and if you have kids at home to keep quiet, you can use it as a bribe/reward. A stunning tablet for realtor presentations.
5. Samsung Galaxy Tab S6
The
Samsung Galaxy
range includes this tablet / keyboard hybrid. It addresses the key issue (no pun intended) of tablets in that not having a keyboard sucks when you need to do a lot of fast typing. We went for this 10.5″ screen 256GB WiFi model.
You can have less storage, for less money or LTE as well as WiFi, for more. It comes with a stylus, which is handy for the Realtor who needs sketching and signing but a stylus is easy to lose, even one like this that attaches magnetically.
The most current version of Bluetooth is supported – Bluetooth 5, which means – in theory – longer connection distances, more robust connection, lower power drain and more data transfer capacity, all else being equal.
Pros:
An all-round great hybrid 2 in 1 tablet for a realtor. A good display and quite reasonable audio too.
Cons:
Not exactly small, not especially cheap.
Verdict: Does it really matter if this is classified as a tablet or a laptop if you can live with what it isn't good at as well as what it is?
6. Fire HD 10 Tablet
If you want something straightforward, portable and cheap,
this new Fire
is all those things. It's reasonably lightweight, slim though not quite thin, affordable, and from a popular and good brand.
The screen is a modest but useful 10 inches at 1080P HD. In our view, tablets with 7-inch screens really aren't enough for realtor presentations. Memory is a modest but usable 32 GB but you might want to pay a bit more and go for the 64 GB model.
Pros:
Fine for doing small group presentations so long as you are up close and really affordable.
Cons:
This is not a device for creating professional realtor content.
Verdict: The Fire HD 10 is cheap but a capable display tool. You can buy a whole bunch for real estate business and still have change left over. The Fire HD10's capabilities might not be enough for some real estate broker needs but again, this is an inexpensive tool. You can buy other devices too.
7. Dell Latitude 12 Rugged Outdoor Business Tablet
In our
laptop review for realtors
, we already mentioned a ruggedized laptop for some real estate use cases. Basically, not all Realtor business is likely to happen in plush show houses.
You might be taking a client out to a building site in progress, or a live renovation project. That's when ruggedized models like this 10.5-inch tablet model from Dell come in so useful. They can handle dust, grit, moisture and the odd bump and knock and still keep going. A normal tablet would not necessarily last long in those real estate situations.
Spec-wise, the screen comes in at just under 12 inches, and there's plenty of horsepower and memory is a very practical 512GB SSD and 8GB RAM. There is also a handy GPS function, which while intended for other uses, could be a boon when looking around a new building site for development.
Pros:
Will keep going where other tablets will give up or even totally die.
Cons:
Very focused on the hostile environment niche – not ideal for other realtor needs.
Verdict: This might be a 'special use' model that you keep in the office for when needed.
8. Google Pixel Slate 12.3-Inch 2 in 1 Tablet
We wanted to get at least one
Google product
on our list and we like this hybrid 2 in 1 design very much. If you are a realtor, this combines a lot of the benefits of both tablet display operation and portability with a laptop-style keyboard for when you actually want to create some content.
The screen size is usefully bigger than the norm for Tablets and the display is good – not Apple standards but then again not Apple prices.
If you are working collaboratively with a colleague or third party on documentation or other content, you will really like the fact that the Pixel Slate ships with Google docs, sheets, and slides and works really smoothly with them – as you would expect to happen from a Google product. There's optional pen control too, which is frankly a lot better than trying to draw for a client with your pinkie.
Pros:
A nice big smooth display.
Cons:
Not as capable as the Apple or Samsung we reviewed earlier (but has its own strengths).
Verdict: If you are working collaboratively, the Google Pixel Slate well worth looking at.
9. Microsoft Surface Pro 3 Tablet
Our final product could go into this Tablet review or the non-tablet review for Real Estate we did on our site. Unlike Google, this is a Windows 10 device so that means access to all those windows applications you know and love (well, in some cases at least know).
That's important because converting Word, Exel, Powerpoint etc. to other operating system applications isn't always the most pleasant task. If you use Microsoft applications extensively in your office, this is a great choice.
Pros:
Unlike Apple or Android, works well with other Windows devices.
Cons:
Microsoft isn't everyone's taste if all you want to have is a tablet for presentations.
Verdict: Good tablets don't have to be Apple, Android or for that matter Google.
Best Tablet for Real Estate Agents
So, just like our other review for Real Estate, we have a list of some great candidates for the best tablet for Realtors. In the end, it is down to your individual needs.
There's not much point either is saying which is 'best' between an Apple iPad Pro and a ruggedized Dell. That's like comparing a Corvette with a Range Rover.
---
So, what do you think? Please drop a comment in the section below and thanks for reading.
---
This page may contain affiliate links. USDIGITECH.com is a participant in the Amazon Services LLC Associates Program, an affiliate advertising program designed to provide a means for sites to earn advertising fees by advertising and linking to Amazon.com