It is great that you can watch films and TV on your iPhone but frankly the picture size is way too small. So, what is the best mini projector for the iPhone? Today you can get personal pocket-sized mini video projectors that work with iPhone, which are great when you are on the move, and for dedicated home viewing, there are some best Bluetooth projector for iPhone choices too.
So, we have come up with a recommended list of popular and less well-known mini home projectors for iPhone and micro pocket projectors for iPhone at a range of price points that are well rated by their owners and which we are happy to give top reviews.
We will look at 7 of the best static and budget best portable projectors for the iPhone. They are all affordable, some have topical new features like UHD TV, and we will take in brands ranging from cheap but good, to those that cost more but also give you more.
Our Top 3 Mini Projector for iPhone
First, let us look at our top 3 best mini projectors for iPhone top-rated models.
1. Puppy Robot Portable ultra-short-throw Smart Projector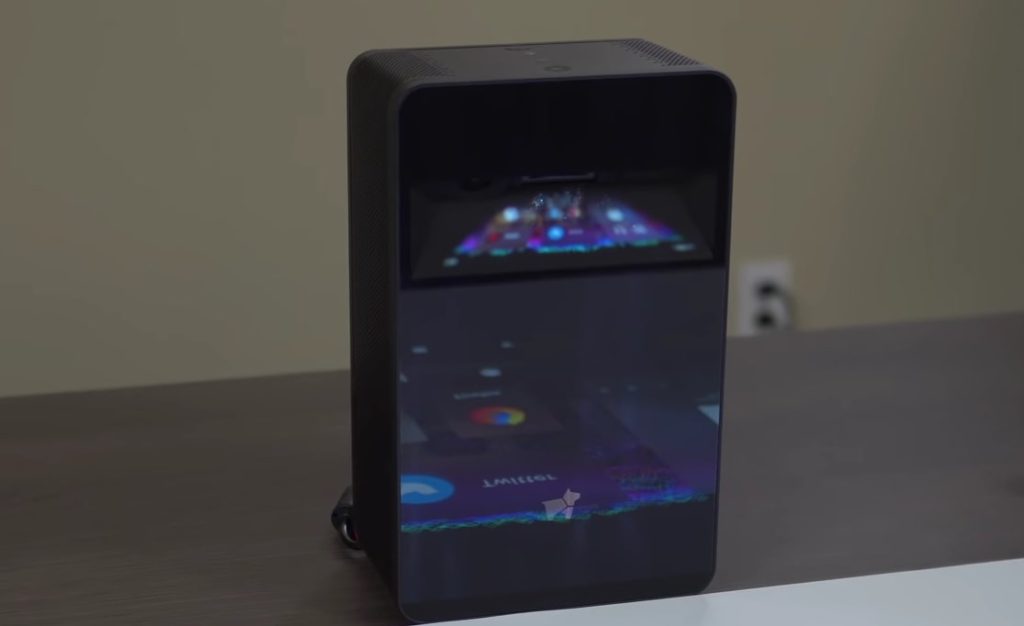 This top of the range, DLP-based, Puppy Cube Mini Interactive Touchscreen Projector, supports the latest UHDTV 4K HDR, works with Bluetooth and Wi-Fi and has Auto-focus. If you are happy to pay the cost, this is a top-rated mini projector for the iPhone.
2. Kodak Ultra Mini Portable Projector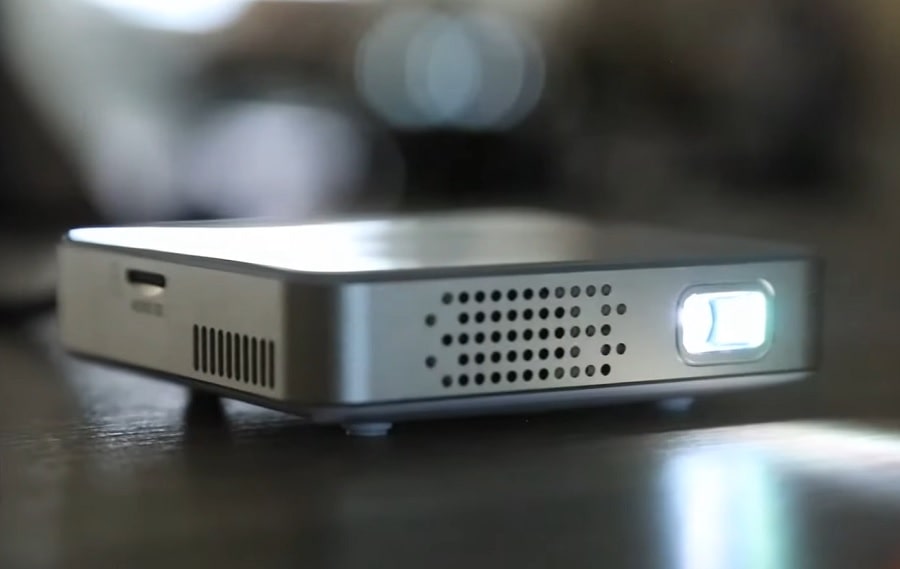 This incredibly tiny Kodak model is another DLP this time at 1080p. It is a wired-only connection to the iPhone but considering the tiny size and very affordable price, plus the built-in speaker, no wonder Kodak & iPhone owners give it such great reviews.
3. VAN KYO GO200 Smart Mini Projector with Bluetooth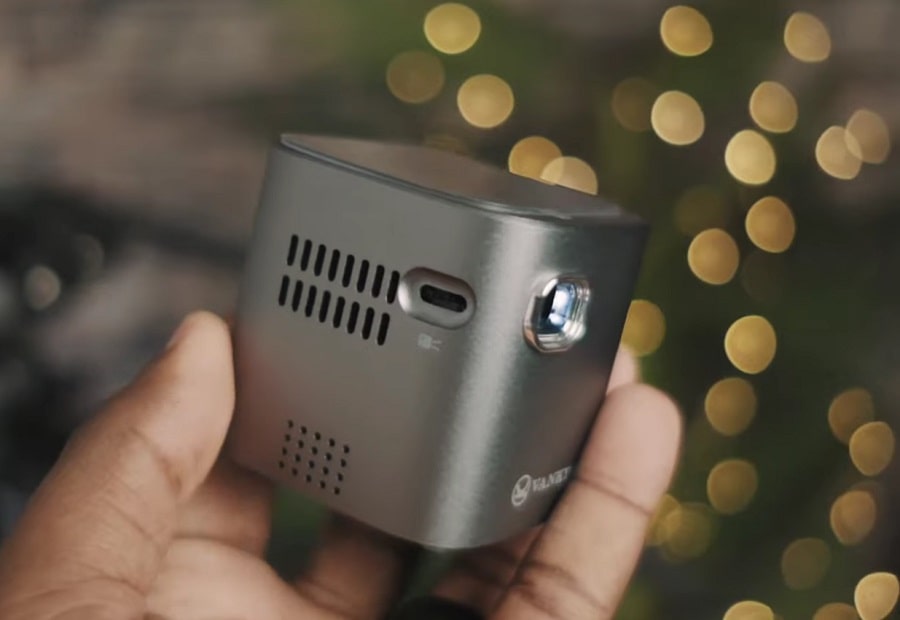 Do you want mobility? You do not want to pay too big a cost? Then check out the very affordable 1080p VAN KYO GO200 DLP Smart Mini Projector. You get Bluetooth, rechargeable batteries, DLP quality and plenty of physical connectivity via HDMI and USB.
So that was our top 3 mini video projectors that work with iPhone. Before going into full detail on all seven of our choices, let us do a quick buying guide together.
Buying Criteria for mini video projectors that work with iPhones
Some product review sites create useless lists with best reviews, top ratings, etc. without posing the basic, simple, and necessary question – what are you trying to do?
In the case of a mini projector for an iPhone, the choice of the 'best' model will differ wildly, depending on what the use case is:
Content: Are you showing PowerPoints, spreadsheets, diagrams or other fine detail? If you are dealing with a lot of text or numbers, then more resolution helps. If it is film or TV content that is not such a big issue
Audience: Is this for one person, a small group, or a larger group? If it is a big group you will maybe want to move the projector back in which case a bigger amount of light output (lumens) can help.
Location: Is this a dark environment or a bright one? Again, bright environments are easier served by projectors with higher lumens figures.
Audio: How are you going to be listening? Via earbuds on your own or with 2 or more people via external speakers? Bluetooth is great when there is more than one person involved.
Portability: Is a handbag-sized projector OK or do you want to go small? Do you need to go somewhere discreetly and show that hidden camera footage of the politician, the actress and the hotel maid?
Now we will get beyond discussing costs, brands etc. and look at what matters when you want to buy a mini projector for an iPhone.
What to look when buying mini projector for iPhone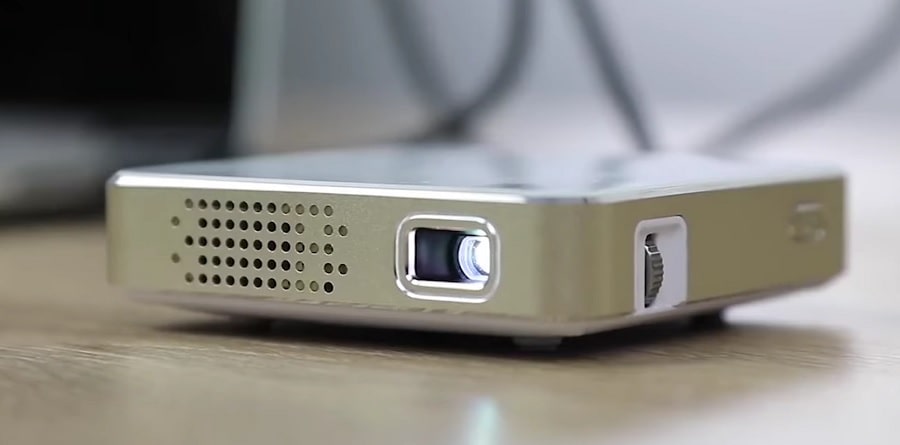 There are lots of iPhone versions out there and lots of projectors too – so getting the right combination needs a bit of thought.
1. Wired Connectivity
If you are happy to work wired, then check out the connectivity sockets on the projector. Your best bet is to find projector models with HDMI and then get an HDMI adapter. Apple themselves make a pricey one but there are also more affordable third-party manufacturers out there who make perfectly adequate Lightning to HDMI adapters that will connect to your iPhone's charging port. However, avoid the too-cheap models which are not robust enough for the hard knocks of portable life.
Note that iPhone 4 will always require a 30-pin to HDMI adapter. Anything older than an iPhone 4 cannot connect to your projector (or anything else) over HDMI.
2. Wireless Connectivity
As we just said, there are lots of iPhone versions, so if you have an older model make sure it will reliably work with the spec of the projector. No one likes reading manuals, but it does help!
3. Bluetooth
Since you are not going to get good cinema-like sound (or maybe any sound) from a tiny projector – or your iPhone – then look out for ways to hook up Bluetooth compatible portable speakers. Do that and it can make a huge difference to your enjoyment of your favorite Film or TV content.
4. Geometry adjustment (keystone controls)
Do not underestimate the issues with aligning the geometry of a portable digital projector. When you are on the move you may be throwing to a screen or a wall from some strange places in the room. Getting the picture to be a regular 16:9 rectangle, as opposed to a messed-up trapezoid, is not always just achieved by "winging it". Geometry can be a major pain, so look out for features around manual key stoning and autofocusing, and especially these days smart geometry (keystone) adjustment.
5. Frame rates, color space and dynamic range
Do be aware that your iPhone may be able to display content with certain technical parameters that your chosen projector equally cannot. These can include higher frame rates, certain colors, certain amounts of contrast, certain levels of brightness etc. What we are saying here is do not expect the image on the projected image to look the same as the image on the iPhone screen. That is just the laws of physics.
6. Manufacturer marketing 'spin'
As well as watching out for the laws of physics, you need to =be aware of the rules of marketing. Most marketing is honest but not all – and not all marketing people understand (or care about) what the engineers who make a product have designed. After all, the marketing team in some of the more ruthless companies are under enormous pressure to just get your money.
You may well get confused about the quoted outputs, connectivity, or resolutions on projectors. Some marketing folks sadly think it is OK to say for example in their headlines that they support full HD 1080p but put the fact that there is a lower 'native' resolution. Equally simply slapping the word 'Wi-Fi' or 'iPhone' into their marketing can be more about having the right keywords for a Google search engine to find, rather than an honest statement about technical capabilities.
That use of 'weasel words' is not ideal for watching TV or movies that have captions or subtitles and a potential issue or forgoing up your iPhone to a projector for showing text, graphics, word documents, etc. and especially a PowerPoint, because the line detail might look soft or 'jaggy' (aliased).
So; 'caveat emptor' – let the buyer beware. Of course, that is one of the services that we offer – cutting through the headlines and taking a more critical look at what is said – or what is not being said.
7. Do not forget the screen
A great projector still needs a decent screen to work with, to get the best-looking results. If it is practical then a small portable screen is a great investment and will make an unbelievable difference to your picture quality. Of course, that might not be practical, in which can please (and we do mean this) pull the curtains or shut the blinds if there are any. The difference will be night and day (as the colloquial expression goes).
Best Mini Projector for iPhone

Now, let us press on with a detailed look at the 7 best mini projectors for iPhones.
Puppy Robot Portable Smart Projector
Best luxury model for HDR
This top of the range
Mini Interactive Projector
is for those up close and personal presentations, so it is a short throw system with a decent 300 lumens of light output. Remember your inverse square law? Well, if you were asleep at the back of the class in science, the further a light source is away from a screen the dimmer the picture will be. So, for an ultra-short throw, you are in good shape here.
We like the touchscreen operation which gives you all the controls you commonly need at your fingertips. We like the 4K resolution (3840×2160 pixels) but with the usual health warning that you need to either sit close or have a large image or not to see that extra detail. Frankly, on an ultra-short throw system, it is great to have but you need to understand when and why it is worth having, as opposed to normal full HD (1920×1080) will usually be enough.
We like HDR (High Dynamic Range) but for this to work as intended, you really must be in a dark room and have a decent screen.
Pros:
Easy to use the touchscreen;
UHDTV 4K resolution gives more detail;
HDR (High Dynamic Range) gives a picture that really 'pops';
Auto-focus makes setup easy;
Bluetooth and Wi-Fi make connectivity more agile.
Cons:
The high cost – more than double (at least) than some competitors.
VERDICT: If you are happy to pay the extra cost, this DLP-based Puppy Cube is our top-rated mini projector for iPhone.
Kodak Mini Portable Projector
Best for ultra-compactness
Those people over 50 or so may remember how huge Kodak used to be in cinema until things went all digital. However, the folks at Kodak still really do understand how to make great looking pictures. This incredibly tiny
Kodak model
is another DLP this time at 1080p. It is a wired-only connection to the iPhone but considering the tiny size and very affordable price, plus the built-in speaker ( a bit of a mixed blessing, do not expect cinema quality THX!), this is a strong contender. Take it anywhere and it will deliver a good result for you.
Pros:
Incredibly tiny and very portable;
Made by Kodak – one of the big names in projection and visual imaging;
Very affordable price;
Built-in speaker.
Cons:
Wired-only connection to iPhone.
VERDICT: With great DLP picture quality, tiny size and affordable price, this Kodak just must be high on our list.
VAN KYO GO200 Mini Projector
Best for affordability
Our number 3 pick is the very affordable 1080p
VAN KYO GO200
. It is another well-made DLP Mini Projector. Connectivity to an iPhone 4 or later is via HDMI, however, you do get Bluetooth connectivity which opens options for high-class external audio. One thing we have not dwelt that much on so far is battery life. Assuming you cannot get to a mains when using your portable projector, it is good to know the Van Kyo has a very respectable battery life.
Pros:
Light and portable;
Bluetooth gives you audio choices;
Good quality rechargeable batteries for when mains power is an issue;
DLP quality means a great looking picture;
Plenty of connectivity including via HDMI.
Cons:
VERDICT: If you are OK with the physical connection to your iPhone, this is a good possibility for you to look at.
WOWOTO A5 Projector for iPhone
Best high picture quality affordable model
The
A5
is another very compact model that supports full HD 1080P and delivers an impressive 2000:1 contrast ratio. That means bright highlights and realistic lowlights. When you are on the move with your iPhone, you will also appreciate the auto-Keystone function which will help you get the image perfectly rectangular and not 'wonky'. It is a breeze to pair up with your iPhone via Wi-Fi.
You also can use physical cable connectivity, via HDMI. It comes with a decent battery, which should give you about 2 hours plus of use.
Pros:
The ultra-portable form factor makes this easy to take just about anywhere;
The ultra-lightweight, which is only about half a pound. Again, great when you are projecting on the move;
Easy to connect to iPhones via wireless or by lightning cable via an HDMI adapter;
Good battery life means you will not lose your audience halfway through and must take a break while recharging.
Cons:
4K resolution is not supported and internally we think this is not fully 1080p quality (but will handle 1080p content).
VERDICT: The Wowoto A5 is affordable, compact, lightweight and has some great technology. Another one on our list that is well worth a good look for your iPhone projection needs.
OTHA D5E 1080p Pocket Projector for iPhone
Best for general picture quality in a mid-budget projector
All DLP projectors are a step up from LED/LCD in terms of picture quality. The
Otha D5
uses DLP and delivers a great contrast ratio of 2000:1 at a 'bright for its size' 150 lumens. We think you will like the touchscreen control too.
You get good iPhone connectivity via HDMI and Wi-Fi and Bluetooth support. You also get long battery life and very long lamp life – up to about 45,000 hours (which is over 5 years of continuous operation). A nice bonus is a little tripod, which allows you to set up wherever you are easy.
Pros:
The connection is good with HDMI, Wi-Fi, and Bluetooth support;
150 lumens and a 2000:1 are impressive figures at this size and cost.
Cons:
VERDICT: Otha makes it easy with the D5E to go and project with your iPhone almost anywhere.
VAN KYO Leisure 430 Projector that work with iPhone
Best larger size portable iPhone projector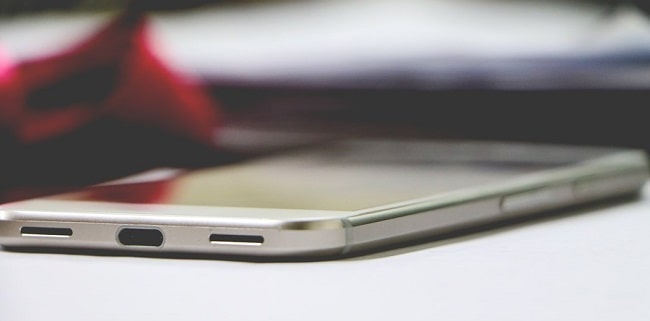 Moving out of the area of real tiny projectors, we are moving up to portable small (as opposed to micro) models. The Vankyo comes with a handheld carrying case, about the size of a small grab bag or handbag and that should be a clue. Once you move up in size, projector per4foemcne moves up a level too. The Van kyo 430 has a power 3800 Lux output, coupled with a 2000:1 contrast range. The combination means it outclasses all the other models on our list for sheer image power – assuming you are prepared to buy into the bigger size. Remember this is still affordable, very lightweight and designed for portable USE. There's even a 3-watt built-in speaker too.
Pros:
Massively more powerful than a micro projector;
Spectacular luminosity and contrast figures;
Still lightweight despite its bigger size;
Designed to be portable with a carry case included;
Very affordable;
Handy onboard speaker.
Cons:
HDMI connection to iPhone only.
VERDICT: If you want something a bit bigger and still portable, but way more powerful, a Nakyo leisure 430 is worth a careful look.
AAXA KP-101-01 Mini Projectpor for iPhone
Best palm-sized projector for iPhones
This
AAXA KP-101-01
is just about as compact and portable as you can get for your iPhone. It is 720p resolution (but can handle 1080P) and uses LCD. Outputting a modest 25 Lumens, it is not going to light up the sky, but you will get up to an hour and a half viewing before the rechargeable Lithium-ion battery runs out. The good news is you can charge via a supplied micro-USB cable, however that will be the same cable connecting to the iPhone.
None of that is the point really, considering it weighs in under 7 Ounces, and will fit probably into your pocket along with your iPhone.
Pros:
It is a palm of your hand size;
Good quality 1080p pictures;
Ultra-lightweight so a breeze to carry around.
Cons:
Not that bright so do not try daylight projection with this;
Requires the right adapter to get your apple lightning cable mated with micro-HDMI.
VERDICT: The Aaxa is not really in competition with most of the other models here – it is a choice when portability is everything.
FINAL WORDS
That wraps up our look at the best projectors that work with an iPhone. There are plenty of choices here whatever your use case is. So, we hope you will use this guide to help steer you through all the possibilities (and see behind the hype) and get the model that is right for you.
Thanks for reading and please let us know any comments.