This article walks you through how to connect two projectors to one laptop or other PC.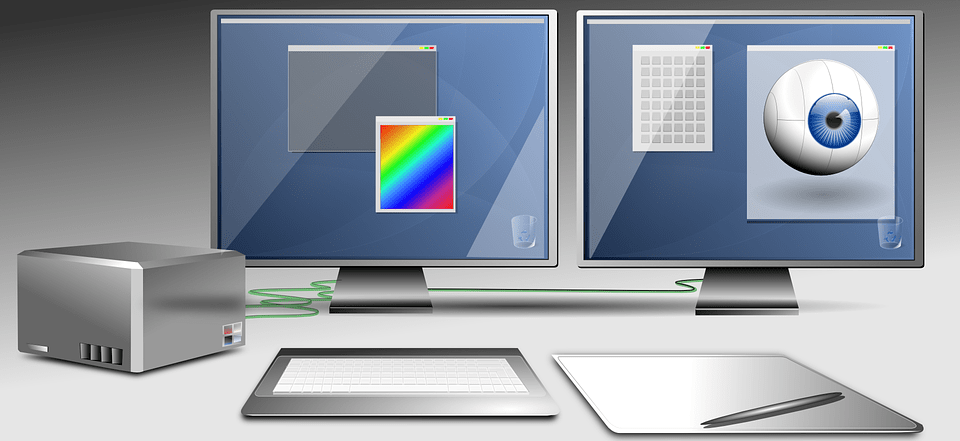 How do I connect two projectors together?
Connecting your PC or laptop to two projectors has many uses – exhibitions, displays, parties, and especially presentations in a large room or hall with a big audience.
Once you connect two projectors to one computer, you can send the video and audio (or still images, like a PowerPoint) to two different locations in the room to ensure that everyone gets to see the images.
To do this, you can use a splitter cable or multi-outlet adapter with three cables (one from the computer to the multi-output box. All of these products are relatively cheap and easy to buy but you must get the right length cables so that the cable works at the desired distance between the source and the projectors. If your cable lengths are very long, it's worthwhile spending a little more and going for higher quality cables, to prevent signal loss or interference causing you hassles.
The cable-type you need will depend on your content, the type of computer and projector model and you must get the latest up to date cable versions.
A PowerPoint about flower arranging won't put much pressure on your cables but other modern content will. if you are planning to show 4K resolution (3840×2160 for TV content or 4096×2160 for a film), higher frame rates (anything above 60 Hertz) or High Dynamic Range (HDR10, Dolby or HLG) content. The default is to use type 'A' HDMI cables at version 2.1 HDMI specification.
If you plan to show gaming content, then you will probably need Ultra High-Speed HDMI Cable (48G Cable) which can show 4K or 5K, at 120 Hertz. Using older or lower spec HDMI cables with either end up with no signal or a poor-looking result. How to sync 2 projectors is not just about the projectors!
We prefer 3 HDMI 2.1 cables and a multi-outlet HDMI adapter as it is more reliable gives more flexibility in choosing cables, allows longer cable runs (and of course allows more than two repeat projectors).
Once you have the right 3 cables and multi-outlet adapter, connect the single-signal original cable to your laptop's video output HDMI port. Next, connect that cable to the input socket on the multi-outlet HDMI adapter. Then connect your two repeater cables to the two outlet ports on the multi-outlet adapter. Each is then connected to the video input port on your projectors.
The video quality – all else being equal – should be the same when using two projectors
If for any reason either the computer or projectors don't support HDMI (unlikely but possible if one is old) then you can use a multi-outlet adapter that supports other connection types, like SVGA, DVI, etc. but this should be avoided if you have modern content, if at all possible.
Finally, if you have long cable runs, or are planning to use more than 2 projectors, it's well worth considering a multi-outlet adapter that includes HDMI signal boosting which will amplify the original signal and keep quality up.
So, connecting two projectors is not difficult at all, if you follow these simple suggestions.