In today's article, we'll be helping to answer the tricky question "what is the best camera for photojournalism?". It is a bewildering area – many camera models look very similar. It can be hard to select which one is best for you. So, read on for some useful insights into the best digital camera for journalists. It took us about 80 hours of reviewing, and research to answer the question " what is the best camera for journalists?"

Best Cameras for Photojournalists in 2023
Before going into detail on our full list of 7, let's first pick out our top three headlines "best camera for photojournalism" recommendations.

EDITOR's PICK
«EDITOR's PICK»
Best Canon digital camera for journalists
Our rating: ⭐⭐⭐⭐⭐
The mighty Canon 5D range is a byword for quality and a benchmark for what a professional DLSR camera should be.
Pros:
— Outstanding stills quality;
— The tough design is ideal for photojournalism;
— Canon 5D brand image means clients will take you seriously.
«EDITOR's PICK»
Best Nikon digital camera for journalists
Our rating: ⭐⭐⭐⭐⭐
Reverse the Canon "5D" brand name and you get the rival "D5" from Nikon. A hugely capable camera that is just as popular with photojournalists as the 5D.
Pros:
— Built to withstand the hard life of photojournalism;
— Great pictures from the sensor;
— Great Brand reputation will make you seem more professional.
«EDITOR's PICK»
Best mirrorless camera for photojournalist
Our rating: ⭐⭐⭐⭐⭐
Our first mirrorless and our first non-Canon / Nikon. Sony is a market leader in video cameras and has been for decades. They are also now major highly respected players in the feature film market. As the gap between stills and moving cameras blurs, this is a camera to watch out for.
Pros:
— Amazing autofocus including a useful 'touch image to autofocus' tool;
— Lots of great monitoring features that DSLRs can't match;
— Easy to use;
— Stunning sensor technology.
---
A picture is worth 1,000 words
Photojournalism has been around since the 19th century. The reason photojournalism exists has stayed the same – informing (or titillating or maybe shocking or amusing) the public through compelling images. There is money to be made but the job is a tough one. You must be mobile, the hours are long, waiting around can be boring and uncomfortable and there are real risks – getting caught up in a story for example. Storms, riots, hostile individuals, thieves, unsympathetic authorities and accidents are all part of the job.
That means often photojournalists don't have the option of controlling the scene they are shooting. Unlike for example a portrait or wedding photographer, photojournalists usually can't ask the subjects to move, or vary the lighting or background, etc. Generally speaking they shoot what is happening as it is happening. You can't ask a soldier in a war zone "sorry, can you just blow open that door of that terrorist's house again – I didn't get the shot quite right". Equally, you can't ask a group of rioters to go take a break while your batteries recharge.
So, the criteria for the best camera for photojournalists is not at all or in any the same criteria as a camera for portraits.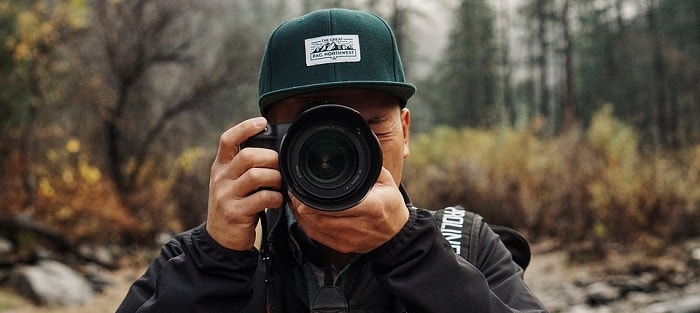 It's also not the same as the best video camera for reporters. There are quite different TV-style broadcast cameras out there especially from Sony, JVC and Panasonic that are much better ergonomically and features-wise for TV news camera crews. Students who are video journalists are a different category again – they typically need low-cost cameras and we aren't doing cheap models in our list.
Choosing Technology: DSLRs vs Mirrorless
A lot of thought needs to be put into which kind of camera technology is right for your photojournalism. Most top – quality photojournalism for the last few years and up to today has been done either on DSLR or Mirrorless cameras, from either Canon or Nikon. Both are usually neck and neck or swapping positions as brand leaders. Both are popular, both have a range of price points, and both consistently are rated at or near the top in reviews.
There are other camera types (such as compact) and other vendors, such as Fujifilm, Sony and Leica, and things are changing in some areas, however, there are two main technologies and two main players.
Statistically up now if you were or are a respected photojournalist you are most likely to be using a Canon or Nikon camera which is a DSLR camera and our recommended list of the best cameras for journalists includes several of these.
However, things are changing. Before diving deeper. Let's just take a quick look at the important differences between DSLR and Mirrorless
DSLR (Digital Single Lens Reflex)
The DSLR is a digital evolution of traditional 20th-century style optical single-lens reflex (SLR) cameras.
Then as now a mirror in the body of the SLR or now DSLR camera shows the view through the lens through an optical viewfinder at the top of the camera and flipped up when you take the picture – previously to allow the chemical film to be exposed but now in a DSLR to allow light to reach the digital sensor.
This is a tried and tested method and it is WYSIWYG – what you see is what you get, as all the camera is doing is passing light entering the lens through the camera and into the eye. However, it can increase the bulkiness of the camera and has some obvious limitations, such as the small size of the optical viewfinder.
Mirrorless
In a Mirrorless design, as the name suggests there is no mirror. Instead, the captured light is displayed on a digital screen, as can be done by a TV camera. This is less bulky (in theory) than a DSLR and the screen size can be bigger (in theory you could hook the camera up to another device like a TV or laptop too). The downsides are cost (because of the extra electronics) battery life (because you need to power the monitor etc.) and complexity.
Without going into a deep discussion on color science and high dynamic range etc., it's not possible today to accurately show all the colors in a scene on a screen. This is a topic we'll happily answer on the FAQ but for now, let's just say its hard for a camera manufacturer to make an accurate display at a reasonable price – and if you are relying on an external reference display then you are in very deep water as you just introduced a whole lot of variables. A camera for journalists has to be simple – they are journalists, not video engineers. The most popular camera for photojournalism simply can't be too complex.
Finally, there are a bunch of hotly debated issues on mirrorless cameras about autofocus versus DSLRs, again we'll park that for the comments and questions section for now.
Broadly speaking, DSLR's are a bit more affordable but also a bit more limited. Mirrorless right now costs a bit more but is developing fast and can have future display capabilities in Topical new areas of image science, like higher resolutions, wider color gamut, higher dynamic ranges, etc. they can be smaller too which might be important if you are somewhere hostile.
Now let's look in detail at our top seven best cameras for photojournalists – including a deeper dive on our top 3.
Seven best cameras for photojournalism candidates
---
1. Canon EOS 5D Mark IV Full Frame Digital SLR Camera
Best Canon digital camera for journalists
Canon 5D cameras really can't be faulted for serious stills photojournalism. Canon has been in the game with the 5D series for years and they know their stuff. We picked a Mark IV for our list, which when compared to the highly popular Mark III introduced improved autofocus, a new sensor with improved sensitivity and higher resolution (30.4 MegaPixel full frame which can produce a 4K output).
For the intrepid freelancer, there's a useful 7fps burst shoot mode for those sports action shots. There is good low-light sensitivity too and the effective total; dynamic range is roughly equivalent to ISO 50 up to 102,400. It is very sturdily built and is for that reason amongst many others a standard photojournalist's camera. It's a bit like wearing a badge which says, "I am a photojournalist and I know what I am doing".
What's not to like with the Canon 5D Mark IV? – well there is the price for starters. This is not for students, nor do you want it stolen in your hotel; lobby or smashed by an angry celebrity. Most photojournalists carry a spare (some carry more) and this is a pricey camera. On the upside, it is very robust, and Canon generally has great service and support.
Next, while the 5D is great for stills or burst, don't think because you are shelling out all those hard-earned dollars that it is going to be great for Vlogs or TV interviews. The Canon marketing guys might want you to believe that (it increases the 'addressable market' and looks good on an internal corporate PowerPoint) but it really isn't. The audio is basic to say the least and using it for moving handheld shots are not great either. You are also paying for a lot of features you don't need. 4K TV capabilities for one (don't get us started on the misleading Hype behind 4K TV which we deal with in some other of our articles). You probably as a photojournalist aren't going to be shooting many feature films either. So, DCI capabilities won't help much at the next Basketball game you cover.
That said, it's a really great stills photojournalist camera and we recommend it anyway. If you have the money – why not?
Pros:
Outstanding stills quality
The tough design is ideal for photojournalism
Canon 5D brand image means clients will take you seriously
Cons:
Other cameras will do a similar job at a fraction of the price
Verdict: The Canon 5D range is and always has been an excellent professional DLSR camera choice. That choice is very common in journalism and quite rightly so. However, there is snobbery and irrational brand loyalty around the 5D too. You are paying top dollar for a brand. If you are rational about it, you could pay a lot less and get something that works just as well.
2. Nikon D5 DSLR
Best Nikon digital camera for journalists
The Nikon D5 is the mirror image of the Canon "5D". Nikon has a powerful and respected brand name and is as popular with photojournalists as Canon are with the 5D. There are plenty of good Nikon cameras, we chose the popular D5. It is not a cheap camera either. On paper, the sensor at 20.8 MP is less than the 5D but in practice both produce outstanding results. It has a really smart sensor design that gives a great low light performance with minimal sensor noise, very sophisticated autofocus, clever metering and a bunch of gizmos around image processing.
Again, there's a whole irrational brand based "I'm a Nikon User" fanboy element to their cameras that makes it very difficult for other perfectly competent vendors like Fujifilm and Sony to be taken as seriously. It's a bit like cars – you might know Volkswagen, Skoda and Audi are really the same company, but the Audi brand is something you buy into. It's much the same with Nikon. You want one because it is a Nikon.
Pros:
Built to withstand the hard life of photojournalism
Great pictures from the sensor
Great Brand reputation will make you seem more professional
Verdict: Just like Ferrari and Lamborghini with cars, or Fender and Gibson with Guitars, you'll buy the Nikon or Canon because of their reputation and brand name. Yes, the Nikon D5 is a great camera – but there are plenty of others that will do the job for a lot less money.
3. Sony a9 Full Frame Mirrorless Interchangeable-Lens Camera
Best mirrorless camera
Poor old Sony. They make really great and well-respected cameras for TV and Film but in photojournalism in general and other kinds of stills photography, just like Fujifilm and Leica, they don't have the 'right' brand name.
Which is a pity, because the Sony a9 is a great camera. It's reassuringly expensive (though a lot less than the Nikon) has Sony's highly rated stacked CMOS sensor know-how behind it and some neat features for burst shooting and autofocus.
If you go to your local cinema or watch Netflix, chances are some of the gorgeous images you'll see on screen come from one of Sony's digital movie cameras. So, the idea that Sony is somehow a lesser proposition than either Canon or Nikon just doesn't fit the facts.
Then when you take into account that Sony has been market leaders in electronic newsgathering (ENG) cameras since the late 1970s, now that photojournalism is about moving as well as still images, Sony looks like a rational alternative choice to the big two.
The autofocus, especially in low light is consistently rated above the 5D or D5 by users who have switched to Sony (or bought Sony as a second camera) from both the Canon and Nikon models. You also have a handy "touch to focus" facility enabled by another big win, which is the flip-out monitoring screen. This is a mirrorless camera so it doesn't have the monitoring constraints of a DSLR. In the same vein, you get a WYSIWYG electronic viewfinder which of course is impossible on a DSLR.
Finally, being a Sony, the ergonomics and operational interfaces are intuitive and well laid out. What's more, you can customize many of the controls to suit you. OK, this is not a beginner's camera or intended for students as the price is too high for that, but Sony always aim for user-friendliness and the a9 doesn't disappoint.
Finally, it is lightweight and compact – more so than either the D5 or the 5D, so it works well on the move.
Pros:
Amazing autofocus including a useful 'touch image to autofocus' tool
Lots of great monitoring features that DSLRs can't match
Easy to use
Stunning sensor technology
Cons:
Shorter battery life than a typical DSLR
Verdict: If you are making a decision with your head, not your heart, the a9 is a serious contender for the title of top rated camera for photojournalism.
4. Fujifilm X-T3 Mirrorless
Best budget photojournalism camera
Our next contender for the best camera for photojournalism is the very affordable X-T3 mirrorless camera from Fujifilm. At around half the price or less than any of the models we've looked at so far, it makes great sense for beginners, students or part-timers. It also is a sensible choice as a backup camera. There's nothing wrong with the image quality from the 26.1MP CMOS sensor, the autofocus is good and we really like the ergonomics, especially when combined with the optional VGXT-3 battery grip.
We also like the water-resistant sealed magnesium body and this, with the lower price, makes it a good camera for assignments you might not want to risk your main camera on.
As a mirrorless design, you get a very well thought out tilting LCD touchscreen and that works especially well in video mode when you are capturing sequences rather than stills.
All in all, a competent sensibly priced route into photojournalism.
Pros:
Very affordable
No compromises on basic image quality
Good water resistance and strong body
Mirrorless design has good monitoring
Nice physical ergonomics
Cons:
Any mirrorless typically burns more battery than a DSLR
Verdict: At much less than half the price of the big guns, it will still do the job.
5. Nikon D850 DSLR
Best alternative Nikon DSLR
A lot of photojournalists use the D850 and love it just as much as its generally more expensive Nikon brother. How the two shape up is a bit complicated. The D850 has a 45.7 MP BSI-CMOS versus the 20.8 MP CMOS of the D5. Score one for the D850. The D850 is lighter and smaller too. On the other hand, Nikon users find the D5 very easy to use, has better burst mode shooting and longer battery life.
Pros:
Similar to the D5 in some respects at a lower price
Relatively compact and light for a DSLR
Cons:
If you have the money and want a Nikon DSLR, why not get the D5?
Verdict: If you want something a bit lighter a bit smaller and a bit cheaper than the D5, this is a possibility.
6. Canon EOS RP Mirrorless Camera
Best lightweight mirrorless
Sticking with the theme of a bit smaller a bit lighter and a bit cheaper, the Canon EOS RP is all of these things and is here for Canon fans who want to jump into mirrorless photojournalism.
For the money, it's a bargain. OK, you don't get the dynamic range or autofocus capabilities of a 5D, but you don't get the massive sticker price either. It will produce decent pictures too.
Pros:
It's a Canon but it's affordable
Very good for keeping a low profile – it's cheap and light
Cons:
It doesn't have the credibility of the 5D or the full capabilities
Verdict: A good camera for that clandestine or undercover story.
7. Nikon D7500 DX-Format Digital SLR
Best low budget DSLR
OK, so you want a DSLR and you want something with a top brand name – but you have less than a thousand dollars to spend. Then take a look at the Nikon D7500, the final camera on our list. This is way cheaper than even the Fujifilm we just looked at and is a very decent camera. For the money, you get a less capable sensor and less fully-featured auto-focus but like any higher-end Nikon, this is a good camera. Nikon pitch this as 'enthusiast-level' and this is a good choice if you are doing the odd or occasional bit of photojournalism. At least you are turning up with a Nikon, right?
Pros:
Very affordable
Ideal for starter students
Decent quality
Cons:
Not intended for full-time professionals
Verdict: Not everyone has thousands of dollars to spend on higher-end cameras. Even more affordable than the Fujifilm.
Conclusion
That wraps up our look at the best camera for journalism candidates. We'd urge you to think objectively about what you really need before parting with very large sums of money that – just maybe – might be more than you need to spend.
So, what do you think? Please let us know in the comments section below. Thanks for reading.
---
This page may contain affiliate links. USDIGITECH.com is a participant in the Amazon Services LLC Associates Program, an affiliate advertising program designed to provide a means for sites to earn advertising fees by advertising and linking to Amazon.com