This page may contain affiliate links. USDIGITECH.com is a participant in the Amazon Services LLC Associates Program, an affiliate advertising program designed to provide a means for sites to earn advertising fees by advertising and linking to Amazon.com
---
What are the best gamer gloves? What are the best compression gloves for gaming? Read this article to find our recommended ratings for the top gaming gloves for PC, PlayStation, Xbox, Nintendo etc.
There is no way you can easily try them all out for yourself, so we took over 160 hours in finding the best gamer gloves, including suitable gloves from different brands, of different types and at different costs, and for different purposes.

Now you may be thinking 'gloves are just gloves right?' Well, no. Not really.
Not all gaming gloves are equal. PubG, Call of Duty, Destiny, Fortnite, League of Legends, etc. are all games that can be won or lost in split seconds.
E-sports is now a serious pastime for some – and big money for others. So, anything that gives you an edge is worth looking at.
Buying gloves for gaming online is a risk, if you haven't done your homework first. Some reviews aren't that helpful either. For example, some reviews don't really explain how console games need different kinds of gloves than PC, and you might end up with gloves that don't really help you out – as playing on a console is quite different from using a PC and mouse, so you need to get the right type for your circumstances.
For example, game shooting is different from general computer work and sweating palms and fingers, especially on long sessions, might lead to you getting unnecessarily knocked out.
How Do Game Gloves Help?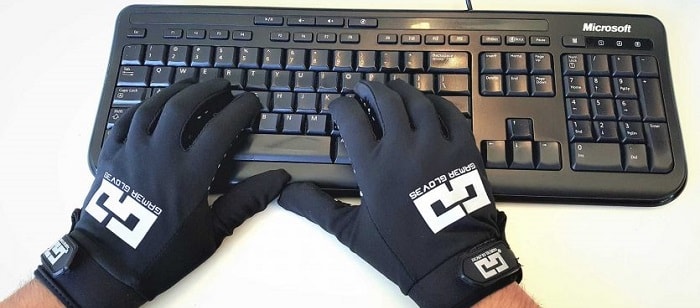 Reviews should (but usually don't) clearly explain that Gaming gloves solve one or more of these three gaming problems below and that will dictate which are the 'best' for you:
Sweating hands, especially palms, that make holding game controllers difficult
Players who have pre-existing hand or wrist problems like Arthritis, Carpal Tunnel Syndrome etc. and who want a solution
Players who play a lot and want to preemptively avoid problems like Carpal Tunnel arising in the future
So, different uses cases need different approaches and the best gaming gloves are not 'just gloves'.
One other important point to make about some gamer glove reviews, is that different scientists worldwide, including those trusted by the British National Health Service (NHS) have publicly in writing stated that that the use of copper or magnets in gloves or bracelets have absolutely no benefits for rheumatoid arthritis and osteoarthritis.
This is a fact and is based on a number of scientific tests that were randomized, placebo-controlled and double-blind. So, the best gamer gloves don't need either copper or magnets.
Some reviews of best gloves for gamers and some glove vendors continue to promote these false claims, saying copper is "known to promote healing" or that gloves are 'infused with copper ions'. That shows a misunderstanding of both biology and chemistry.
There is no scientific evidence to support claims about Copper, just gullible people (or reviewers) and cynical vendors. This is an important point. We don't believe you should spend money on unproven products and you should always go to a qualified Doctor, to get accurate and unbiased advice on this area.
Here are our Top 3 Gloves for Gaming
EDITOR's PICK
1. Foamy Lizard Gaming Gloves
«EDITOR's PICK»
Best buy for all-round console gaming
Our rating: ⭐⭐⭐⭐⭐
Our best buy for all-round gaming, Gamers who use gloves are split on the subject of finger-tip touch. Any 'full hand' gloves need to be very good at the fingertips, or sensitivity can be lost. These Foamy Lizard gloves just dispense with fingertips altogether and are great all-round gaming gloves at a reasonable price.
Pros:
— Great palm grip, great if you want to keep your fingertips exposed. Works with consoles could be used with mouse/keyboard.
2. SLEEKZ Moisture Wicking Gaming Gloves for PS4, Xbox, PC
«EDITOR's PICK»
Best open design gaming gloves
Our rating: ⭐⭐⭐⭐⭐
A totally different design philosophy from the Foamy Lizard model, this clever patented design prevents sweat becoming a problem as it leaves most of the non-contact parts of the hand exposed to the air but encloses the thumb and first two fingers with a 'wicking' fabric used elsewhere. The ultra-thin fabric keeps gaming sensitivity and is designed to not go 'baggy' at the fingertips.
Pros:
— Great finger grip.
3. Dr. Arthritis Compression Gloves
«EDITOR's PICK»
Best for support
Our rating: ⭐⭐⭐⭐⭐
These are not purpose-built gaming gloves but are a good choice for those people with various hand problems who want to game.
Pros:
— Simple but effective assistance to help prevent fatigue and hand and wrist discomfort.
---
Best Gloves for Gaming
So, those are our top 3 best gloves for gaming. When looking at our full detailed list below, bear in mind that the best gloves for PC gaming also might be a little different than for consoles, as tapping a keyboard is not the same as gripping a controller.
That's an important point some reviewers might miss. What's more for serious gamers, carpal tunnel, repetitive strain injuries, and arthritis are all considerations, so some gamers might need support.
In summary, you need a decent grip, you need a fabric that breathes (to prevent sweat build-up), and you might need support. You also need gloves that are a correct match for your dominant hand (left or right).
Now, here is our full list in detail
---
1. Foamy Lizard Gaming Gloves
Our best buy for all-round console gaming
Foamy Lizard gloves are designed primarily for Xbox One, Playstation 4 and Switch controllers, though they could be used for PC too. Their main benefit is the very strong palm grip they provide for most users who have palm-sweat issues, when using a console controller. Gamers who use gloves often prefer to keep finger-tip touch.
Any full hand gloves don't do that. These Foamy Lizard gloves have no fingertips and also leave the back of the hand open to allow ventilation. Foamy Lizard also makes a variety of accessory grip covers for controllers, which are worth checking out to go with these.
There's a choice of three sizes, so most kids and adults should be fine
Pros:
Great palm grip, great if you want to keep your fingertips exposed. Works with consoles could be used with mouse/keyboard.
Cons:
Not much support for the wrist.
Verdict:
Great looking gloves that can genuinely help some players too.Some of the best gaming gloves but not the best gloves for pc gaming.
2. SLEEKZ Moisture Wicking Gaming Gloves for PS4, Xbox, PC
Best open design gaming gloves
These thin gloves use a patented silicone dot design to prevent sweat from becoming a problem. The gloves leave most of the non-contact parts of the gamers' hands exposed to allow air cooling.
The gloves mostly enclose the thumb and first two fingers, which are two of the parts of the hand actually in contact with a controller. There are two sizes and an adjustable wrist.
The 'wicking' fabric is ultra-thin to keep maximum sensitivity and is designed not to wrinkle up at the fingertips.
Pros:
Cons:
Might not be enough size variations to suit everyone.
Verdict:
We like these intelligently designed gloves as they offer a good trade-off between grip and ventilation. Full hand gloves have the issue that they stop sweat getting to the controller surface but trap more body heat, which actually creates more sweat.
3. Dr. Arthritis Compression Gloves
Best for support
These cotton, nylon and spandex gloves are general purpose but not built specifically for gaming. They are still good gloves and are a good choice for those people with various hand and wrist problems, who still want to game.
They also will help deal effectively with sweaty palms and the open fingertip design makes it easy to play accurately.
There are four sizes, so most adults and older kids will find a good size
Pros:
Simple but effective assistance to help prevent fatigue and hand and wrist discomfort.
Cons:
Not the thinnest of fabrics.
Verdict:
You don't necessarily need dedicated gaming gloves for gaming. These are an example of specialized medical non-gaming gloves that can benefit gamers as well. Some of the best compression gloves for gaming.
4. EPG (Elite Performance Generation) Gamer Gloves
Best full gloves for gaming
These are great 'no-compromise' full-hand console gloves, with breathable fabric and special finger grips. We mentioned earlier that the best gloves for pc gaming are a little different than for consoles.
These EPG gloves are all about gripping a console, as tapping a keyboard is not at all the same. They look aggressive, come in four sizes and a choice of color designs, so are also great for impressing allies or intimidating opponents, over video links. Sadly, they don't actually increase talent as well.
They do have some ventilation but they will also trap the heat from your hands too, so it may increase the amount of sweating. Some people love them, but on the other hand (no pun intended), some don't, so it's a matter of personal choice.
Pros:
Great console gaming gloves, with a good 'look' at a reasonable price
Cons:
Some of the smaller sizes can go out of stock for a while. Not great for PC.
Verdict:
Designed as they say by gamers for gamers. Not everyone will like wearing them for very extended periods in a hot room. Not ideal gaming gloves for PC
5. CTA Digital Wii Knockout Boxing Gloves
Best specialized boxing gloves for gaming
These are not general gaming gloves, but we wanted to add these specialist Nintendo Wii optimized gloves for Wii boxing games to our list, because of their clever design.
These CTA digital designed gloves house the Wii Remote on back of right glove, while the Wii Nunchuk sleeve goes inside the palm of the left glove.
A Velcro strap means the gloves are adjustable for different hand sizes, so these are suitable for any adult and most older kids.
Pros:
Cons:
Not much use for much else
Verdict:
A specialized glove that works well in it's specialized niche.
6. Sparco HyperGrip Gloves
Best racing game gloves
Another specialized gaming glove if Forza or Need for Speed is your kind of thing, and/or you use a steering wheel accessory.
If your hands get very sweaty in driving games, then these are a great idea for improving grip and can be used in the real world as well for normal driving.
Pros:
Great for E-driving games and can also be used for driving a real car. They look cool too.
Cons:
Limited size choices and a bit too specialized for some people.
Verdict:
There are lots of driving gloves out there, these are better suited than many for gaming due to their lightweight design.
7. ComfyBrace Carpal tunnel wrist brace
Best for carpal tunnel syndrome
Some gamers have (or develop) carpal tunnel syndrome (CTS). This is a painful condition that results from extended periods of pressure on your wrists. Frequent gamers who also use PCs for their work for long periods are especially vulnerable.
This clever glove is really a hand splint that will give your wrist support to reduce carpal tunnel syndrome, and can also help with arthritis and tendon problems.
You might wear between games or in bed at night, rather than during the game itself (as it makes the wrist rigid) but at least during some console games too. You will need trial and error to see if that works out for you.
The ComfyBrace gloves fit either hand and have some degree of adjustment for the most comfortable fit.
Pros:
Great as a preventative measure or for speeding up recovery.
Cons:
The design is of course intended to restrict certain kinds of movement, so will not be for everyone
Verdict:
Carpal tunnel syndrome can be annoying or even painful and is more common than people think. These fit some use cases where CTS is an issue but not so suitable for others.
8. CaptoGlove Wearable Gaming Hand Machine Interface
Best for VR gaming
Last but not in any way least on our list are these terrific VR CaptoGloves, which use natural hand movements as control gestures in a virtual reality environment.
We think VR games are only going to get better and more popular and our list would not be complete without covering this exciting new technology area. The VR gloves work via Bluetooth with Windows PCs, iOS and Android-based games.
For example, they work with HTC Vive and Oculus Rift games that can also be played with a gamepad, mouse, keyboard or joystick. You can also see them in action in Fortnite here.
They come in a choice of sizes and you can buy just one hand or two.
Pros:
An introduction to a new style of gaming. Possibly the best gloves for gamers if VR is your thing.
Cons:
Don't expect the level of precision and speed you would get from a console controller. Also, they are pretty expensive.
Verdict:
High price but if you have the money, and want to get into VR, well worth trying. Expect these to be popular in the future as VR takes off.
What about grips that fit onto the controller that do a similar job?
Good question. Foamy Lizard, whose gloves we already reviewed, also make a great range of anti – slip accessories that fit directly onto the controller, rather than on the hand, like the Xbox one or the Nintendo Switch ProController, and the Playstation 4.
These help a bit with grip in a different way but don't help with CTS etc. at all.
Best Gaming Gloves in 2022
You can see from this article that there is no single answer to the question of "what are the best gloves for gaming?"
There are some pretty misleading reviews out there (written in some pretty odd English and sometimes for gloves that aren't easy to actually get hold of to buy) that don't really break down the question into all of the parts you need to, in order to get some kind of useful and meaningful answer.
If it's "best gloves for gamers" you are looking for, then you really do have to define your terms.
First, it depends on what problem you are trying to solve (sweat or CTS or arthritis something else).
Secondly, it also very much depends on how you are controlling the game (with a dedicated controller – in which case which one it is?, or keyboard and mouse, or game steering wheel, or game boxing glove, or a VR interface etc.)
Thirdly, forget all the stuff about 'copper ions' which frankly is a waste of money and more importantly won't solve any medical issues you actually might have, and might even cause you to delay getting expert medical help.
So, our rating is really just a top view of some great gloves we recommend, not an absolute ranked list.
If we wrote this review again in a few more years from now, we'd expect a whole lot more about VR gaming too.
So, what do you think? Why not add something to the comments section and we'll be happy to answer