One of the first things that most people care about when they intend to own a Microsoft Band, is its water resistance.
People often ask "Is the Microsoft band waterproof?".
This question has been answered through the manufacturer's recommendation: Microsoft Band has no water resistance.
However, the experience of the users shows that it can withstand sweat and drizzle with little impact on its performance.
---
---
Is the Microsoft band water resistant?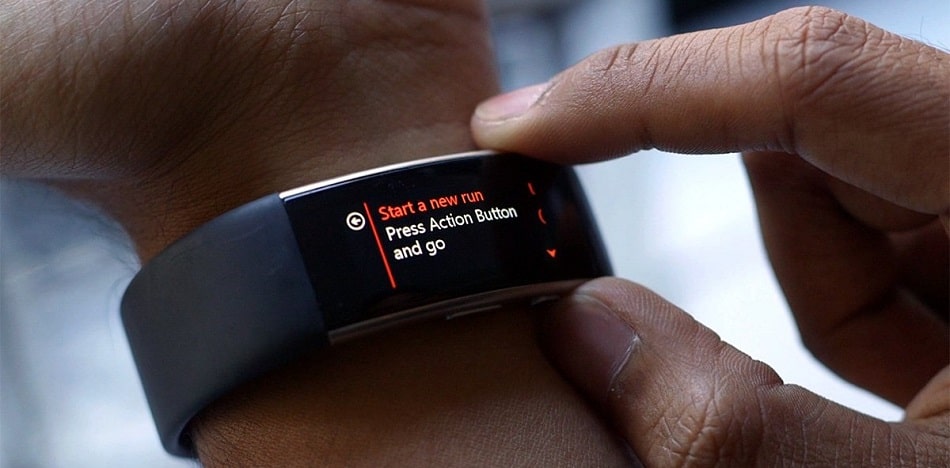 Microsoft band is not water-resistant in case the device is submerged in water for a sufficient time for water to enter its interior and damage the functionality of components.
Water and liquids, in general, can damage parts of the Microsoft band such as the battery, microphone, and screen.
For example, when swimming, taking the Microsoft band with you would damage its functionality.
Or when walking in heavy rain without protective items, the sensor capabilities of the Microsoft brand are easily disturbed.
---
Recommended article:
What is the best Z-Wave Hub
---
What is Microsoft Band?
The Microsoft Band is a fitness bracelet that monitors your health and improves productivity through the capabilities of heart rate monitoring, running track, height tracking, and the ability to display public notifications and reminders the work.
By Bluetooth connectivity, Microsoft Band is quite similar to the smart watches available on the market but has better features and works more smoothly.
In terms of hardware, Microsoft Band has a rather characteristic design compared to the wearable designs. It has a TFT screen, screen size is 1.4 inches.
It is capable of displaying full colors with a resolution of 320×106 and a size of 11x33mm. The strap material of Microsoft Band is made of resilient plastic, good heat resistance, so its durability is highly appreciated.
Microsoft Band is designed with a total of 10 sensors, including some familiar sensors such as heart rate measurement, skin temperature meter, gyroscope, GPS, light sensor, UV sensor, microphone…
Microsoft Band batteries may not need to be charged for two days on a fully charged condition. The time it takes to fully charge the Microsoft Band is quite short, less than 2 hours.
Microsoft Band uses Bluetooth 4.0 connectivity, compatible with all smartphones Windows Phone 8.1, iOS 7 and above, and Android 4.3 and above.
Microsoft band's IPX7 standard
During testing, the Microsoft band has met the IPX7 standard. This standard allows it to withstand sources of light intensity and low water volume.
For example, we can wear it while exercising, wrist sweat in small amounts is not enough to penetrate inside and affect the functioning of its internal organs.
Or, unfortunately, while on the road, it poured drizzle, the small amount of rain could not scare the components inside its shell.
There have also been cases where the Microsoft band was damaged due to the same circumstances mentioned above, but there were only negligible numbers.
---
Recommended article:
Projectors for Bright Room
---
What is Microsoft Band 2?
Microsoft Band 2 has Silver design so it looks nice and modern compared to the completely black case of the previous generation, Microsoft Band.
This model still maintains a rectangular touchscreen OLED screen, however, the flat glass design has been replaced by a curved Gorilla Glass 3 that is more suitable for the whole, improving the durability and increasing the aesthetics of the product.
Microsoft Band 2 integrates many health features such as heart rate sensor, optimal oxygen monitoring, and altitude detection for climbing.
Data from Band 2 will be synchronized with the Microsoft Health app on iOS, Android, and of course Windows 10. The App will rely on this training data to suggest suitable advice. Also, Band 2 features VO2 Max to calculate the optimal amount of oxygen depending on the user's situation.
Thanks to the heart rate sensor and VO2 Max, you can quickly record your heart rate and the amount of oxygen in your blood without having to resort to Alsocumbersome and complicated hospital machines.
Band 2 also has all the functions that you would expect in a smartwatch: display notifications, running apps (Microsoft is cooperating with Starbucks, Uber, Facebook, Runkeeper to make apps for Band 2).
Is the Microsoft band 2 waterproof?
Some people who own Microsoft band 2 also have the same questions: "is the Microsoft band 2 waterproof?". The answer to this question is the same as the general answer to most of the Microsoft bands listed above.
---
Recommended article:
In Ear Monitors for Drummers
---
How to prevent Microsoft band from bad effects of water
So how can we minimize the functional damage that water and other fluids bring to the Microsoft band?
The best way to protect Microsoft bands from damage is to protect them from water and liquids. Before going swimming, we should remove them from our hands and store them in a cool, dry place.
In case you want to carry it with you, we should store it in a specialized waterproof bag for phones and touch devices. Before washing the dishes, doing laundry, or showering, you should also remove it and put it back on after all works are finished.
One more note during the preservation of the Microsoft band is to keep it away from excessive impacts. If the Microsoft band is often hit hard, it will more or less affect the water-resistance of this device. Collisions create a physical change in components, creating gaps and crevices that make it easier for water and liquids to enter the device. Therefore, we should minimize sudden shocks and avoid dropping the Microsoft band.
---
Recommended article:
Best Low Light Video Cameras
---
So, Is Microsoft Band Water Resistant?
In short, the Microsoft band is theoretically not water-resistant but is capable of working properly when exposed to sweat and little water.
It is best not to expose the Microsoft band to water and liquids to ensure the operation of this device.