If you need to get some plastic welding done, what is the best plastic welder? There are lots of options, like a heat gun for plastic welding, a liquid plastic welder, a welding machine and more. Some use airless welding, others use hot air, etc. Some are designed for roof use – but that's a specialist area we won't cover here. Instead, we'll look at a range of 7 different general-purpose heat-based best plastic welders.

To start with here's a bit of science.
How plastic welding works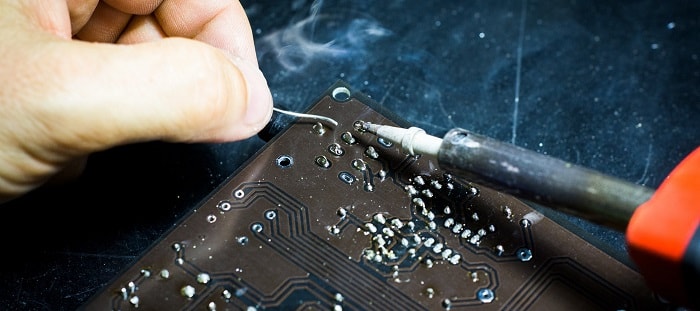 Plastic is the name given to a range of synthetic or semi-synthetic organic compounds that are malleable (can be shaped by being pressed, cast or shaped). There are different types of plastic, including synthetic and semi-synthetic. Plastic is highly topical right now as there's an environmental move to reduce its overall use, or at least use more "Natural" biodegradable versions.
The kind of plastic relevant to this review is thermoplastic, which can be easily molded when hot and the returns to a solid form without damage. This is different from thermosetting polymers, which degrade when heated. Some plastic is more heat resistant than others.
Plastic welding is the process of softening two or more edges of thermoplastic plastic using heat (although solvent welding can also be used). Welding thermoplastics is done in three stages: surface preparation, applying heat and pressure, and finally cooling.
Getting a good quality thermoplastic weld needs some skill, the right tools, and the right plastic. There are plastic welding kits on our list for beginner level and for professionals, with different costs. Note that plastic welding equipment needs to be used by beginners with care, due to the heat produced.
In the article, which took more than 70 hours of research, we've recommended some quite different kinds of tools, for different jobs. There is no single best plastic welder kit, it depends on what you are trying to do.
Our top 3 welding tools
EDITOR's PICK
1. WELDY 3400W Handheld Hot Air Plastic Welder
«EDITOR's PICK»
Best plastic welder for heavy-duty
Our rating: ⭐⭐⭐⭐⭐
This higher price welder is great for the bigger jobs you might take on, rather than small scale precision work. It is a powerful air gun that is easy to use. The bigger cost of this plastic welding heat gun is justified if you have a lot of work to do over a big area. One for the professional or serious non-professional.
Pros:
— Great for big welding jobs like roofing or flooring. Enjoyable to use.
2. Leister Triac ST 1600 W
«EDITOR's PICK»
Best small heat gun
Our rating: ⭐⭐⭐⭐⭐
This swiss-made airgun is of high quality and well made. Leister is a popular and recognized brand who typically gets a good user rating for their products. For the money, you could get two or cheaper Chinese clones but there's no guarantee they will work as well, or last as long. The cheap copies might even come apart. Another one for the professional or dedicated DIY users.
Pros:
— A quality product that will do a great job and won't let you down. Reliable.
3. Beyondlife 1600W Plastic Welder
«EDITOR's PICK»
Best cheap plastic welder
Our rating: ⭐⭐⭐⭐⭐
Beyond life makes a great value for money plastic welding kit that comes with the gun itself and a range of the most common tools you will need and a case to carry them all. So a good 'one-stop-shop'.
Pros:
— Comprehensive kit and great value for your dollar.
---
How to use heat gun
«I'm thinking about getting a welder but I'm new to all this, can you give a quick overview of how you use heat guns?»
Air guns use Hot Gas Welding utilizing the heat of hot air gas stream. The air is heated by electric heating elements mounted inside the hot air welding gun torch. The torch propels and directs the heated air onto the plastic surfaces and a rod of special plastic filler material, designed for joining edges.
The edges of the joined parts and the special plastic filler rod material are then fused together and pressed to make a good join. The plastic polymer molecules are then cross-linked when the hot melted plastic eventually cools down, forming a strong joined bond.
There's a bit of skill getting a really strong and really good bond. This included getting the right angle of the hot air and also the plastic welding rod. You also need to have the right gap distance – the distance between the gas nozzle and the weld area. You also may need to apply the right amount of pressure. You can get a quick overview here. Also, there is some useful basic information here.
Why people buy a plastic welder
We think of plastic as something disposable and throwaway. But your home, furniture, household appliances, garden tools, car, RV, ATV, boat, kids toys, etc. also can be plastic or have plastics parts. So what are you going to do if a more expensive plastic item breaks or you want to use some thermoplastic home improvement products? Do you really want to throw away that garden furniture or that kayak? Is that very small radiator tank, roofing or flooring issue really worth bringing someone in to fix? What about that annoying crack in the tray in your refrigerator? How about that broken lawn mower grass collector, or vacuum cleaner plastic pipe?
Are those broken favorite kids toys headed for the trash or could they be saved? Fans of Toy Story take note. We're saving lives here.
Investing in your own plastic welder can be a cheaper and quicker way to repair, replace or upgrade your home, furniture, car, boat, etc. If you have a plastic welder at home, rather than having to track down and pay someone else or throw something away, it can save you money and time, and it can be satisfying and fun too.
It can also be a fun hobby to work with plastic to create objects of your own.
Best plastic welders
The cost of buying a plastic welder can be covered pretty quickly by doing some DIY repairs, rather than buying replacement products that are actually easily fixable, with the right tool and a little bit of effort.

---
Full detailed list of best plastic welding tools
1. WELDY 3400W Handheld Hot Air Plastic Welder
Best plastic welder for heavy-duty
This upscale 3400 Watt plastic welder gun is designed for the bigger plastic welding jobs you might take on, not really detailed precision plastic welding work. The airgun feels good in the hand and the two-handed operation is ergonomic and easy to use, especially since the gun is a bit lighter than it looks, at just under 7 kilograms. You can insert 3mm or 4 mm plastic welding rods from either side, which is a good design point. You can see the Weldy in action here.
The big price ticket for this plastic welding heat gun is down to personal taste. It is justified, if you have a lot of work to do over a big area, or if you are into high-quality tools that will last, not cheap disposable tools that might not last.
It's worth saying that this tool is enjoyable to use. It's not just a tool, it's actually a nicely executed piece of technology. One for the serious non-professional. You can also order it here.

Pros:
Great for big welding jobs like roofing or flooring. Enjoyable to use.
Cons:
Not so great for some detailed work and very pricey.
Verdict: If you have a big job and you have the money, this nicely designed and good looking Weldy could be right for you.
2. Leister Triac ST 1600 W
Best small heat gun
This Swiss-made 1600 watt airgun is another quality product. It is just 2.75 pounds and ideal for jobs like smaller TPO work but can also be used for non-plastic work like copper piping or bitumen welding. You can easily dial in heat levels from 40 Celcius (for example if you want to use it as a dryer) all the way up to 700 Celcius
for heavy-duty welding work. Unlike the Weldy, this is more practical for one-handed operation.
Leister is a popular and reputable brand who has been around for many years. You can find many cheap Leister Chinese clones which might seem attractive due to their lower costs but actually, in the long run, might cost you more as there is a reasonably good chance that they will not last you as long, so you might end up buying two or three to get the same lifetime as the better-made Leister.
It's also a hassle if a heat gun dies in the middle of your project, which is another consideration.
The leister has more costs but it's high quality and well made. You can also order it on the manufacturer's website.

Pros:
A quality product that will do a great job and won't let you down.
Cons:
The high price might be a little too much for some.
Verdict: There are cheaper low-quality copies out there of the Leister but why not go for the real thing, or you might end up paying twice if or when the cheap Chinese copy one breaks down.
3. Beyondlife 1600W Plastic Welder
Best cheap plastic welder
"Beyondlife" makes a great "value-for-money" plastic welding kit that comes with the heat gun itself and a range of the most common tools you will need. There is also a good case to carry them all around inside. It's annoying searching around a garage or workshop for the accessories you need – so no need to do that here.
The kit also includes a user manual, spare heating core, pressure roller, round speed welding nozzle, triangle speed welding nozzle, pencil tip nozzle, and flat tip. That means you are pretty much covered whatever the plastic welding job without stopping the job and ordering that accessory that you hadn't realized that you needed when you started the job.
There is also a butterfly flooring welding kit and plastic filler rods, so another handy part of the overall package, and more things that you don't need to worry about. You can also buy this item from this store.
The heat gun is adjustable up to the full 1,600 Watts which again makes it useful for non-plastic welding jobs too, like getting the paint off that wall, without scorching the wood or getting an unintended fire going because you were working closer than you should have, without realizing it.

Pros:
Comprehensive kit and great value for your dollar.
Cons:
The gun takes a short while to get to full power but it's not such a big hassle.
Verdict: Another good 'one-stop-shop' plastic welding kit with most of what you need and easily adjustable. We recommend checking this out if you are a beginner.
4. Polyvance 5700HT Mini Weld Model 7 Airless Plastic Welder
Best airless thermoplastic welder
So far we have focused on heat guns. Another type of plastic welder is the airless thermoplastic welding tool, which uses directly applied heat via a 200-watt element. The Polyvance is great for detailed small area welds. The kit comes supplied with a range of tool accessories, including different shaped tips plus a book explaining what kinds of plastics it works best on.
Airless plastic welders are especially useful for those hard to get at repairs when you don't want hot air spilling over onto the surrounding area. Heat guns can accidentally scorch surrounds to the plastic when you also have paint or wood closely adjacent to the area you are working on – the Polyvance design is much less likely to have that problem. Especially useful if you are fixing plastic 'in situ' and it might be difficult to get at with a heat gun without 'collateral damage'.

Pros:
Great for up-close work where an air gun doesn't really work out for you. A precision tool.
Cons:
Unlike an airgun, this is not really as much use for other jobs like drying, paint stripping, etc.
Verdict: A specialist precision tool that fits certain detailed jobs well.
5. Steinel Heat Gun Kit
Best mid-price plastic welder heat gun
This Steinel electronically controlled heat gun delivers 1,600 watts and comes with a range of tools and accessories, including two Reflector Nozzles, Reduction Nozzle, Welding Nozzle, and Spreader Nozzle plus some welding rods, a booklet and a case. So Steinel has put together a comprehensive heat gun package. There is an LCD readout screen and you can easily set variable heat and airflow levels.
Pros:
Lots of control over the job and a versatile tool.
Cons:
A little pricier than some other plastic welding rivals
Verdict: We liked the digital controls very much and this is a useful all-round tool.
6. Hobie – Kc Welder Pro With Rod Stock
Best alternative airless welder
Another airless plastic welder with an 80 Watt element, this inexpensive but well- designed plastic welder, is also great for detailed work and is best for lighter kinds of projects. It is a simple tool that is easy to learn how to use well, with a flat tip and a 3/8th of an inch tip where you insert the plastic repair rod – some of which come supplied.
As a low-cost tool, this is suitable for the beginner or more experienced plastic welder, for fixing small holes, cracks, etc.
It is a single temperature device, which means the welder has no control over either the temperature or power. That's less of an issue than it would be with a heat gun but something to be aware of if you are thinking of buying.

Pros:
Inexpensive and easy to use. A good beginner's tool.
Cons:
No temperature control or gauge. Not especially an issue for most.
Verdict: Good value for the money and good for beginners but really only ideal for more lightweight plastic welding jobs.
7. Master Appliance ProHeat Series Plastic Welding Kit
Best digital plastic welder
Last but not least on our review list is this USA-made digitally controlled plastic welder. The ProHeat has a variable temperature control, which goes up to 540 degrees Celsius, with a maximum 1300 Watt output. There are also variable airflow settings. All settings can be locked in if needed, which is great if you need to do multiple similar jobs and need to make sure you are consistent all the time.
We like this ProHeat plastic welding tool because of the good degree of control and the ability to lock the controls when and where needed.
There are five popular attachments, supplied with the kit, for specific welding applications that require both heat and pressure. To get an idea of how it works, there is a short manufacturer-made walkthrough video here which will give you an idea of how it all works.

Pros:
Clever control system makes this a precise tool. Very handy you can lock in a specific setting for consistency between jobs.
Cons:
It might take some users a little while to get used to the controls (but actually it is quite straightforward, once you get the hang of it).
Verdict: Just because this is ProHeat plastic welder is at the end of the review list doesn't mean we think less of it. A definite candidate for best plastic welder and one we recommend checking out.
Best Plastic Welding Kit
The choice of plastic welder you buy should be suited for the kind of plastic fixing projects you will work on the most but also if you want a general-purpose tool that can be used for paint stripping, quick-drying, etc. An airless design won't do that.
So think about what is going to be value for money for the projects you have coming up and also will you need more power in the future as you tackle future projects?
You should always get a good set of safety glasses or goggles and gloves and don't forget you'll need consumables.
There is no single 'best plastic welder' so think about what you need today and in the future before you buy.
So, we'd love to hear your ideas and comments. Please let us know what you think!