Computers and other delicate electronic devices that use fans need regular cleaning to prevent the ingress of dust and other particles causing long term operating difficulties. Symptoms of dust ingress include the PC running warmer than usual and this leads in the long run to heat-related operational intermittent difficulties. You obviously can't use any electrically-conducting fluids for cleaning, and it's not safe with anything electric to use water.

Why you need the right Air Compressor to clean your PC
So, some people purchase a high-end domestic vacuum cleaner for pc cleaning off-the-shelf generic air compressors. This is unwise. Vacuum cleaners can draw dust or other particles in, as well as out. This is a different yet similar issue as normal air compressors, which can be too powerful (potentially causing damage to components) and also have traces of water (which is lethal to any electrical circuit as it can lead to shorting out). So, what is the best air compressor to clean a PC?
To answer that air compressor for pc cleaning question, I took about 50 hours to review 5 good air compressors for computer cleaning. Now bear in mind that buying a device just to clean computers might be OK for a company IT department but not for the average household, so im also looking for versatile systems that aren't ju7st a one-trick pony.
Best Air Compressor for Cleaning PC in 2022
Before doing that in our detailed recommended list, here are our top 3 rated air compressors for cleaning a PC

EDITOR's PICK
«EDITOR's PICK»
Best dedicated device
Our rating: ⭐⭐⭐⭐⭐
It's important to get the right tool for the job and the DataVac is a purpose-built tech unit, well suited to PC cleaning. It's light and portable at 2.7 pounds and delivers 500 watts of power.
Pros:
— Built for the job;
— Great range of attachments;
— No condensation (unlike a normal air compressor);
— Just 2.7 pounds.

Cons:
— Blow only.
«EDITOR's PICK»
Best for affordability
Our rating: ⭐⭐⭐⭐⭐
We like this 500w affordable small air compressor from X Power, which is ideal when you just want a low-cost portable air compressor for cleaning a PC.
Pros:
— Reasonably priced;
— Lots of accessories;
— Focused power (air-row equals arrow - get it?).

Cons:
— Again blow only, so not especially super-versatile.
«EDITOR's PICK»
Best for dual blow and vacuum versatility
Our rating: ⭐⭐⭐⭐⭐
Despite the entirely unpronounceable name, this is a clever dual blow/suck device that is rated at 700w but for a few dollars more you can go to 1000w. That higher figure is our choice - plenty of grunt for your cleaning needs.
Pros:
— Plenty of power;
— Dual blower/vacuum;
— Vacuum dirt collection bag is included.

Cons:
— Not quite as well made as to the data vac.
---
OK, so before looking at these three products in detail, plus two more candidates, i want to dwell for a while on exactly Why you need an air compressor for computer cleaning and what makes the best air compressor for computer cleaning.
Why cleaning computers matters and what kind of cleaner is right for you
The green agenda is topical and that might be important to you or you might want something with many uses, stopping short of manual spray compressor. However, let's start with the basics.
There is something simple you need to look out for when making a purchase of air cleaning your PC – you need just the right amount of cleaning. Too much power / too high pressure and you'll cause problems, too little power and you'll cause other problems.
So, if normal air compressors are too powerful, domestic vacuums not ideal, how about handheld cans of compressed air? They will work quite well, but are expensive over time, as you keep needing to buy new ones if you use them as often as you need to. It's also not very environmentally friendly as the cans need dumping.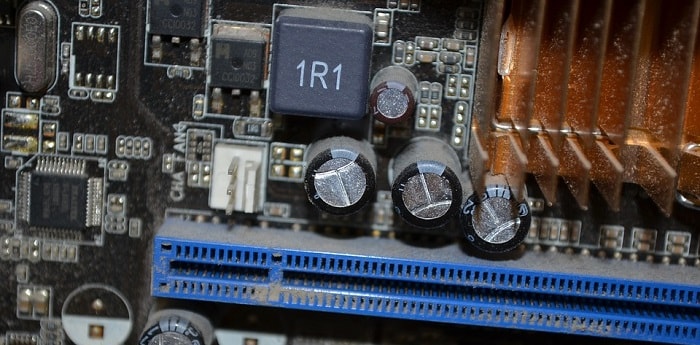 What is behind this issue is Moore's law. This is the theory that the number of transistors in an integrated circuit doubles roughly every two years, named after Gordon Moore, CEO, and co-founder of Intel, based on a 1965 paper. Although things have slowed recently, it's the case as anyone who has worked in computing knows that – all else being equal – as CPU-based computing power goes up, then more input power is drawn and the output heat produced by the CPUs as a by-product goes up. Recently with the growth of graphics-intensive gaming, the other issue has been GPUs (graphics cards) working overtime and pumping out a lot of heat.
What that means is you need more cooling. One cooling method is fitting more powerful fans. Once you have done that, you are drawing more air in and therefore any particles in the air. Computer product designers have a constant battle with cooling, especially in cheap or compact models and use all kinds of tricks like heat sinks, liquid cooling radiators, etc. but it's the fans that are the weakest link. They will suck dust, dirt and other particles in but then do not also blow them out again.
What this all means is that people who already have bad heat habits about their PCs here are some classics:
Computer dust: Anyone who understands IT will tell you to keep the area around a computer and the computer itself very clean, especially by regular Dusting. Yes, you need to clean the keyboard but you should also clean the PC itself plus dust cleaning all around.
Running them on soft surfaces is bad, as the surface can act as an insulator. Even the smallest air gap can help but what is a good practice is allowing plenty of ventilation.
Keeping them in enclosed settings like sitting on a shelf with another shelf above is bad too as the hot air gets trapped and you end up with a mini oven.
placing objects on top of them (like monitors) is popular but you will maybe pay the price later.
Allowing sunlight on them pushes the fans too hard. A hard-running fan that also is a dirty fan is a bad fan. It will degrade or even fail. Then your PC will cook. That cost can be an expensive fix or a replacement.
So, that's the lie of the land, let's now look in detail for – and at – the best air compressor for cleaning a pc.
Top Rated PC Blowers
---
---
1. Metro Vacuum ED500P Data Vac
Best dedicated device
The Data Vac has a slightly misleading name as it is a pc blower, not a vacuum. There's a powerful 500w blower motor and it's a popular model that gets good reviews from its owners. One thing they like is that there are various attachments, which are well suited to the specific job of cleaning a computer. If you think of the cost of constantly buying cans of compressed air, then this makes sense in an office with many computers and for some home owners too. These days the average home has more computing power and in some cases, more CPU/GPU equipped devices than an office of 20 years ago anyway.
Plus, you can use it anywhere in the house for almost anything. It's fun to play with the dog with this too by the way, just like a hosepipe with water fascinates your pooch. They'll be happily snapping in the air. Don't try it on the cat though.
Pros of the Metro Vacuum ED500P
Built for the job
Great range of attachments
No condensation (unlike a normal air compressor)
Just 2.7 pounds
Cons of the Metro Vacuum ED500
Verdict: Save yourself money on canned compressed air and be kinder to the environment with the Data Vac. It makes sense. Incidentally don't write to us if it turns out your dog doesn't like it. Just post the video on youtube. You can also order it on the manufacturer's website.
2. XPOWER A-2 Airrow
Best for affordability
Looking rather like a coffee pot, we nevertheless really like this X power 500w affordable small air compressor. It's a no-frills design but it will get the job done. If you have a mess in your Macbook special keyboard, this is the tool for you. If that Dell is looking more like a Dull, this will do the job. If you want to send the grime packing in a Hewlett Packard….OK, you get the picture. You get 9 nozzles, dual power levels and a handy washable filter. It's a pretty versatile design all in all.
Pros of the XPOWER A-2 Airrow
Reasonably priced
Lots of accessories
Focused power (air-row equals arrow – get it?)
Cons of the XPOWER A-2 Airrow
Again blow only, so not especially super-versatile
Verdict: Great value for keeping those PCs and keyboard clean plus you can inflate a dinghy with it too. What's not to like? You can also buy this item from this store.
3. SHZICMY 1000w switchable Air Blower / Computer Vacuum Dust Cleaner
Best for dual blow and vacuum versatility
OK, now this really is a versatile little device from the entirely unpronounceable team at SHZICMY. If that sounds like Klingon to you, join the club. Apparently, Klingons have dust too, so this is a clever dual blow/suck device that goes right up to 1000w. That higher figure – double our first two models – allows for a decent amount of suck and a load of other possible uses. However, what we like is that you can Clean out the dust of the motherboard or keyboard with blowing and then switch to a vacuum mode when you want to clean out the computer carry case.
Pros of the SHZICMY dust blower
Plenty of power
Dual blower/vacuum
Vacuum dirt collection bag is included
Cons of the SHZICMY dust blower
Not quite as well made as to the data vac
Verdict: All the power you need – and then some – plus dual dust blower for pc and vacuum mode makes this a strong contender.
4. Gigi-Store Electric Duster
Best for low cost 'on the go' cleaning
Another dual blower/vacuum device, this time from Gigi-store, this time a bit of a different design with a 35W motor and USB rechargeable batteries. This doesn't compete head to head with some of the other models here and we see it rather as a very portable and lightweight device that can go anywhere. Of course, leave it in your hotel room and the chambermaid might be a bit puzzled as to what you have been doing.
Joking aside, you get three different types of the nozzle and also a washable vacuum bag. You can of course keep it in the car and use the in-car recharger (many cars have USB now).
So, a bit of a niche product but good nonetheless.
Pros of the Gigi-Store air compressor for cleaning pc
Designed for portability – really you can go anywhere
Dual suck/blow mode
Reasonable range of accessories
Cons of the Gigi-Store air compressor for cleaning pc
Not the most powerful in our list
Verdict: Once we all start flying and driving again, it's an ideal tool. Of course, if you are stuck on a long-haul flight next to (or behind) an annoying or boring passenger, you can amuse yourself (and teach them a lesson) by casually plugging in and having a friendly discussion with them about its operation.
5. Rovta Opolar Compressed Air Duster
Best if you like sci-fi
Now we don't want to offend anyone but let's just say that PC blower fans trend to be SciFi fans too. That's surely what the design team at Rovta had in mind when they were styling this ray-gun style blower. Even the name sounds like Star Trek "set your Opolar to maximum!". So, great design and actually very reasonably priced and featured too. You get a good battery with a fast recharge time and a removable nozzle, so you change between a very focused amount of air or something more general. You also get an 'auto' mode for continuous cleaning plus a 'manual' mode for short blast from the trigger. Pity they didn't also include a 'stun' mode and 'kill' mode too.
Pros of the Rovta Opolar
Fun looking design that is practical too
Good battery technology
Precision cleaning modes
Verdict: We'd buy one just for the fun factor – it works well too.
Best Dust Blower for PC
That's been a quick tour around some great air compressors for cleaning your PC. Each has got a quite different set of benefits and some aren't really competing with each other – that's especially the case with the highly portable Gig-Store. All reasonably priced and none are so cheap that they are badly made. And remember that blown power should never be too high, unlike vacuuming, blowers create a very concentrated force.
So, do your PC, keyboard, games console etc. a favor and keep it clean. It makes sense. Please leave us any ideas or questions in our comments section. Thanks for reading.