More and more people use projectors for cookie and cake decorating. So-called "cake projectors" are typically small and are used for mapping decorations and piping, which means even newbies can make complex decorations.

An overhead projector for cake decorating needs to be portable as it is typically top mounted on a specialist stand. It needs to be affordable too – after all this technology is used for cookies, not Carnegie Hall.
Of course, you have to decide upfront if you are looking for a single-use projector, just for cookies and cakes, or for a dual-use projector, which can also be used outside the kitchen for TV, movies, games etc.
All of the models on our list are dual-use up to a point but some more so than others. One big dividing line is how sophisticated the audio toolset is which is not needed for your cakes but is for almost anything else.
The best projectors for cookie decorating
Before looking in depth at 7 cookie decorating projectors, let's pick out the top three best projectors for cookie decorating picks.
Best Overall Cookie Projector: AODIN Young 100 Lumen WiFi Portable TV Projector
This pocket-sized DLP has 1080p supported at a healthy 100-lumen output. Aodin is a good brand and the cost of this impressive model is reasonable and belies the performance. A great possible choice for your art projector for cookie decorating.
Best lower-price Projector for Cookie Design: WOWOTO A5 Mini Projector
With 100 lumens output and a 1000:1 contrast ratio, the small size of the DLP-based WOWOTO A5 still packs a big punch. It is WiFi and Bluetooth capable too, which adds to the overall attractiveness. Finally, it is just 250 grams and will fit into your palm easily.
Best for High Output: Wikish E3W Mini WiFi 3300 Lumen Portable Projector
With a massive 3,300 lumens, this Wikish E3W DLP-based model is one of the brightest projectors for cake decorating. It's ideal for working in a kitchen with a lot of ambient light.
---
So, those are our top 3 best projectors for cookie decorating. Before looking at 7 cookie and cake projectors in-depth, let's look at the topic of cookie and cake writing in general.
How to write on a cookie with a projector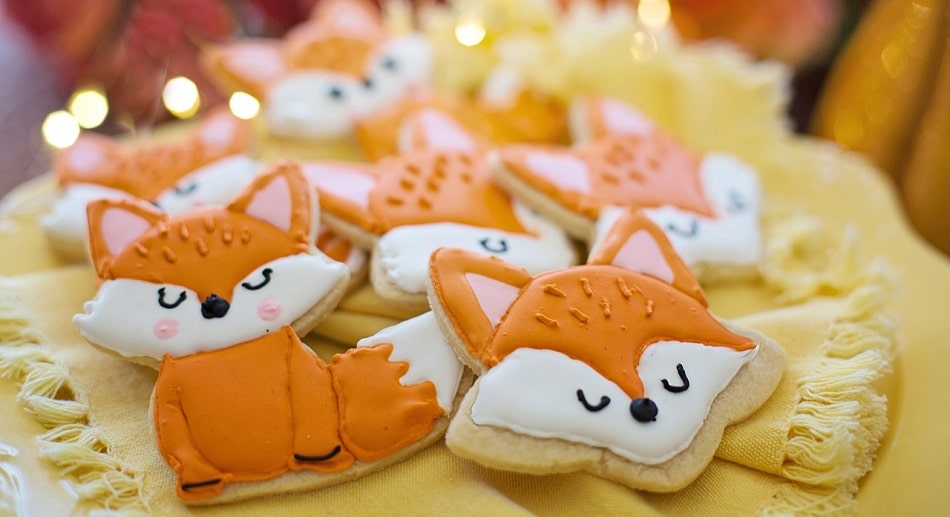 Home-based wedding cake and cookie businesses are flourishing. It's both a hobby and a second income. Just like 3D printing, using a 'pico' projector allows cake and cookie customization on a budget and is a cheap way of setting up a small business. Normal projector recommended lists or popular reviews don't usually cover the specific needs of projectors for cookie decorating.
The market started with the professional-grade Kopykake range that is found in bakeries but today much lower-cost home mini projectors, mounted on specialist stands will do a great job.
How the process works go in three stages.
1. First, the artwork is pre-designed using a software paint program or anything that can generate or manipulate images and text, like PowerPoint. This might be someone's name or a colorful design and so on.
The cake or cookie is then placed directly under the projector, which is usually mounted about 2 to 3 feet above the working surface. The projector must be at exactly right angles (square on) to the cookie or cake, with an imaginary line that goes through the center of the lens passing at 90 degrees to the center of the cookie or cake.
If the projector is slightly offset, or tilted, or rotated, or otherwise skewed, the final result on the cookie or cake will be a trapezoid and not be as originally intended. Some projectors have auto-keystone controls to get the most accurate alignment.
2. The next stage is getting the design image to the projector. Most people will use their Apple or Android phone or an iPad or Android tablet. Cable connections are found on all projectors but a more modern way is sending via WiFi.
The resulting projected image is then used as a kind of template or stencil-like tool, to allow the cake decorator to follow the image with icing and decorations. The projector must be in focus.
3. One word of warning is color. Whatever the color the original designer intended, there is no guarantee the final color of the cake or cookie decoration will match.
This is because the original monitor used in the design process might not be calibrated the same as any of the others. The way to fix this, for those who are serious, is by using a Macbeth color checker test chart to help align any screen used.
The result on a screen and the original physical chart can be compared. This is a technique similar to closed-loop calibration which is used for home printing and in other colors – sensitive situations, like CAD, computer graphics, 3D and so on.
It can be helpful to have a brighter projector (more than 25 lumens) with a higher contrast ratio (above 1,000 to 1) to make the image overall very clear and also to make it easy to see where the edges exactly are. This is critical in fine detail work.
So, in summary, a good projector will ideally give you accurate geometry, a bright punchy image, and good color.
Once all that is in place, it's just down to you and your patience and skill to produce the result you want.
Best Cookie Projectors in 2023
Now let's look at 7 of the best projectors for cookie and cake decorating in detail.
---
---
1. AODIN Young 100 Lumen WiFi Portable TV Projector
Best overall cookie projector for WiFi
DLP projectors like
this Aodin
give clear and sharp pictures. That makes it easier to trace around complex shapes when you are cookie decorating. The Aodin has 1080p support although the internal native resolution is lower WVGA (854x480p). This difference in resolutions is common in projectors of this type and the main thing to focus on (no pun intended) is that 1080p source content, like a cookie design, will look sharp.
Light output is at a healthy 100 lumens. Projectors of this market category start at around 25 lumens – slightly dim for some folks if they are working in a very bright kitchen – and go up to around 150 lumens output (although there are exceptions). 100 lumens is plenty good enough for a bright image.
Aodin is a well-respected brand and this Android-based projector has all the right features. You get about 2.5 hours of use out of the battery and a big choice of wired or wireless connections: 1 HDMI, 2 USB 2.0, 1 TF, an old-school 3.5mm Headphone Jack, and moist usefully 2.4G/5G Dual-band WiFi, plus Bluetooth 4.0.
Pros:
Plenty of light output and excellent pictures
Good on-battery performance
All the connectivity you need
Cons:
Bluetooth 5.0 not yet implemented – still version Bluetooth 4.0 (although this should not be an issue for cookies, as it is related to audio)
Final words: The Aodin tops our list as a possible choice for your projector for cookie decorating for its balance between affordable price and performance. There are higher specification models but considering this is cookie decoration and not movie projection the Aodin has just what you need.
---
2. WOWOTO A5 Mini Projector
Best lower-price projector for cookie design
Our second pick in the list is another DLP, with 100 lumens output, which has an excellent 1000:1 contrast ratio. It's another 1080p model that in this case runs at a very slightly lower 850x480p. All those factors together mean sufficiently crisp and sharp pictures for cookie decorating.
The WOWOTO A5 is WiFi and Bluetooth audio capable too, plus you get an AV Port, HDMI, and USB 2.0. Operation is straightforward, either from the touchscreen or from the well laid out supplied remote control. For example, it's easy to connect your phone and the A5 projector to the same WiFi network, then you can easily project from your phone via UShare or Airplay. There is also a range of Keystone controls for aligning the projector accurately to prevent geometric distortions of the projected image, including a handy Auto Keystone function that is a big help.
All in all, a well-designed compact package.
Pros:
Clear bright pictures
Well-designed user interfaces
Good WiFi implementation
Affordable price
Cons:
The Manual is a bit sparse which leads to some people having connection problems – due simply to not understanding how to.
Final words: Our second pick is a close tie with our first. The A5 just shades it on affordability and we'd be as happy with this as our #1 pick on the list. They both will do cookies and cakes very well.
---
3. Wikish E3W Mini WiFi 3300 Lumen Portable Projector
Best for high output
Time to run things up with the massive 3,300 lumens of this
Wikish E3W
DLP-based projector. It is easily one of the brightest and most powerful projectors for cookie customization and wedding cake decorating. It's the model to go for if you are working in a bright kitchen with a lot of light spilling onto the working area. It is a larger projector than some on our list but easy to mount on a tripod or specialist armature Pico projector mount. We like the auto-keystone function and the ease of connection. Wireless mirroring of mobile devices is via WiFi or iOS cast or Miracast. It's straightforward to connect to your iPad, iPhone, Android device, or laptop.
Where the E3W gets ahead of most competitors is the very advanced imaging technology. In addition to the 3,300-lumen output, you get a class – leading 3,000:1 contrast ratio and a wide color gamut, and an equally class-leading 1280x720p internal resolution (significantly higher than our first two picks) with support for full HD content at 1920×1080.
Pros:
Outstanding picture quality – brighter, sharper, and more colorful than most rivals
Simple connectivity make it easy to hook up
Well-engineered keystone geometry controls
Cons:
Not the cheapest model
3,300 lumens might be overkill for some users
Final words: If you are happy to pay a little more, then this is far and away from the best for overall image quality and one to consider.
---
4. Kodak Luma 75 Ultra Mini Portable Projector
Best for compactness
In the 20th century, Kodak used to be the world leader in imaging and while they are not the brand name they once were, they still have great know-how. You can see that expertise in this Kodak Luma 75 DLP projector, which puts out 60 lumens at up to 1080p resolution. The
Kodak Luma 75
also supports WCG (Wide Color Gamut) at least up to a point and will show colors that some rivals simply cannot. It's a physical connection only device and you can plug in devices via HDMI or USB and you can connect audio via a mini-jack (not that your cookies will notice that). You can go down the WiFi router if you plug a third-party device into the projector.
It is very competitively priced, very light, and a compact form
Pros:
Just the right size for cake decoration use
Great picture quality
Very affordable
Cons:
No WiFi (there are Kodak models that support WiFi but they cost significantly more)
Final words: If you are looking for something small, affordable, and with a great picture, and don't care about WiFi then this Kodak is worth investigating.
---
5. AAXA Technologies KP-101-01 AAXA LED Pico Micro Video Projector
Best for budget pure cookie use
The
AAXA KP-101-01
is a big seller in the cake and cookie decorating segment. Unlike the mostly DLP models we have seen so far, it's a 720p resolution internal / 1080p output LCD model so not quite as sharp and at 25 Lumens, not quite as bright. However, at just 6.4 ounces, this is easy to mount on a Pico projector stand and at an affordable price is frankly more than good enough for most users. The point here is that this is a tool to do a job which in this case is cookie decoration. So, why pay more for features you may not need? This AAXA is half the price of some other competitors.
Pros:
Just what you need for cookie and cake design, with no fancy frills that you don't need
Easy to mount for cookie decoration use
Very affordable – you can buy two AAXA units for the price of some rivals
Cons:
Doesn't have all the connectivity or geometry features of some competitors – but that might not be an issue
Final words: If you want to decorate cookies and cakes, and you need a straightforward and affordable projector, join thousands of other cookie-decorating owners, who rely on the AAXA KP-101-01.
---
6. ASUS ZenBeam E1 Portable Mini Projector
Best for battery operation
Although you can run mains power to projectors in kitchens, there are advantages to battery operation – it's less hassle than having power cables snaking around the kitchen. The ZenBeam 6000mAh battery is potent enough for hours of cake decoration fun.
The E1 delivers 120 lumens light output, which is more than bright enough for most kitchens. Lining up the projector is straightforward too, via manual and auto keystone geometry tools. It's physical connectivity only via HDMI though so no WiFi and Bluetooth.
Pros:
Great battery life, gives up to 5 hours operational time even though the image is bright
Good keystone controls make image setup simple and avoid distorted design patterns
The affordable price makes this a low-risk investment that will please owners without breaking the bank
Cons:
The E1 does not have all the wired or wireless connectivity tools of rivals
Final words: The ASUS E1 ZenBeam is great for people who for whatever reason prefer to work via battery. Yes, it is limited to physical connectivity but still is a more than capable proposition for your cake or cookie customization constructions.
---
7. ViewSonic M1+ Portable Smart Wi-Fi Projector
Best larger dual-use design
If you are happy to go for a bigger form-factor and want to use your projector for cookie design one day and movie viewing another, then the ViewSonic M1+ has some real benefits for you. It's a tripod or stands mountable 854x480p resolution LED projector that delivers a comfortable 120 Lumens. It is pretty lightweight too at 1.7 lbs – a bit heavier than some models on our list and still easily mountable on a stand.
There is a good set of keystone controls on the M1 plus, including auto vertical keystone correction. Battery performance is good too with about 2 and a half hours of usable life between battery recharges. Connectivity is HDMI 1.4, USB 2.0 Type A, Micro USB and – our favorite bit of modern tech – USB type C. There is no WiFi however.
This bigger form factor allows more electronics, so the M1+ delivers an outstanding contrast ratio. You also get good audio – which your cakes won't appreciate but your teenage son or daughter might if they borrow the projector for gaming or movies.
Pros:
Just as competent in your home cinema as in your kitchen
Great audio – no use for cookies but really good for dual-use TV or Movie viewing
Cons:
No WiFi connectivity means you will be hooking up the M1 + to an Apple or Android phone, tablet, PC, or games console, via cables and maybe an adapter
Lithium-ion batteries need to be purchased
Final words: You can look at dual-use projectors in two ways. On the one hand, if all you want to do is to decorate cookies and wedding cakes in your kitchen, then the AAXA or one of the similar models on this list makes more sense than the M1 +. On the other hand, if you are paying out quite a reasonable amount of money for a projector, then why not get a model that the whole family should be able to use for TV, Films and Games. You pay your money and you take your choice.
---
Best Cake Projectors

So, those are our top 7 best projectors for cookie decorating. It should be clear by now that there is no 'best' projector for cookie decorating.
It all comes down to what you want and what you need. Some people don't want WiFi, while others would never buy a device like this that still needs cables.
Some people have really bright kitchens and will want a high-output model. Anything above 120 Lumens is ideal for a bright kitchen. Some people want to work on batteries, some don't care and so on.
The final big question is whether cookie decorating is the only job you need the projector for. Dual-use projectors will have quite different buying criteria, especially around audio and support for various media types.
We hope you have found our 7 candidates for the best projector for cookie decorating suggestions balanced, unbiased, useful and thought-provoking.
But hey, enough of what we think – please let us know your comments. Thanks for reading! 😉
---
This page may contain affiliate links. USDIGITECH.com is a participant in the Amazon Services LLC Associates Program, an affiliate advertising program designed to provide a means for sites to earn advertising fees by advertising and linking to Amazon.com