Church leaders in the USA have differing views on the exact role of the Church. Some see it purely as a religious and charitable institution. However, today Churches of all viewpoints are big business in the US, and many are run along corporate lines.
So, if you are looking to maximise the impact of sermons, use visuals to tell a compelling story, increase charitable revenue from your congregation, or simply get your message across, it follows that you need a strong customer/congregational experience when visiting the church. This includes the whole audio and video experience. So, who makes the best video projector for churches? In this article, we look at 7 of the best projectors for church use.

Choosing The Best Projector for Church in 2022
A church or other place of worship is a very different experience from a home theatre, and that is important when choosing a model. Before looking at the full list, here are our top 3 projectors for church use.
Overall Best for Church Use: BenQ MW612
The BenQ MW612 delivers respectable WXGA (1280×800) resolution but also a whopping 20,000:1 contrast ratio. You get a big 120in image from 13ft at 4000 lumens, wireless operation and vertical keystone correction which makes it easy to project aligned images from a variety of hall locations.It is an affordable model, too, so a strong candidate on our list.
Best Projector for a Small Church: ViewSonic PX747-4K
If you want to inspire your congregation with some stunning images, then this BenQ model will do the job. There is a range of great BenQ projectors, but many are very short throw, so make sure this is the one you check out.
Best Budget Projector for Under $1,000: WiMiUS P28
The WiMiUS P28 is a very affordable model, yet it pumps out a huge 7,000 lumens, making it an obvious candidate for our list. Let there be light!Some follow Hebrews 13:5 "Keep your lives free from the love of money and be content with what you have". If your view is that your congregation's money is best used for spiritual matters and the poor and needy, then the P28 delivers more spiritual bang for your congregational buck.
---
So, that was our top 3 best church projectors.
Before we look at our full list of 7 best projectors for a church, it is crucial to deal with the maths of the projection 'throw' and the inverse square law. You can skip the technical stuff if you want to – but then do not blame us if you end up with an unsuitable gaming projector that will not look any good in your place of worship.
What's, is Short Throw, Long Throw, and also the Throw Ratio – and why do they matter?
Buying a projector for a church is not like buying a projector for a home theatre. Forget any home theatre considerations like brand
recommended lists, popular – rated or top reviews.
A church projection system is there to do a job. No need not pay too high a price, but equally, it must be fit for purpose. There is no point buying at a cheap.
Cost if your projector will not do the job. No one will praise you for a budget LCD projector for church use that produces images that look dim, lacking detail or out of focus.
This is a much bigger space to project into than a home setting.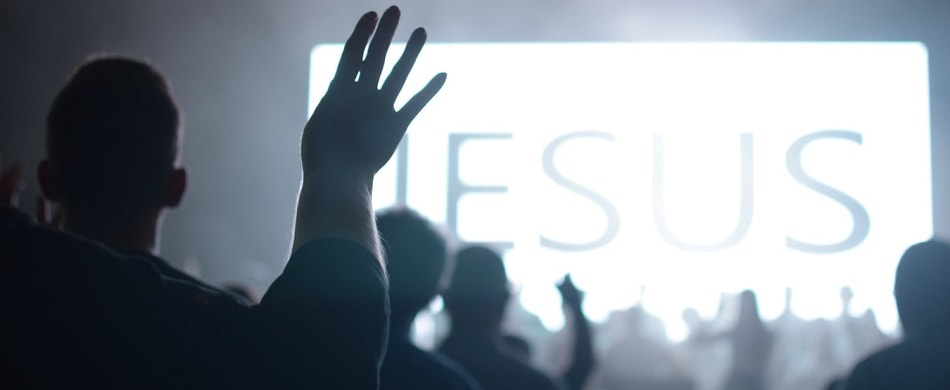 When setting up video projectors for churches, the projector's position and the full size of the final projected image is dictated by your church hall configuration. That means you will need to consider whether a short-throw or long-throw projector is right for you by calculating the throw distance. Then you choose the projector, and the leans that will give you the correct placement – and if necessary, some flexibility.
So, a projector's throw distance is the distance the image is 'thrown' between the projector lens and the projected image on the screen.
So that is throw distance. This leads us to 'Throw Ratio' which is the relationship between the throw distance and the full width of the projected image: This is written as Throw Ratio = Throw Distance / Image Width.
If equations are your thing, here are some to consider getting a good projector for church use and a projector screen for church.
TR = TD / IW
Throw Ratio equals Throw Distance over Image Width. Critical to calculate for large room use.
TD = TR x IW
Throw Distance equals Throw Ratio x Image Width. Where to fix a projector and the screens for a church given the projector throw ratio and your projected image size.
IW = TD / TR
Image Width equals Throw Distance / Throw Ratio. The width of the image a projector will produce for church use, given its throw ratio & throw distance. Determines whether you buy a short throw projector or long-throw projector.
You can move a portable projector around a room or a hall – or on a balcony – but not a ceiling-mounted multimedia projector or other fixed projection systems.
Churches are also one is that 4K projection makes sense, as the screens may be large enough to resolve the extra detail. What is more, you will need plenty of light output and something around 3,000 – 5000 lumens is a good rule of thumb. This brings us to the issue of inverse square law, which is doubling the distance between light source and screen reduces illumination to one quarter.
What that equation means is that the longer the throw, then the dimmer the projected image will be. So, another rule of thumb is that big churches and longer distances need higher output projectors.
There are many affordable models in this category, including some good multimedia projector for church models and some capabilities like a laser, wireless and Wi-Fi projectors.
Best Video Projectors for Churches
Now let us look in detail at our top 7 list of best projectors for the church.
---
---
1. BenQ MW612 WXGA Projector 4000 Lumens 20,000:1 Contrast Ratio
Best normal/long throw projector for church use
Our best church projector list starts with the very appealing
BenQ MW612
. Now, the resolution is WXGA (that means 1280x800p) which might seem a little low – but then all the good stuff happens. First and foremost, you get a 20,000:1 contrast ratio. That dramatically increases the perception of resolution (a Pelli-Robson phenomenon, which we look at in this article) and therefore increases clarity and reduces any eye strain.
Next, your big-screen projection. The MW612 projects a big 120in image from 13ft with 4,000 lumens. That is one satisfyingly big and bright image.
There are some (chargeable) handy wireless options to deliver wireless sermons and presentations. Wireless has so many advantages over wired that for many, the old is gone and the new is here. It is so much simpler than running cables up to a ceiling or across the floor that we think wireless is the future.
We also really like the vertical keystone correction. Setting up a geometry can be tricky, but the MW612 makes it easy to project correctly aligned images.
Pros:
Massive contrast ratio means sharp, clean, and realistic images
Great for longer throw use cases
Effective wireless technology
Punchy 4,000 lumens output
Great price
Cons:
Resolution below full HD might worry some – however, this is not necessarily an issue
Final words: There is so much to like, in the MW612. Put it on your list of candidates and see if it is right for you.
---
2. ViewSonic PX747-4K True 4K Projector with 3500 Lumens
Best 4K projector for a small church
A True 4K Projector delivers up to 3840×2160 resolution. That means
ViewSonic PX747
have four times more pixels (assuming you have 4K content) than a 1080p HD projector. So, assuming you have a big enough screen, and your congregation is close enough, you can get much clearer and sharper images than a 1080p projector. You will see this difference in fine detail, in flesh tones, in smaller font text, and so on. Suppose any of your congregation has eyesight that is less than 20:20 and you are for example showing scriptural content. In that case, this may help them, especially in a larger church hall, where people may be seated several rows back from the screen.
For calculating throw distances, ViewSonic handily provides a calculator here.
This ViewSonic is good to go on a screen up to 300 inches and will deliver 3500 lumens to that screen. That is a good set of figures, especially when combined with 4K resolution.
There is also HDR support – however, for Church applications, that is not currently such a big plus – but is handy for the future.
Pros:
4K resolution means sharper images – in the right viewing conditions
Good light output
Very affordable price for a 4K model
Cons:
Some users are skeptical about exactly how the 4K resolution is achieved
Final words: The PX747-4K is a great budget 4K projector. If you want low-cost stunning images, then the PX747-4K is worth considering.
---
3. WiMiUS P28 7000 Lumens LED Projector Native 1920×1080
Best Budget projector for under $1,000
The
WiMiUS P28
is a very affordable LED model at 1080P resolution. So far, that is good but not great. However, it laughs in the face of the inverse square law and delivers a vast 7,000 lumens brightness. What that means is it will provide a fantastic image on a short throw but also still give a bright image on a very long throw, e.g. in a large church. The P28 throw length is up to 7 yards plus, so that should be plenty to pump up your pulpit preaching.
It just gets better after that. You get no less than 10,000:1 Contrast ratio – which means deep shadows, bright highlights, and a sharp and 'punchy' image due to Pelli-Robson perception factors where more contrast gives a subjectively sharper image (which we won't deal with here but have covered in other articles). Then you have good keystone control, to make sure the image is rectangular and not a trapezoid. It even comes with some stereo audio speakers built-in – but we would not recommend that approach on any project or if you have the option of using a good sound system.
Then you factor in the very affordable price and what we have here is temptation incarnate.
Pros:
Massive light output
Great throw ratio
Superb contrast ratio
Temptingly affordable
Cons:
The speakers are not worth using
Final words: There are many great reasons for the P28, making it a candidate for our list.
---
4. TOPTRO TR81 1080p Bluetooth Projector, 7000 Lumens
Best projector for a church sanctuary
Sometimes you need something a little lower key – for example in a church sanctuary, church meeting room, or indeed when travelling around. The
TopTro TR81
is perfectly portable yet is happy in bigger venues, with a screen of 350" still getting a clear and bright enough picture via an impressive 7,000 lumens with a projection distance of up to 9 yards.
You also get a very workable 8,000:1 contrast ratio and a bunch of right keystone controls.
Not all projectors in this price bracket have zoom as well, but the TR81 offers a remote-controlled zoom function – deal for ceiling mounting – which can adjust the screen size anywhere from the full 100% down to 75%, great for those final fine-tuning adjustments.
Pros:
The throw you can set works in smaller and bigger churches, plus also in meeting rooms and halls
Reasonable cost
Comprehensive keystone and zoom functions make setup easy
High output and excellent contrast ratio
Cons:
Not 4K (but that might be irrelevant in some venues or for some Churches)
Final words: There is little true 4K content around right now, so we have no hesitation in recommending the TopTro TR81 at 1080p. It has the stuff you need. A projector goes the whole nine yards.
---
5. Sony VPL-VW295ES: Full 4K HDR Video Projector
Best for total image quality
No projection review list is complete without one of the biggest names in the electronics business – Sony. Although Sony is not the power they once were, they rarely make a bad product, and they have a vast range of projectors, including some costly lasers, any one of which might have found a place on our list. The VPL-VW295ES is marketed by the good folks in Atsugi primarily for the home theatre market, but plenty finds their way into churches.
What can we say about the VPL-VW29ES – it is a fantastic piece of technology. First, out the gate, it shows cinema-level 4K – that is 4096 x 2160 (more than normal 4K projectors). It even indicates IMAX. Wow.
You get the 'not yet beneficial but way cool anyway' High Dynamic Range support that delivers (if you have the right content) wider contrast and a bigger colour gamut (DCI-p3 in this case – or near enough) for amazingly improved colours and realism.
Sony also fit motion compensation – this is pretty much a USP – so that content has smooth, lifelike motion.
Keystone control is great too with adjustments for Vertical: +85% -80% and Horizontal: +/-31%
In summary – a fantastic technology that produces amazing pictures.
What is the catch? – well, it is the price. This is more than 7x more than some of the projectors on our list.
Pros:
Genuine ultra-sharp 4K resolution
HDR support, so future-proofed
Excellent keystone control features
Typical Sony builds quality
Final words: Is it worth it? – only you can decide that. We would buy one tomorrow.
---
6. NEC Higher Brightness Video Projector (NP-V332X)
Best portable model
Just as we must have Sony on any list, so NEC deserves to be there too. The NP-V332X (and the closely related NEC NP- ME331X are great for Churches who need both affordability and portability.
The maximum resolution is 1080p (1920 x 1080), and the NEC shines with a contrast ratio of 10,000:1. Add some coll NEC features like Dynamic Contrast, AutoSense™ which syncs the projector with computer signals, wall projection auto colour balancing, one-touch image optimisation and a 3,300-lumen output and you are in the right place.
Pros:
Very portable indeed
Very affordable too
Plenty of smart features to make setup and presentation hassle-free
Cons:
Not well suited to big screens
Native resolution is slightly below HD at XGA 1024×768 – though full 1080p HD is supported
Final words: The NP-V332X is a nice little projector and not expensive. It's compact, lightweight, portable, and capable.
---
7. MVV 1080p Mini Projector
Best ultra-budget portable
Our final contender is the extremely affordable MVV 1080p capable Mini Projector. At this price don't expect a cinema-like experience in your church, however, if you are on a budget, we think this is still a decent offering, features wise. It is rated up to (in theory) 5500 Lux but is best suited to smaller more intimate church presentations, and sessions in darker rooms.
At a price, it would be silly to carp about what it doesn't have or doesn't do. If you want something portable and affordable, then this is almost half the price of the next cohort of typical competitors.
Pros:
A reasonable picture quality coupled with a compact form factor makes this a great travelling model
Plenty of connectivity, including HDMI, VGA, AV, and USB interfaces
The MVV price is so aggressive, that's almost all else you need to consider
Cons:
Not great at showing fine detail
Final words: If you are out spreading the word, this is the projector for you. In fact, at these prices, you could buy several for your church mission work.
---
Summary
Church projectors have their use cases and buying criteria. That's why you should not rely on reviews for home theatre models as that is a wholly different use case. Most churches have three use cases; Fixed projectors in large halls, fixed projectors in small halls, and portable units. Big halls need longer throws, more output and higher resolution – all else being equal. You should expect to pay more for these models, assuming you care about picture quality.
Anything else is more straightforward, and you can drop to lower lumens and lower resolution.
We have tried to show you a range of answers to the question 'what is the best projector for a church?' and hope you found this thought-provoking.
Please let us know what you think in the comments section. Thanks for reading.
---
This page may contain affiliate links. USDIGITECH.com is a participant in the Amazon Services LLC Associates Program, an affiliate advertising program designed to provide a means for sites to earn advertising fees by advertising and linking to Amazon.com