Choosing a projector can be a pain, with so many different models to choose from. It's easy to get lost in all the buzzwords and jargon. We think it's easier to start by just asking some simple questions.
Here are a few:
Are you looking for a high-quality affordable 1080p projector with Bluetooth 5.0?
Does a top-rated light output of 7200 sound neat?
Do you need something portable?
How about a WiFi projector that's on a reasonable budget?
If the answer to any of these is 'yes' then the TopTro projector TR81 is well worth considering.
When you factor in the many TR81 projector benefits, it is a good price.
Now let's get right into all the great technology in this TopTro Bluetooth projector.
Toptro TR81: Buyers Guide Basics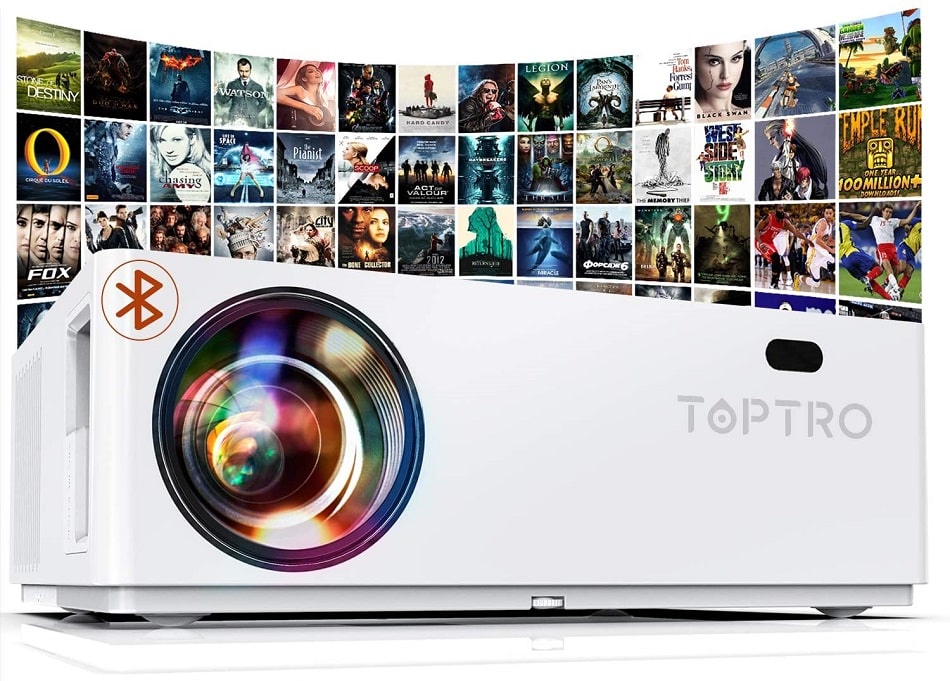 The simplest way to kick off our Toptro TR81 review is a rundown of the key features:
7200 Lux light output
All projectors work on the inverse square law, which in this case means that a brighter high output projector can move further away from the screen and therefore produce a bigger image while maintaining a 'punchy' image. A lot of portable projectors have an output of around 2,000 to 3,000 or so lumens. The TR81 is more than twice that – and you can get up to a 350" screen-sized bright picture, even with a long projection distance – up to 9 yards. Couple that with a very respectable 8,000:1 contrast ratio and you can enjoy great pictures. So far, so good.
Upgraded Native 1080P
Upgraded Native 1080P means the TR81 works in native true HD, which is 1920×1080. That gives sharper pictures than projectors working on lower resolutions like 720p. The 'upgraded' bit means the TR81 will also accept 4K content, though it won't play 4K back. That's good because it allows you to use 4K (3840×2160) TV content without hassles, though of course, a true native 4K projector will show those extra pixels, over and above HD – but likely cost more.
Zoom & ±50° Keystone Correction
Setting up projectors can be tricky, as you need the image to be an exact rectangle, not some kind of trapezoid shape. This is tricky at the best of times and especially so with a portable projector, as you don't know what kind of issues you might have each time you set it up. That's all good with the TR81, as you have such a wide range of adjustments. These include both manual and remote keystone correction for geometry.
You get ±50° horizontal and vertical keystone adjustment (which is more than many competitors) plus a handy rotary ring on the projector side for vertical adjustment of ±15°. The zoom function allows normal 16:9, or two zoom values (100% or 75%). That means you can mount it either on the ceiling or at the back (or other parts) of the room.
Connectivity
There is no shortage of connectivity with the TR81. First, it has all the traditional basics, like a headphone or speaker mini-jack, DVD (AV) socket, VGA for a traditional computer, U-Disc, and USB. Then you get dual HDMI, which facilitates BlueRay, TV Sticks like Fire, consoles like Xbox, Playstation etc. and some tablets and PCs. There is an SD card slot too.
So, you can hook up phones, tablets, AppleTV, PC, and consoles with ease. Note that Android phone or tablet connection is via MHL cable (which is not included) and iPad or iPhone device connection is via Lightning to HDMI adapter (which is not included either). This is slightly annoying as you do get an HDMI cable, 3 in 1 AV cable, 3 in 3 AV cable and VGA cable included. We guess this is a cost or licensing issue, to keep the headline price down. These days you are likely to want to mirror your iPhone, iPad or Android equivalent devices.
A recent and very welcome development with the TR81 is Bluetooth 5.0. This is implemented to allow pairing with Bluetooth loudspeakers, which opens up a lot of possibilities, especially as Dolby Digital (AC-3) is supported.
There are also some internal speakers for basic sound but these are not going to give the kind of quality the projector can deliver through good headphones or decent external speakers.
TR81 Pros and Cons
PROS of the TR81
High 7200 lumens output means bright pictures even at long distances (or where there is an ambient light issue in the room).
Great geometry correction with plenty of zoom and keystone operations and options.
Long lamp life (circa 100,000 hours) should be enough so that you never need to change the bulb.
Portable and lightweight at 9,37 lbs – which goes well with the comprehensive geometry tools. This is a 'road-ready' model.
Low fan noise is great for in-room use.
The New Bluetooth function has a lot of uses, like connecting to Bluetooth earbuds, headphones, speakers and soundbars
Equally at home with movies, slides, or PowerPoint presentations.
Well designed remote control puts all the most common adjustments at your fingertips.
CONS of the TR81
Internal speakers are a mixed blessing – yes they can be handy but the quality is always going to be compromised.
It's annoying (if understandable) that only some of the connecting cables you want are supplied as standard.
No WiFi – yes it's great to have Bluetooth but some rivals offer WiFi too.
Toptro TR81 Reviews
Glen Villyn about TR81
I have always loved the idea of having a movie night inside my barn, but it has never worked out because there's just not enough space for everyone. That is until now! After doing some research online on how much sub-$200 projectors cost and realizing that tr81 fulfilled most important checklist – native 1080p quality with decent contrast ratio & lumen count as well being bluetooth enabled so you can connect up speakers wherever in deeper & more appropriately placed than before without any problem at all (and also easy setup), I knew right away what our next family event would look like: Campfire/grillout parties everywhere…
Brian Mills about TR81
The process of starting up the projector was very easy. I plugged in my Roku Stick, turned on and projected an image immediately when indoors during daylight hours; we've used this twice now outdoor too with success both times from a remote location as well! The key adjustment for horizontal Keystone alignment worked just fine but vertical Keystone didn't seem to want cooperate-we ended up propping one side so that everything would look right even though you can't really rotate corrected images after they are made due to copyright laws (which is what our company does).
Diana Hogan about TR81
I was surprised at how good the quality is for its price. We watch movies on the wall instead of a screen and it has all sorts of streaming options like Prime Video, Netflix etc… It's easy to connect too with my Firestick or Streaming Boxes so that you can enjoy them from anywhere in your home!
Philip Lawrence about TR81
I am very pleased with my purchase. I had trouble finding a screen that looked great, but once I did this projector really shined! If you don't hear any sound from your roku stick or it doesn't play Dolby DTS audio- make sure to check in settings for both devices and change the playback setting from mono (which would be just voices)to stereo so we can hear music properly.. That actually took me awhile too figure out ( but I'm glad I did).
TR81: Verdict and Conclusion
There is a lot to like with the TR81 and it shapes up well with competitors in the 1080p bracket especially on the three counts of high 7,200-lumen output, great keystone controls and the recent Bluetooth 5.0 addition. If it's a portable lower mid-priced projector you want, then make sure you check out the TR81. Thanks for reading and make sure to leave any comments below.

TOPTRO X5 5G WiFi Bluetooth Projector, 460 ANSI Lumen Full HD Native 1080P Projector, Outdoor Projector 4K Support 4P/4D Keystone, Zoom, 300" Display, PPT, for Home Theater and Small Office Use
💖【Imported Light Source and Long-lasting Reliability】The brightness and image quality of ordinary projector bulbs will decrease after long-term use. The X5 projector uses a light source imported from Germany, with the original image optimization function, the image can be automatically adjusted according to the attenuation of the bulb to keep the image clear always. The maintenance and after-sales cost of the projector is low, which can save you a lot of expenses and unnecessary troubles.
💖【Optimized For Brightness, Contrast and Lens】X5 native 1080p projector adopts RGB+BP brightening technology, the lumen are as high as 460ANSI, and the picture is brightened by 30%. Unlike the resin lenses of other projectors, the X5 projector adopts an all-glass lens with high refractive index, excellent light transmittance, and stable images that are not easily deformed. And 15000:1 high-contrast performance adds depth, dimension and realism to the video.
💖【85% NTSC Wide Color Gamut & Support 4K】The X5 WiFi projector combines the CM color processing algorithm and the excellent uniformity of LCD imaging to achieve delicate and accurate color reproduction without sacrificing brightness, the color gamut is as high as 85% NTSC, and every detail on the screen is accurately restored and presented. Easily project a 100 inch giant screen, watch 1080P or even 4K high-definition pictures, and experience the shocking visual effects that TV can't match.
💖【Ultra-Fast 5G WiFi & Bidirectional Bluetooth 5.1】X5 projector is equipped with an advanced 5G WiFi chip, which can effectively avoid signal interference, make the transmission more stable, and play HD video sources without freezing. No need to download the software, just connect to wifi to achieve the same screen. With the latest Bidirectional Bluetooth 5.1, X5 projector can not only connect to your Bluetooth headset and speakers, but also connect your mobile phone and computer via Bluetooth.
💖【Wide Compatibility & Lifetime Professional Support】The X5 home theater projector can easily connect to TV sticks, PCs, laptops, Android/iOS mobile phones, PS4, Switch and other devices. And X5 projector can play Microsoft Office and Adobe PDF files directly from the USB flash drive, say goodbye to traditional projector connecting computer to project Excel/Word/PDF, making office more convenient. TOPTRO provides 6-Month back and 3-Year repair, lifetime professional technical support.
Last update on 2023-05-10 / Affiliate links / Images from Amazon Product Advertising API