As we spend more time at home, with Cinemas still reeling from Covid-19 fallout, the growth in home projection is a logical step to get that big-screen experience.
Of course, since 2003 there was a growth in 3D cinema, with great titles like Avatar, Bolt, Harry Potter, and the Half-Blood Prince, Hugo, Oz the Great and Powerful, Pirates of the Caribbean: On Stranger Tides, Rio, Toy Story 3, Up, Wreck-It Ralph and many more titles you want to watch at home. So, which are the best passive 3D projectors for the home? Which TV projector has passive 3D so you can enjoy amazing titles like Avengers: Infinity War, Life of Pi, Guardians of the Galaxy Vol. 2, Star Wars: The Last Jedi, The Hobbit: An Unexpected Journey, and more in glorious 3D?
---
The Best Passive 3D Projectors for Home
Read on to find answers to this and many more questions about the best passive 3d projector for you. But first, let's look at our top 3 passive 3D projectors for home use.
Overall Best Mid-Price Passive 3D Projector: OPTOMA HD146X
3600 Lumens is plenty of brightness for 3D, then you just pipe in a 3D source, via s 3D rated HDMI 2.1 cable, and 3D glasses like DLP LINK D302 and you are in business.
Best for Low Latency: BenQ TH585
Our second pick has very fast response times (low latency) in addition to a simple to use 3D shutter glasses operational mode. It's a mid-priced model that ticks all the main boxes.
Best Mid-Price DLP: ViewSonic PX725HD
ViewSonic is one of the big beasts in the home projector market and this 2,000-lumen 1080p model is as well thought out as you'd expect from this trusted company and produces great 3D images.
---
Before looking in detail at these and another 4 great projectors with passive 3D, let's spend a minute looking at home 3D works and what that means when buying any 3d projectors with passive glasses and also a passive 3d projector screen.
What is passive 3d projector technology and how does it work?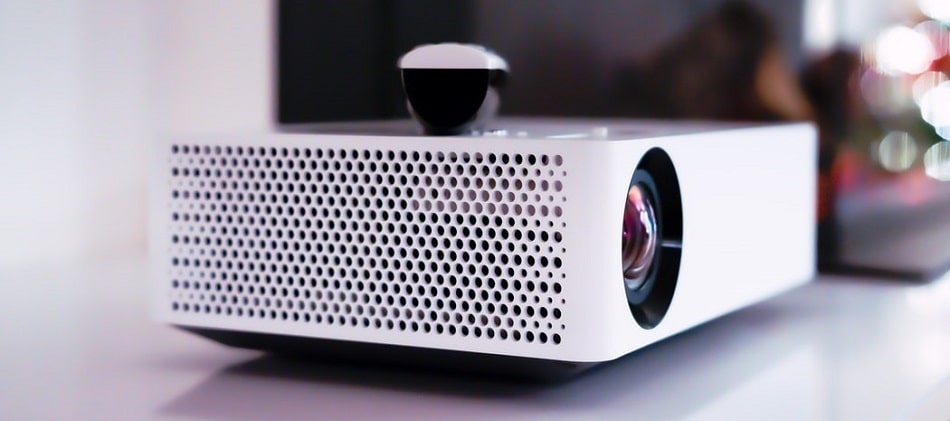 3D film and TV methods work by cameras shooting slightly offset left and right angles, (set apart at the distance between an average adult's eyes). This works as our eyes work and capture depth information which the brain interprets as distance via Stereopsis.
Then, during post-production, each set of images is used to generate two perfectly synchronized but slightly horizontally spaced, then feeding each into a final 'master' signal that in turn goes to a TV or projector which delivers the left and right images respectively to the correct eyes of the viewer.
There are many different ways to do that projection, however, the main types of projector today use either active shuttered glasses or passive polarised glasses.
If we look at active glasses first, this method uses rechargeable battery-powered shutter glasses. The glasses shutter on and off on each lens with a synchronized corresponding frame sent by the projector. Although active glasses can work well, there are many drawbacks. First, you need to remember to recharge the glasses, secondly, the glasses are fragile, are not cheap, and are far too easy to lose or to break, which is an issue if you want a family all watching films at the same time. Finally, the synchronization with the projector is complicated and can go wrong, leading to no 3D signal or a headache-inducing 'inverted' 3D signal. On the plus side, there is little screen resolution reduction and wider vertical viewing angles than the rival polarised system.
In a passive glasses system, (AKA a polarized 3d projector or passive polarized 3d projector) you use polarized 3d projectors combined with very cheap plastic passive polarised glasses. Each polarising filter passes only that light stream which is aligned in polarity and blocks the light polarized in the opposite direction. Therefore each eye receives a different image. There is inevitably some leakage between the signals (which shows up as 'ghost' images) and the better passive technology works hard to reduce this crosstalk.
Not only are these passive glasses more physically robust than their active 3D counterparts but they don't need recharging, can't go 'wrong, and are freely (er…sort of) available after watching a film at your local Cinema.
In the world of cinema, polarised systems are lower budget to buy and more affordable to run than active shutters. That's why top-rated passive 3D projectors are preferred by many experienced 3D film multiplexes – far more popular than the higher price and hassles of active 3D systems. However, fitting a polarising system to a home projector is a major hassle and it is far simpler to have an SD sync function and use active glasses.
When it comes to choosing a 3D home projector, it's important to know whether you want an active system and if not, what kind of polarising is used. One type has each eye polarised by opposing different angles for each eye, which works fine but has the issue if you tilt your head that the image is affected. The alternative is spiral polarisers, where opposing clockwise and counter-clockwise spirals still work when the angle of the head is changed.
Now, remember that these are sunglasses, so this means that the passive glasses will significantly cut down on the projector brightness. That means it helps to get a higher-output projector to compensate for the effect of this darkening.
Also, remember that you are losing some resolution. Full HD (1080p) will be dropping down closer to standard definition (SD) and the same level of reduction happens with 4K. So, don't make your decision just on brand, or someone's recommended list or based on uninformed rated top reviews. The issue with misinformation on social media is very topical right now.
This brings us to the subject of the best projection screen for 3D projectors. You do need a good high-gain projection screen, since you are dealing with a huge brightness drop, with active glasses (as you only see the image half the time and the rest of the time you have a black shutter) or even more so with polarised sunglasses.
Ideally get some screen highly rated for 3D, with top reviews, and (if the screen is not needed every day) it should be portable.
Finally, please do invest in a decent stereo or 5.1 sound system. If you are going to the cost and effort of 3D imaging, then you need a corresponding stereo or surround-sound field. It should go without saying that soundbars or built-in speakers will not deliver the corresponding audio positioning and depth to go with the stereo pictures.
So, most likely, you will be looking at an active-glasses system, with a decent high-gain screen, plus either Bluetooth speakers or more traditional wired stereo or 5.1 surround sound.
With all that in mind, let's look at our top 7 best passive 3d projectors.
Seven great passive 3D projectors in 2022
---
---
1. Optoma HD146X High-Performance Projector for Movies & Gaming
Best overall mid-price passive 3D projector
First on our list is the
Optoma HD146X
3600 Lumens DLP projector. DLP inherent provides picture quality advantages over LED/LCD and that fact, plus that very reasonable 3600 output figure, bodes well for your 3D viewing experience. You get full HD (1920×1080) resolution and an astonishingly good 25,000:1 contrast ratio
The Optoma HD146X is versatile and easily hooks up to your 3D Netflix content, or 3D Blu Ray but remember you will need to buy 3D glasses, such as the DLP LINK Glasses Model ZD302.
Pros:
»» Good output at 3,600 Lumens;
»» Robust and simple to configure 3D option;
»» Excellent single-chip DLP quality;
Cons:
»» 1.1x zoom and ±40° vertical keystone is good but some competitors offer better geometry controls.
Final words: Just enable the 3D settings in the Optoma menu and enjoy Battle Angel Alia and every other James Cameron film that always seems to feature a feisty machine-gun wielding late 30's woman in a sleeveless vest. Ripley, Sarah Connor, Jamie Lee Curtis in True Lies, the woman in the Abyss. It's a pity Kate Winslett doesn't have a scene in Titanic where she fires a minigun while wearing a vest. I guess James Cameron needed a day off.
---
2. BenQ TH585 1080p Home Entertainment Projector
Best for low latency
The
BenQ TH585
has some great technology and we like the fast response times (low latency at 16ms input lag). That might have most applications in gaming but it's a great capability to have with other fast-moving content too.
Various 3D formats selected via the 3D On-Screen Display (OSD) menu item make enabling 3D easy. You get all the main 3D content types, including Auto, Top-Bottom, Frame sequential, Frame packing, Side By Side, and sync invert.
We don't suggest you use the built-in 10-watt speaker as it does not have a stereo sound field that does justice to 3D stereoscopic films.
It makes sense to buy a few pairs of optional BenQ 3D glasses which avoid any multi-vendor compatibility issues.
Pros:
»» Comprehensive 3D tools;
»» Good 3500 lumens output;
»» Good 10,000: 1 contrast ratio;
»» Low latency performance gives great response times.
Cons:
»» Pointless loudspeaker if you plan to show 3D content.
Final words: A good all-round model for 3D content, the TH585 offers a great price/performance balance.
---
3. ViewSonic PX725HD 2,000 Lumens 1080p DLP Projector
Best mid-price DLP
The
ViewSonic PX725HD
is another easy to use 3D projector. You get a whopping 22,000:1 contrast ratio and low input lag. The output is a little modest at 2,000 Lumens but it will be more than bright enough for most users. It's worth mentioning that you absolutely must not try to view 3D in a room with high ambient light (and even worse with spillage onto the screen area) As it will mess your brain up thoroughly as it will have the wrong 'cues' to build a 3D image. You'll be reaching for the headache tablets pretty quickly. Which is a great intro to the fact that the PX725HD has a remote control which lights up in the dark. Cool!
Remote control operation is very well thought out, and the DLP-Link sync 3D function is robust and reliable.
Pros:
»» Great contrast ratio;
»» Easy to set up for 3D operation;
»» Minimal 3D ghosting/crosstalk;
»» DLP system delivers accurate colors.
Cons:
»» 2,000 lumens is good but others have more;
»» More pointless internal speakers.
Final words: You can't go far wrong with any Viewsonic projector and the PX725HD does what it does with style and elegance.
---
4. ViewSonic LS700-4K UHD Laser Projector
Best 4K Laser projector
We make no excuses for two Viewsonic projectors in our recommended list with this top-rating 3300 Lumens 3D HDR and 4K laser model. Now it's not likely that you will get much 4K 3D content as the amount of data involved is huge (8 times Full HD 1080p) but that said,
the LS700
is a cut about HD-only projectors. What's more, you get High Dynamic Range which is absolutely stunning and well worth checking out if you haven't yet seen it. In our view, HDR is the future for most kinds of content.
The output is fine with 3300 lumens and you won't need to be changing the equivalent of the bulb anytime soon – at 20,000 hours MTBF.
You will need to buy active shutter glasses from Viewsonic or (if you want to take a bit of a gamble on compatibility) generics.
Pros:
»» 4K (3840×2160) support means sharper pictures assuming you are at the right viewing distance;
»» HDR support is a big plus;
»» Very long lamp (laser) life.
Cons:
»» The fan can be a bit noisy.
Final words: This is a premium projector at a premium price. The three big developments in the last 15 years in projection have been 3D, 4K, and HDR. The LS700 ticks all those boxes.
---
5. Sony VPLVW350ES 4K (4096 x 2160) 3D SXRD Home Theater/Gaming Projector
Best when money is no object
If you want to spend even more serious money – and get a real prestige 3D projector, then we recommend you take a look at the
Sony VPLVW350ES
4K. It has all the capabilities of the Viewsonic LS700 at #4 and then a whole lot more. Its version of 4K is true Cinema 4K at 4096×2160, which is a step up from the TV spec 4K of the Viewsonic at 3840×2160.
Output-wise Sony does their lumens count a little differently, and their spec is kind of 3,000 lumens but made up of "White Brightness" rated at 1500 Lumens plus also "Color Brightness" which is also rated at 1500 Lumens. Make your own mind up what that means.
However, forget the tech specs – this has truly amazing picture quality and that is what counts. We mean astonishing. That's why Sony gets away with the price tag which is hefty compared to HD models – though less than many other 4K projectors on the market.
The Sony 3D support is superb too with the optional TDG-BT500A active glasses.
Pros:
»» Outstanding overall picture quality;
»» Great 3D picture quality;
»» Cinema-grade 4K.
Cons:
»» Not cheap in any way.
Final words: It's a bit meaningless comparing the Sony to any mid-price HD projectors. That's like comparing a Shelby Ford Mustang to a Ford Focus. If you have the cash, wouldn't your heart tell you to buy the Mustang?
---
6. NEC NP215 2500-Lumen DLP 3D-Ready Mobile Projector
Best for portability
Our next candidate is all about portability. NEC is another big beast in large-scale semi-pro and professional projection but in this case, they are focused (no pun intended) on the budget domestic portable model market. Their know-how is still all there in
the NP215
which is a 2,500 Lumen DLP design and fully 3D compatible when combined with NEC active shutter glasses (NP02GL), using DLP Link™ technology.
The output is a modest 2500 Lumens, with a 2000:1 Contrast Ratio. Resolution is XGA (1024 x 768) but 720p and 1080p inputs are allowed. There is a built-in speaker which we normally don't think worthwhile but in this use-case, which is for a low-cost portable model, it makes sense.
Pros:
»» Very competitive pricing;
»» Good 3D images despite the low price point;
»» Easy to use 'on the go' in many venues, halls, or rooms (or even outside in the garden).
Cons:
»» Resolution is not as good as some budget rivals.
Final words: The portability of this NEC means it's pointless to compare it with non-portable models. Pick the right use case and the NP215 is just what you need.
---
7. BenQ HT5550 True 4K UHD Home Theater Projector with HDR-PRO
Best for color
Our final model is the superb
BenQ HT5550
. The specs are truly mouth-watering. You get 100% DCI-P3 color (a much bigger color volume than the Rec. 709 used on most projectors). That means richer and more realistic colors on your movie content (applicable to both 2D and to 3D). You also get superb HDR performance with HDR10 and HLG (Hybrid Log-Gamma) support.
The contrast ratio is a best-in-class 100,000:1 and that coupled to the rated 1,800 Lumens means very realistic peak whites and deep blacks. The 3D operation, like all consumer-priced 3D capable projectors, is at 1080P with 3D Modes including Frame Packing, Top-Bottom, Side-by-Side and sync invert, when used with BenQ shutter glasses.
This really is a top drawer projector in the same kind of market space that Sony plays in and well worth a look.
Pros:
»» Cinema-quality colors vai the DCI-P3 colorspace, easily best conventional projectors;
»» Comprehensive 3D modes;
»» Amazing dynamic range means more realistic picture highlight and lowlights;
»» HDR support for even more image quality.
Cons:
»» There are so many adjustment modes, that you do need to take the time to read the manual.
Final words: A strong rival to Sony which plays in the same ballpark price range.
---
Conclusion
As you have just seen there are plenty of options when looking for a 3D home projection system. You can pay as much or as little as you want and each has its own special attractive features or capabilities. So, as usual, it is all about you, not about what anyone recommends you buy. We hope this has helped work out which might be right for you. Please let us know what you think in the comments section.
Thanks for reading.
---
This page may contain affiliate links. USDIGITECH.com is a participant in the Amazon Services LLC Associates Program, an affiliate advertising program designed to provide a means for sites to earn advertising fees by advertising and linking to Amazon.com