The LG PF50KA review is finally here, and we can't wait for you all to see it!
The LG PF50KA is a lightweight and portable projector that can produce up to 100-inch screens without any hiccups. With its compact design, you'll be able to take it with your anywhere!
Plus this device also houses an internal battery so there's no need for external power sources – making it perfect for those on the go who want their entertainment at hand 24/7.
---
---
This projector features Full HD DLP LED technology with 'Magic' Remote.
It's a great addition in any home theater system because of its high definition quality as well as compatibility across platforms such like TV screens or computer monitors without having them look pixelated when projected onto large surfaces.
Which happens sometimes from other brands' models at only 80 inches wide (200 cm).
So if these factors sound right up your alley then read on below where I'll be detailing everything about this product worth knowing before buying one yourself…
LG PF50KA Review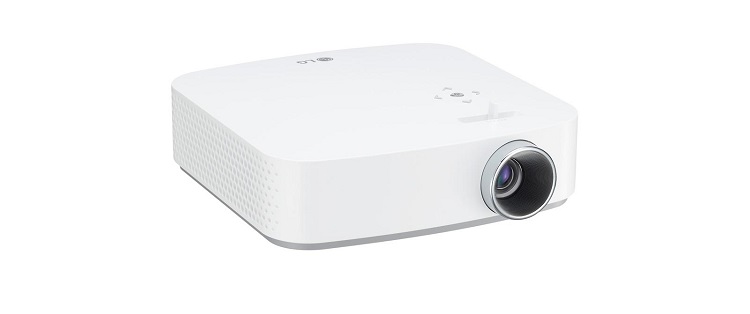 The LG PF50KA is a Full HD clarity projector that can deliver two-and-a half hours of video at up to 100 inches.
With built in battery, the device offers cordless convenience for compatible smartphones and tablets as well as Bluetooth connectivity with speakers or headphones.
It also has access through webOS Smart TV service providers subject changeable subscription plans possibly required when necessary native resolution: 1920 x 1080p enhancing detail while consumers enjoy their time spent watching movies on an big screen television without worry about running out power if they're away from wall outlet.
Design of LG PF50KA Projector


The LG PF50KA is a projector that has been designed with compactness in mind. What you see from the outside might not be what's inside.
However, this device looks very much like Anker's Nebula Solar Portable prior to launch – which was released just few years ago!
It seems as though these manufacturers are following each other closely when it comes down their designs so there isn't too much of an eye-catching difference between them for now at least (unless someone finds something).

The LG PF50KA features a projection lens on the front with an embedded focus knob to tune its focal point.
The top also has power button, 4 direction buttons (right next to each other), and perforations for heat dissipation at either side of it which host stereo speakers but are weak in stock quality – you may want invest into wireless speaker system instead!
You'll be able to watch your favorite shows and movies on this projector without an internet connection, thanks the included TV antenna port.
You can also connect up two external devices simultaneously with its HDMI ports as well! There are 2 in all: one ARC enabled so that you won't have any issues when it comes time for gaming or video chat.
Another type A which accept both minitablets but not maxi ones while providing standard resolution playback (up 1080p) at 60Hz refresh rate perfect if console-gaming is what's desired).
This gadget has everything except Alexa built right into her voice assistant function. Although I'm sure most people don't need more than "Hey Siri," these days anyway.
The LG PF50KA features two different methods of connecting to your wireless home network. You can either do so through Wi-Fi or you could use Bluetooth for easier connectivity in tight spots, such as on the go!
This is where battery life comes into play – though it lasts up 2 and 1/2 hours when projector with full charge running time (up from 3).
Features & Functions of LG PF50KA Projector


With the built-in LG Smart TV UI, you can access apps like Netflix and Prime Video without connecting this projector to an HDMI device. You'll be able watch your favorite content with ease thanks in part because of its simple user interface that is similar looking as most modern televisions!
The automatic Keystone Adjustment on the LG PF50KA means you can take it anywhere and still get a perfect rectangle projection. The aKA on this portable projector will make it easy for you to get perfect rectangle projections no matter where in the room or how much space there is between your screen and wall.
Multiple connectivity options: The LG PF50KA is conveniently packed with a variety of connections. It comes equipped with 2x HDMI ports, an Ethernet jack for higher speeds and better quality (the internet connection on your computer), as well the TV antenna port which can be used if you want in other rooms without having to run cables everywhere!
Performance of LG PF50KA Projector
There are many portable projectors in the market and most of them can't stand up against rough usage. The LG PF50KA, however, is a different story!
This projector features multiple lenses and mirrors on the inside to generate an image for you which means that any crack will make it impossible for use as well.
A fall from waist height might not damage this device permanently but we recommend staying away from such accidents if possible 🙂
Now that you've seen the projector in action, let's talk about its performance. The LG PF50KA is small and portable yet packs a punch!
Along with being compact and easy to carry around this smart device can connect wirelessly without needing an Ethernet cable or battery power source – meaning that all your needs are contained within one lightweight package.
It also comes equipped with built-in features from top brands such as Sony TV which will give users access not only to their favorite apps but those of other third party developers too making it possible for people everywhere across different demographics.
Share content seamlessly no matter what type they prefer: video streaming services like Netflix®, Amazon Prime Video™; gaming and ect.
Sale
The LG PF50KA is a projectable Full HD 1080p LED projector that produces up to 600 ANSI lumens brightness and has 1920 x 1080 resolution.
This means you can enjoy crystal clear pictures in any setting, from bright rooms or during daytime hours when projected on walls with flat surfaces – even if they're white!
The single chip DLP technology makes for great clarity as it delivers sharp true-to life images without distortion while cooling fans ensure your device stays cool so there won't be any headaches brought about by overheating (or those icky eye strain spots).
Finally this lightweight machine uses 30k hour rated LEDs bulbs which means its going months before running out of juice–not bad considering most other models need at least 50+ hrs.
The projector is very convenient for groups who want an easy-to use and good looking device. It has built in keystone correction technology, so you do not have to worry about figuring out different settings every time it sets at a new location.
Pros of LG PF50KA Projector
The LG PF50KA is a small and portable flashlight that weighs just 2.2 pounds!
It offers up to 600 ANSI lumens, plenty of connectivity options including LAN port and TV antenna as well as automatic keystone correction with its own onboard smart UI (user interface) – which makes it great for camping trips or emergencies when you need more than one thing done at once like finding your way through dark streets while also being able to see what's ahead on foot if necessary.
All without having worry about running out power before getting back home safely because this handy little gadget comes fully charged right from the start.
Cons of LG PF50KA Projector
The LG PF50KA is an excellent choice for the price, but don't expect it to sound like premium speakers.
The Zoom feature is also missing from this projector so you have no option but base your decision solely on what's included in its features list!
LG PF50KA Projector Reviews
***
This LED projector is the best one I could find on this market and displays 1080p. It's much quicker than other projectors, turning off quickly with low light or changing colors in a room that doesn't have enough contrast to make them more vibrant. Overall it has great quality for gaming or movies due its bright lighting effect even when used outdoors which looks amazing against white walls at home.
***
The LG PF50KA Project is a projector that excels in all aspects, offering full 1080p resolution with no lag for gaming and good brightness when used indoors. It's very portable so you can take it anywhere! Not only does this brilliant device come equipped with many features but also has an intuitive remote control making operating the machine effortless to use even on those rare occasions where there are delays due its wireless connection (or rather how they're designed). One con I've found while researching projectors was lack of zoom function – though if your mounting options allow room enough then check first just make sure everything will line up correctly before screwing anything into place because once done putting together installation takes about 5 minutes total time (including unboxing!).
***
The low-end projector offers an excellent picture with decent brightness. However, it's only bright enough to see in dim or dark settings so if you have direct light shining on your screen then expect washed out colors and sharpness issues which is common for most projectors at this price range. Wifi connected fine and Netflix started right up but Chromecast execution was not perfect because I couldn't cast anything onto my tv from either laptop/PC without any errors being thrown back indicating there were no devices available online while trying multiple times over several days restarting both computer And TV along with each change attempt until success!
***
I've been researching projectors and decided on this one because it has an excellent picture quality, apps for movies-including Netflix and Prime Video that you can watch without needing a fire stick. The battery life is also great! My kids love being able to plug in their own speaker if they want louder sound when we're all together (or alone).
***
Read more real reviews from Amazon.
Final words to The LG PF50KA Projector
The LG PF50KA is a great choice for those looking to project their screen from up close.
It offers higher brightness and better performance than other portable battery powered projectors within its price range, with the added bonus of coming equipped with plenty of connectivity options that will make it practical in every day applications too!
Whether you're outdoorsy or need something small but powerful – this little guy has got what your needs are covered.
Last update on 2023-05-10 / Affiliate links / Images from Amazon Product Advertising API