We can't go to see many sports events these days, so more and more people are bringing sports to their home theatres. A big screen with a great sound system – especially surround sound – looks and feels more like the real thing. All you need is overpriced drinks and slightly stale hotdog buns, and the effect is complete. So, in this article, we look at 5 of the best projectors for Sports use. We'll answer the question of who makes the best projector for sports. And also what is the top rated projector for sports bar use.

Choosing the Best Projector for Sports
However, Before looking at the full list, here are our top 3 projectors for Sports Viewing.
Overall Best Projector for Sports at under $1,000: WiMiUS P28
We start our list with the very affordable WiMiUS P28. You get decent resolution, excellent light output and a reasonable contrast ratio—all for less than two (or possibly even one ) Superbowl tickets.
Best Sport Projector for HDR: Sony VPL-VW295ES
If you haven't yet seen HDR sports, then you must. No point talking too much about it here. Just see. Then this Sony projector suddenly will make all kinds of sense to you.
The Best High-End Design: Epson Home Cinema 3800
Another really capable projector, with great pictures, from one of the most trusted brands in the business.
So, that was our top 3 best sports viewing projectors.
---
Projector for Watching Sports: Buying Criteria
Before we look at our full list of 5 best projectors for sports, we'd like to explain how we did our research and the criteria we used. We typically ignore considerations like brand recommended lists, popular – rated or so-called 'top' reviews.
We simply say don't get too hung up on brands and that there is no need to pay too high a price. We balance that by also asserting but equally there is no benefit buying something unsound, just because it is at a cheap cost.
Don't forget to budget for a decent sound system too. Some projectors come with integrated speakers, but these are never really that good. It's just the laws of physics.
Then you have the 4K vs Full HD vs HD Ready debate
Some sports are now broadcast, or at least streamed in 4K (3840×2160). That is four times more than Full HD (1920×1080) and even more than HD ready (1280×720). Sports bars or big screens at home are two of the use cases that 4K projection, rather than 1080P or 720P does make sense. 4K needs to be viewed up close and personal on a large screen. A 60 inch TV, for example, is a total waste of time in normal viewing. You won't see the 4K extra detail because it is simply too small. In the case of a sports bar however or a big home theatre it is a different story. The screens may be big enough for your eyes (and brain) to resolve the tiny extra details that 4K shows but which HD does not.
However, a big screen usually means a projector light source mounted a fair way back. So if that is the case, then you will need plenty (and we do expect plenty) of lumens or lux (light output). Around 3,000 plus lumens is a good start and don't forget to get a decent screen. Please don't project onto off-white walls, OK?
Remember from physics at school that doubling the distance between a point of the light source and the surface it lands on reduces the illumination to one quarter. So, get a decent screen and a decent projector if you have a 'long throw' use case. That is especially true for sports bar projectors.



There are many capable and affordable models of home projectors for watching sports. Some of the more high tech versions have bells and whistles like multimedia projection, laser light sources, wireless and Wi-Fi control and so on. We like all of that stuff and maybe so should you.
Best Projector for Sports Bar
Now let us dive into a detailed look at our top 5 list of the best projector for sports viewing candidates and contenders.
---
---
1. WiMiUS P28 7000 Lumens
Best Budget projector for sports at under $1,000
The P28 is a strong candidate also for the title best budget high output projector too.
The WiMiUS P28 is excellent for sports and movies at 1080P resolution and a huge 7,000 lumens output. Sports fans will enjoy a fantastic image (considering the budget) on a quite long throw, e.g. a big sports bar with up to 7 meters or yards between the screen and the projector lens. It's relatively portable, very affordable and at this cost, it is easily recommended on our list.
WiMiUS is not the most popular brand, but considering the price of the P28 it should be rated somewhere in the
top group of any reviews.
One downside is the whole topical IoT, and the wireless proposition is not yet that great but – hey. You can't have everything.
Pros:
High output
Rayed at up to 10,000:1 contrast ratio
Good keystone adjustment
Great for sports
Cons:
The product design team maybe should not have bothered with the stereo audio speakers – since you'd expect people would be using a good sound system
Final words: The very affordable price just makes this a low-risk purchase. It doesn't have all the features of some other competitors but then again look how affordable this is. If you want a projector to watch sports for a whole heap of cash under $1,000, then check it out.
---
2. Sony VPL-VW295ES: Full 4K HDR
Best for HDR
The VPL-VW295ES is excellent for sports as well as movies. We mean great too. The
Sony VPL-VW29ES
shows cinema-level 4K at 4096 x 2160. That is more than ordinary 3840×2160 4K projectors, and it implies film content is that bit closer to what the director of photography intended you to see when he or she first shot it.
Then you get the High Dynamic Range. Now HDR only works if and when you have the right HDR content. There is a limited amount of HDR around today, but it is slowly coming to your screen for sports, and the back catalogue of other content on Netflix and Amazon continues to grow. It's just the best thing to see when done well. HDR has a 'wow factor that 4K does not.
Now, very importantly for Sports Sony also includes motion compensation in the VPL-VW295ES. That is a real big win for sports content as it will have a smooth, non-juddering motion. That's especially the case when both the sports action is fast, and the camera is moving at the same time.
Keystone adjustments on the VPL-VW295ES are great too. We love the fact you get changes for Vertical that go from +85% -80%. Horizontally you get plenty also: +/-31%
Pros:
Ultra-smooth sports motion
Stunning HDR (with the right content)
Cinema-level true 4K resolution
Wide-ranging keystone control makes it easy to set up
Final words: We love it. You will like it if you are happy to pay for it.
---
3. Epson Home Cinema 3800 4K PRO-UHD
The best high-end design
Since we are currently shopping at the luxury end of the market, we should mention the outstanding 3-chip design
Epson 3800
. Although Epson pitched it for home cinema, it is a stunner for home sports and would also grace any sports bar.
Like Sony, we get 4K and HDR and – crucial for sports – full 60 hertz (FPS) temporal resolution. Again that means less stuttering and juddering. What makes the Epson attractive though is the internal electronics, which are professional-grade rather than a consumer. For example, you get full 10-bit processing (which stops that annoying banding you see on sunsets, skies, etc.) and a quite amazing 200,000: 1 contrast ratio. Now considering that 10,000:1 is usually seen as pretty darn good, you can view this Epson is in a different league.
We could also go on and on about the 12-bit A/D, the colour gamut, the pre-lens signal path correction but this isn't an electronics geekfest.
So, one seriously good projector for sports – at a price to match.
Pros:
Awesome HDR
Crazily good contrast ratio
Great lens technology
Cons:
Better talk to your bank manager and your partner before buying
Final words: We love this projector to bits. We love it too 12 bits. After the divorce, make sure you get to keep it.
---
4. Anker Nebula Capsule, Smart Wi-Fi Mini Projector
Best mini wifi projector
Our final pick on these lists is usually something entirely different, and in this case, we'd like to share this neat little
Anker mini-projector
that is designed for WiFi operation.
It's not really in competition with anything else on our list. This little guy is there to be hooked up to your tablet or phone when you are out and about to share watching a live sports game (or highlights) with friends or family. It is based on Android 7.1 and allows you to run streaming and media apps with of course Netflix, Youtube, etc. in that mix.
It does that superbly well though the tiny light output and little speaker are what they are.
Pros:
A great way to see sports via your smartphone while on the move
The smart design puts it in a form factor about the size of a Coke can
Very easy to operate
Cons:
Only really suited to dark environments
Final words: We think the Anker is cool and frankly a bit cute too. It's a fun little gadget that we have grown rather fond of in the office.
---
5. VIVIMAGE C680 Native 1080p Projector, 6500 Lux
Best midrange model for sports
OK, so you have decided that the WiMuS at #1 is not enough, but that the Sony and Epson at number 2 and 3 are too much. Where do you go next?
Well, check out the VIVIMAGE C680. It is affordable without being cheap, has a great 6,500 lux output, and is a native 1920x1080p resolution model. It's a bit of a cliche, but it does just what you want and doesn't bother with things you might not need. Pricewise it is very reasonable and doesn't cut corners on the things that matter. For instance, you get a genuine 60 FPS (60 hertz) motion on your sports and 6,000: 1 contrast ratio. Add to that surprisingly reasonable sound from the integrated speakers (if that is your thing) and you have plenty to think about
So, a sensible choice if you are happy to pay above the budget category but well below luxury.
Pros:
Good contrast ratio
Good 6,500 lux brightness
Smooth 60 fps temporal motion
Cons:
The integrated speakers are quite good – but are they indispensable?
Final words: Don't rule out the VIVIMAGE C680. Affordable can also be capable.
---
Projector for Sport Bar: Summary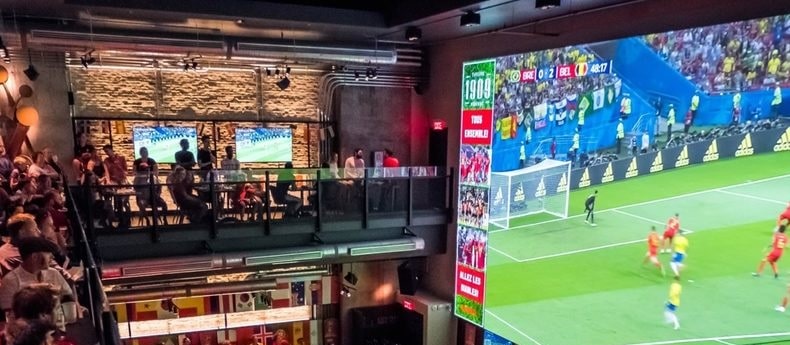 Our list of best projectors for sports has fearlessly surveyed the very affordable to the frankly not very accessible at all and devices intended for very large scale or very small scale viewing. There are as you have seen lots of options out there for projected sports viewing and there is no 'best' projector.
We hope you found this all fun and also thought-provoking.
Please let us know what you think about any of these products (or any other you think we should review) in the comments section. Thanks very much for reading.
---
This page may contain affiliate links. USDIGITECH.com is a participant in the Amazon Services LLC Associates Program, an affiliate advertising program designed to provide a means for sites to earn advertising fees by advertising and linking to Amazon.com